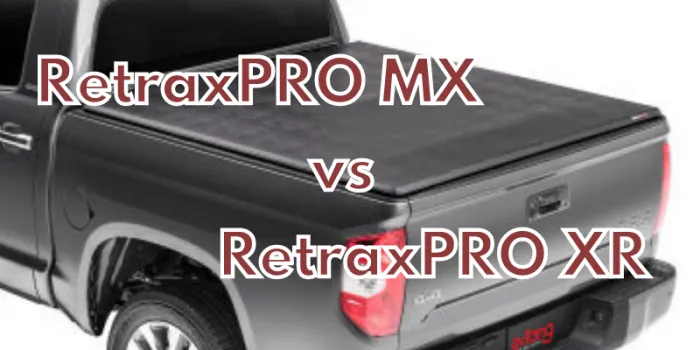 Retractable hard tonneau covers are the most advanced piece of technology which is used to conceal and protect your cargo part from environmental elements and, very importantly, from theft. These types of covers are getting popular for their easy-to-use, durable and long-lasting features. But as this system offers something more over than the contemporary devices, it also comes up with a higher price tag as well.

Today's article discusses two retractable hard truck bed cover models from the very reputed auto parts manufacturing USA brand Retrax; named RetraxPRO MX and RetraxPRO XR.
Why compare
As both of the models were introduced by the same company, the difference between them is not that superfluous. But still, there are some intervening spaces between them. Here we try to cover all these varieties in terms of Material used, Design and exterior, Functionality, Locking mechanism, Installation and Warranty policy. Probably this article will help you to determine the right product for your needs.
RetraxPRO MX vs RetraxPRO XR
Material: Industrial strength aluminum slats

Material: Industrial strength aluminum slats

Design and exterior:

* Low-profile

* Rugged black matte powder coat finish

* Retractable panel




Design and exterior:

* Low-profile

* Rugged black matte powder coat finish

* Retractable panel

Functionality: Sealed ball-bearing rollers


Functionality: Trax Rail System and T-slot accessories

Installation: Clamp-on design

Installation: Clamp-on design

Warranty: Legandary Lifetime Guarantee


Warranty: Legandary Lifetime Guarantee
Material
As part of the Premium Aluminum Series covers, both of the models we mention here are made by industrial strength aluminum slats. A finely coated incredibly resilient matte finish offers durable and firm protection inside the truck bed. This robust structure can hold up to 500 lbs. of evenly distributed weight on the top of the closed cover, confirming some extra carrying capacity when you need it. Regarding the Material used, both of the models remain identical with the product weight of 90 pounds.
Design and exterior
Retrax brand patented low-profile design ensures the zero-emission, sleek outlook for both MX and XR. Using this smart invention, their fully opened canister lies flush with the cover and stays hidden inside the bed area. It allows the magical board to retract very easily while ensuring the full bed access when you need to carry something very large in size. Do not forget about the rugged black matte powder coat finish, which looks gorgeous and keeps the retractable panel scratch-free in minor bumps and odds.
Functionality
So far we found both of them remain pretty tantamount to each other in Material used and outlook. But in the matter of usability among these two products, here we will focus on the only difference: which is the Trax Rail System and T-slot accessories compatibility of RetraxPRO XR. Thanks to the unique Trax Rail of XR, which allows it to be compatible with the most popular T-slot accessories from Yakima, Thule, Rhino Rack and many others available in the contemporary auto market. This addition is really helpful to optimize the full cargo capacity, even for the fifth wheel.

Without this, everything else stays the same when considering its usability. For a smooth retractable top panel, here they used sealed ball bearing rollers, which were mounted on robust aluminum support beams. A convenient handle is used to glide the rolling mechanism without the need for pull straps. This also offers you better protection inside the truck bed area than velcro, snaps or springs- from the unwanted earthly elements like rain, snow or dust.
The intuitive spiral track system allows the panel to prevent it from being in contact with itself. Also, this panel can be locked in any position with the use of a heavy-duty lock system. No one can access the inside area without a proper key when remaining fully close.
Installation
By combining with the very same design concept, both of the models can be fixed by following a no-brainer and simple installation process essentially. As it is a bit heavy to hold by one person, it is suggested to take someone's help while working on the installation. You do not need to use any power tools in this process. Very common everyday tools are enough to mount this on your truck.
Depending on truck bed size and variety, this mounting system is very adjustable and might not take more than an hour to get started for your first ride along with this newly installed device.
Warranty policy
Retrax is an American brand that has been operating since 1996. Here is no doubt, this company insecure a reliable brand value to their customers. Besides this, both of the models discussed here have a Legendary Lifetime Guarantee. ASs you found any defect in materials and craftsmanship, all you need to do is ask for a refund. If you are the original owner, this company will replace the defective parts at their own cost.

I Hope now you can make a better decision between RetraxPRO MX and RetraxPRO XR. Our expert opinion goes with XR if you need to mount something more on the top rack of T-slot accessories. Otherwise, you can save some bucks just by relying on MX.