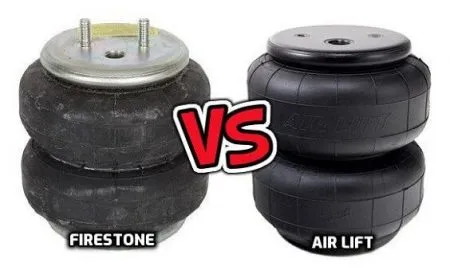 Air Lift and Firestone are the two leading names in the air suspension industry. They have been manufacturing industry-standard air suspension kits for years. It is arguable to pick just one from these two famous brands. But considering the enormous popularity of both the brands, let's try to figure out which one is the ultimate winner.
Air Lift Vs Firestone Table
| | |
| --- | --- |
| | |
| | |
| Model Number is Loadlifter 5000 | Model Number is W217602542 |
| Easy to install with included instructions. Fits many 3/4 ton and 1 ton pickups and vans | Install Firestone Ride-Rite Air Springs on your light truck, motorhome, RV, SUV or Van Easily. |
| Always add pressure to the air springs in small quantities, checking the pressure frequently. | Drivers can keep trucking in comfort with first-rate anti-vibration technology. |
| Fully adjustable air springs level your vehicle when towing or hauling a heavy load for a safe comfortable ride | They're downright durable, and designed specifically for your vehicle, so you can haul, tow and live the way you want. |
| Warranty: 1 Year, 2 Year, or Lifetime | Warranty: Lifetime on selected products |
| Eliminate sag and bottoming out and when all four tires are firmly on the ground | It helps the industry and its drivers keep trucking in comfort with first-rate anti-vibration technology. |
| | |
Background of Air Lift
This company was first established in 1949. Since then, it has evolved a lot throughout these years. They design the best quality products for your vehicle. Air Lift was the first company to incorporate air spring inserts into coil suspensions. You can find products such as top-quality air compressors, air shocks, airbags, and anything you need to install a decent suspension system.
They have been serving their customers with top-grade products to date from the very beginning. Besides, their incomparable customer service is praiseworthy.
Background of Firestone
Firestone is another prominent name in the air suspension world. It was founded back in 1936. In 1938 they first generated the rubber air spring. Nowadays, they manufacture air springs for any vehicle. Firestone is well-known for its famous Airide air spring.
However, they first invaded the market in the 1970s by manufacturing Ride-Rite airbags. Within a decade, they teamed up with Bridgestone, a Japanese multinational company. Together they took the air spring safety to another level. They generated the ultrasonic internal height sensor, which was an outstanding finding. In recent years, they have been successfully maintaining their hard-earned reputation. You can rely on them for any of your vehicle suspension needs.
Air Lift Air Suspension Review
To run air suspensions, you must need excellent quality air compressors. Air Lift stands out from others by producing top-ranked air compressors for years. But this is not merely a compressor company at all. You will find other suspension requirements such as air springs, airbags, air shocks, leveling components, as well.
The air management systems of Air Lift perform great to inflate the air springs perfectly. Besides, their leveling kit will allow you to level out even a super heavy load. Air Lift has immensely updated itself with time. Consequently, they have been able to convince the customers with their ever-new development.
They have a considerable fan-following who rely on their suspension components with closed eyes. In return, they have never disappointed their fans. Among so many famous suspension inventions, their airbag suspension kits for Toyota Tundra are the most remarkable. You can approach Air Lift for a complete package of most of your vehicle kits.
Firestone Air Suspension Review
Firestone is already a renowned name for its 100 years' reputation in making tires. With this year-long experience of dealing with enduring rubbers and intense air pressure, they have expanded to a surprising extent in the air suspension industry. So, they are well-introduced with rubber properties. They also have an in-depth understanding of capitalizing them.
Consequently, Firestone has widespread knowledge of rubber-made airbags, air shocks, or anything built with rubber. They provide the most unique and specialized kits for your trucks. All of their air shocks are exclusive in terms of quality and functionality. Even if you have to carry a heavy load, no worries. Firestone air helper springs are there to let you level your truck.
Or, Firestone Level Rite Air Spring systems can be a viable choice. It combines both the air spring leveling capabilities and shock absorbing qualities. They also provide a wide variety of products to ensure smooth management of your air suspension. The product list includes Firestone compressor & tank, Firestone leveling kit, etc.
Our Observation
Air Lift and Firestone can be a very daunting comparison because they build top-quality suspension compacts. Whichever you choose to meet your suspension needs, you cannot go wrong in any way. However, both companies have loyal and widespread fan bases. But as these two big names always come together to manufacture the best suspension components in the market and in-between comparison is inevitable.
However, both brands offer well-designed suspension systems based on your custom needs. It should ultimately be decided by your personal preference, which brand you will choose. It would be best if you first considered which company's features go along with your vehicle. Firestone might provide a better leveling option along with fast and facile installation in some cases.
In other cases, Air Lift may win the race by offering a better warranty and rebate. However, both Air Lift and Firestone have their expert support team of skilled engineers. They have got your back if you find any issue regarding any of the products. So, it's entirely up to you, which will be your pick. We can only suggest you figure out your needs first. Then look for the solutions accordingly. It will be easier to decide on either of the brands.
Frequently Asked Questions (FAQ)
Firestone airbags are made in the United States. The company has manufacturing facilities in Ohio, Indiana, and Michigan.
Installing a Firestone Riderite airbag is easy! Just follow these simple steps and you'll be up and running in no time:
1. First, identify the location of your vehicle's airbag inflator. This is usually located under the hood, near the firewall.
2. Next, disconnect the negative battery cable from the battery.
3. Now, remove the old airbag assembly from the vehicle. To do this, simply remove the nuts or bolts that secure it in place.
4. Once the old assembly is removed, you can now install the new Firestone Riderite airbag. Simply reverse the steps you took to remove the old one and you're good to go!
The answer depends on a few factors, such as the material of the bag, the temperature of the water, and how often it's used. In general, however, most airlift bags will last for between 10 and 20 years.