A.R.E vs Snugtop Truck Tonneau Cover Caps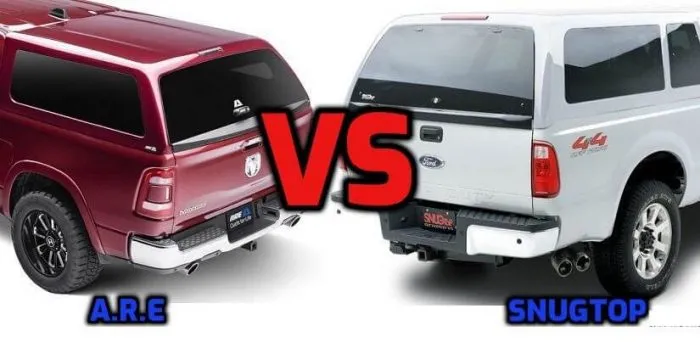 The world of truck caps is a confusing one. There are so many brands and models to choose from, how do you know which one is the right fit for your needs? In this blog post, we will discuss A.R.E vs Snugtop Truck Caps. We'll talk about what they are and who they're best suited for. By the end of reading, you should have a good idea of which model would be best for you!
Snugtop vs A.R.E Table
Both are quality products and you can't go wrong with either one. But there is a slight difference between A.R.E truck caps and Snugtop Truck Caps that we'll explore in this Table.
| | |
| --- | --- |
| | |
| | |
| | 3 lights, extra one in the middle |
| Fiberglass with spray salt rating safety glass with no distraction | Custom fit clear coat paint mounted flush all glass side window |
| Hinge, mounted directly with the glass | |
| 2 locks and a water resistant seal | 2 stainless lock and a seal |
| Double safety measures in caps and corner Thick roof with honeycomb coat | Headliner interior shell fiberglass overlay in the risky areas Black tinted glass |
| keyless remote for effective operative lift assist is patented | Rear window pop out rain gutter efficient color matching |
| j clamp is the most modern out there | J hook enabled , easy installation |
| | |
Why Compare?
Both these companies have a relatively large fan base, thanks to their value creation. So then why we decided to compare two of their products? Well, the reason is simple. There's a ton of truck caps available, and if you are a new vehicle owner and thinking of buying a cap for the first time, it's obvious to have confusion about the intended product. Trust me, it's normal and it happens to everyone.
The interesting fact about the truck caps is that even if they match all your desired prerequisites, they still need to fit the vehicle body to ultimately function to their fullest. These caps here have their similarities and dissimilarities. Function-wise, they reside very close. We've received multiple requests from customers asking us to sort this problem down.
We've decided to do this by putting the products face to face. This way you can learn what they have to offer. And reading the article fully will lead you to a concrete answer.
A.R.E. Truck Cap Review
The company Inaugurated in 1969; it has been a journey decorated with success mainly. Having opened the most prominent manufacturing plant to being crowned as the fastest delivery company, it won hearts by performance and hard work. The company is now looking to expand its service into a more sustainable service, and its plant is one of the most environmentally responsive you will see in its field.
The company is proud of the network is set up across the country. Dealers have been acquainted with the car parts and cover to ensure maximum customer satisfaction. Doing business in the industry for more than 40 years now, it is the only ISO certified topper manufacturer in the country. The parts and components used to produce the products are the finest of the branch. For example, the honeycomb reinforcement, the durable fiberglass, and the base coat paint match the colors.
Bagging the rating award in 2004 and beating its competitor, the company still leads the way. Although they have a limited product line, they have not lost customers as their designer team ensures all the demands are being met within these models. Some characteristics that make the product stand out 
Big warranty for three years on the parts and a lifetime of paint warranty

Industry best materials used in all the parts.

J clamp tech for easy installation

can get a sports wing if you fancy so 

reinforcement doubled where needed, the hinge is a perfect example to lead

all the dealers are factory trained to give you the sense of customer satisfaction you deserve
Type and Brand
These Truck caps are built by SNUGTOP and A.R.E respectively. The companies are a synonym for quality. With diverse product lines and nailing each of them earned them this respect they are getting. From what I've seen so far, customers hardly have second thoughts if the products are manufactured by one of these companies. They are in the business for enough time to understand the pulse and created products that match consumer preferences.
These two tops are hardtops that sit on top for quality. The products may look regular to you at the first glass. But a close-up view will prove wrong. They not only come with the quality but the glazing finish is guaranteed to take your breath away.
Built Quality
Built quality is something that makes consumers buy these products so much. Now, you wouldn't buy a truck top just because it looks aesthetic, right? Don't worry; we've got the facts to back up your choice.
The Hi-liner will provide you extra headspace because of the bump design. It is a great plus to have. The full tonneau is fiberglass made with an aerodynamics design that is fuel-efficient and wind-resistant. The Interior is beautiful to look at; that's to the SNUGRUG cover. The tailgate is all glass, giving you a perfect rearview. Lights are bright enough to serve you in the dark, and they are protected with a rubber seal. It even gives double-coated fiberglass in high-pressured areas. The mount is hidden to have a clearer look.
A.R.E is always a company that puts the highest concentration on the manufacturing of a product. Therefore, their manufacturing zone is the most sustainable industrial zone. Each of their products comes with an ISO certification to give you the same quality and the Z class has a 500-salt spray rating provided on the hardwires.
The exterior has a clear coating. And the whole construction is carried out using polyester resin fiberglass laminate. The hinge is super strong and comes with extra reinforcement. The taillight is a bright 12v light and the interior light is powered using a battery. All kinds of windows are available. The toppers are custom built to fit the same model you are looking for. It has a water seal and good quality locks.
Warranty
As most of the truck caps are provided by the companies, these two are also protected by a limited lifetime warranty. Both the business respects their customer base and honors their customer. They have excellent customer service to match up to the expectation.
SNUGTOP provides one year warranty on the components too. And A.R.E provides three years warranty on the aluminum-built products. 
Specials Features
As the name suggests, Hi-liner gives extra headspace inside the caps. This allows you to store more gears than usual. It has mesh screens and a special channel rain gutter. The roof is protected with half-inch honeycomb reinforcement and the bulb is protected using a double rubber seal. Hi-liner is built in one piece, which eliminates the question of fitness.
Z series tops are equipped with patented locks. They are very secure and gives you the option to enter keyless securing maximum security. It gives off a unique SUV look. You'll be likely to have a 12v power strip with it. The dark grey headliner makes the product looks very comfy and premium at the same time.
Price
As you all know, Truck caps are not a cheap investment. Of course, you can get by using a cheaper option, but that is likely to account for much more in the future. The price can range very from $99 to $1000+. It would be best if you chose wisely and accordingly. First, check your vehicle model and see what the prerequisite of adding a tonneau are. After doing so, move on and select a price point you are comfortable spending. Then you can search for a model in that range.
Hardcovers like this will cost you $1000+ but they are worth every penny. Once you get the hang of it, you'll love your investment. s
Summary
If you're looking for a high-quality truck cap with a wide range of styles and options to choose from, A.R.E is a great choice. If you're looking for a wide selection of truck caps and accessories, Snugtop is a great option. Whichever company you choose, you're sure to find the perfect truck cap for your needs!
I hope now you have got a clear pic of these two truck caps and will find precisely what you wanted for your car.
Related Article