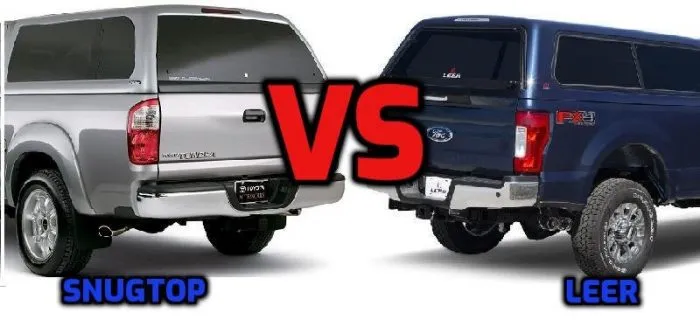 In this blog post, you will learn the difference between two popular truck caps: Snugtop and Leer. There are many different features that these two brands offer, but they both have their own unique benefits. It is important to know which one you are purchasing so that you can get exactly what you need for your lifestyle!
We'll go over who should buy a Snugtop truck cap and who should purchase a Leer truck cap. We will also highlight some of the features of each company's products in order to help make your decision easier.
Leer vs Snugtop Table
Whether you are on a budget or not we have great information that will allow you to make an informed decision about which product is best for your needs!
| | |
| --- | --- |
| | |
| | |
| Only features two lights on the front and the back. | There are 3 lights to it. Front, middle, back. |
| Superbly Built with Resin mixed fiberglass with good match to its color | Thick fiberglass is present there But some users have says about the color matching |
| There's a hinge on the back glass and mounted with quality glass all around it. | The hinge is similar in quality but smaller |
| Comes with a rear window, rain gutter that stays true to its features | Rain gutter, rear window with a screen. |
| | |
| | |
| j clamp is the most modern out there | J hook enabled , easy installation |
| | |
Why Compare?
Truck caps are popular accessories among car owners. They go by different names like toppers, shells and canopies. As they are known in a wide range of names, they come in different varieties too. You can go with aluminum, fiberglass, or even a plastic body. There are tons of company that is making this hot product. Each version has its pros and cons considering the material, brand-specific qualities and much more alike.
The products we are talking about today are made by two veteran companies that go by the name of Snugtop and Leer. They are one of the pioneers of this industry, and the customers applaud their sublime products. We've come across several different customers who were confused about their purchase decision to choose between these two truck caps. So, we've decided to compare these shells face to face and help you decide your purchase.
Snugtop Truck Caps Review
Being one of the industry founders, many new buyers address the toppers directly named "Snugtop." From the start of its journey, it has been the face of the industry holding its head well high. From 1959 to the present time, it has been a critical feature of the topper revolution. The company has a product line of 400 products that supports every vehicle in the market, which eases their path towards global expansion.
Being such a massive success in the global market, the company aims to feature more new products to meet all the demands, and the relentless effort from the team has met the needs so far. In addition, products have a lifetime paint warranty that puts the tensed faces aside. Focusing primarily on covers and caps, we see some key features.
It is the best fitting topper you can ever find, and it's not even a debate.

Lots of designs to choose from and meeting specific needs in every model.

The lifetime of paint warranty with One year of all parts warranty.

It gives a two-step security barrier complementing unparalleled strength.

The Top-notch design will have viewers gaze at your car and the enhanced performance, better fuel efficiency to make you feel proud.
Type and Brand
Once the truck caps were introduced, they were enormously celebrated because their need was already tremendous. But as the years passed, they advanced a lot and eventually became inevitable. The types we see are mostly hard, tonneau, soft, and tent. And cap manufacturing is a heavily competitive business.
The two companies that we have here come with an illustrious portfolio. Snugtop started its journey back in 1959 and Leer is dated even further back in 1917. To be able to do business for that long period takes quality and they have indeed shown it. The companies produced a number of caps and other required accessories. The caps we are comparing are Hardshell truck caps with genuine quality. Next, we check out their built quality.   
Built Quality
From its usage, it's pretty obvious that they have to be sturdily built. And my gosh, they are. Snugtop has always been very famous for their quality and they are utterly reliable too. In the interior, we witness a hard shell wrapped around with fiberglass shell. The aerodynamic design is extra-ordinarily efficient. The company claims that they even help the vehicle to be fuel-efficient. The same goes for the leer, the product offers a huge amount of space inside, and oversized doors add to the fact that they provide additional headspace and make it even more comfortable.
The glass in both caps is tinted and curved. And both the business offers a limited lifetime warranty on color as the products are OEM in quality. So it doesn't give you much hassle in terms of fitness. The snugtop has more locks than the leer caps. It has six different locks, which again can be operated through a key. Leer has quality locks like T-handle or j-clamps but doesn't offer much in numbers.
Product Warranty
These products are built to last. There is no point denying that. Well, you don't want to go and change your caps after a year on two, right? So, lifespan is crucial in this case.
The lifespan of both leer and snugtop is pretty much never-ending. So, the companies opted for a limited lifetime warranty on color and construction. Snugtop goes an extra mile too by putting a warranty on the components inside. They've authorized dealers across the world. Any problems faced will be dealt with care.
Special Features
To be true, the extra headroom in both these covers will be the first thing you notice, thanks to their design. Other than that, the XTRA vision is upgradable, which is a new thing considering the caps. Reliable rain gutter to give you a weatherproof tonneau. And the whole thing has a one-piece design saving your precious time of tightening the smallest of screws.
Leer is much more straightforward. The design is unique and eye-catching at the same time. These caps are wind resistant, helping you achieve that speed you are looking for. The automotive paint is named Axalta and it's used all cover the cap. The lights on this cover are perfect and perform under pressure.
Product Price
Truck cover pricing starts from $99 and goes up as high as $1000+. Hard-shell will cost you the most. Around $300-700, you'll get some hard shell, but you'll get the best of the softshell. The last segment is mostly tenting.
Price is something purely subjective. Everybody doesn't have the same finance or the willingness to expense that much. So, the priority should be selecting a budget and then look for brands that match the requirements.
Products we have here are both intricate shell toppers and are likely to cost you higher than the soft/tents. But you have to remember the fact that this is a long-term investment. These two are proven products and anyone willing to buy these shouldn't hesitate to take the benefits you discussed above.
Summary
Truck stops aren't luxury anymore as they protect and store your gears safely. We vouch that these two products will live up to the expectation.
Frequently Asked Questions (FAQ)
Is SnugTop made by leer?
Yes, SnugTop is made by leer. Leer is a leading manufacturer of truck caps and tonneau covers, and has been in business for over 50 years. SnugTop's headquarters are located in Long Beach, California.
How much does a SnugTop cost?
If you're in the market for a new truck bed cover, you may be wondering how much a SnugTop costs. The answer depends on a few factors, including the model of truck you have and the specific features you're looking for. However, you can expect to pay anywhere from $800 to $2,000 for a quality SnugTop truck bed cover. So if you're looking to keep your belongings safe and dry while also boosting the look of your truck, a SnugTop is definitely worth the investment!
Leer truck caps are a great way to protect your truck and keep your belongings safe. They come in a variety of styles and colors to match your truck's personality, and they're built to last. Prices start at around $500 for a basic model and go up from there, depending on the features you want. So if you're looking for a quality truck cap that will last for years, Leer is a great option.
A LEER truck cap is generally very light. The average weight of a LEER truck cap is around 60-70 pounds. This makes them easy to install and remove, which is great for those who need to use their truck for other purposes.
Related Article