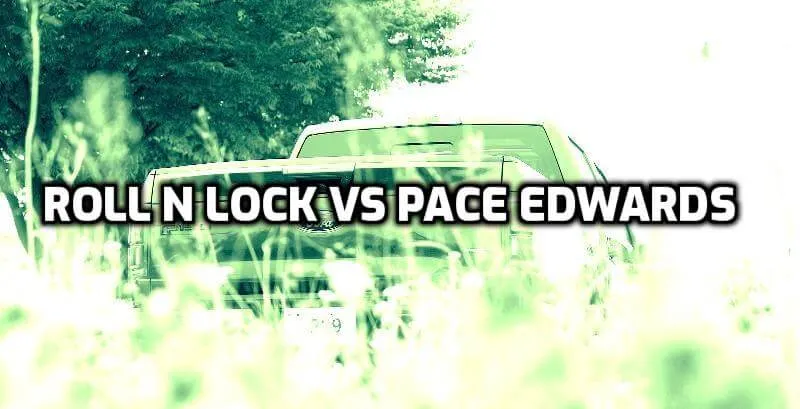 Roll-N-Lock vs Pace Edwards is one of the most searched tonneau covers in different search engine platforms. As tonneau covers have become an essential part of cargo transportation, everyone is eager to choose the best one. And this urge has to lead the customers to compare these two big brands to invest in the right product.
Roll N Lock Vs Pace Edwards Table
Tonneau covers are an excellent way to protect your truck bed and its contents from the elements. There are many styles of tonneau covers, with a variety of features. The key is knowing what you want before you start shopping, so that you can find the one that best suits your needs. In this Table we'll discuss two popular types of tonneau cover.
| | |
| --- | --- |
| | |
| | |
| Model: Roll n Lock BT261A  | Model: Pace Edwards SWFA05A28 |
| Build with Aluminium panels, vinyl surface | Material is Aluminium slats, ArmorTek |
| A Series Low Profile Design | A Series Low-profile Design |
| 4 point lock, tailgate lock | |
| | No drill, wrench and screwdriver needed |
| | |
| All Aluminum Construction For Scratch & Uv Protection | Pace Edwards has Power Spring For Smooth, Fast Movement |
| Low Gloss Vinyl Over Aluminum Finish | Constructed From Aluminum Panels And Finished In Padded Polymer |
| Suitable for Fits 2015 - 2020 GM/Chevy Colorado/Canyon 5' 0" Bed | Suitable for F150 Fitment: 2015-2020 F150 5.5ft bed, 2017-2019 Raptor 5.5ft Bed |
| | |
Why Compare?
There is no denying that both Roll-N-Lock and Pace Edwards have magnificent products. The Roll n Lock has been in the market for almost three decades and boasts multiple series of tonneau covers. Roll n Lock has covered almost all types of tonneau covers from soft roll-up, hard roll-up to retract models. On the other hand, though Pace Edwards is relatively new in the market, it has marked its presence with some high-quality tonneau cover models.
Though both of them are cult favorites yet they have some differential features that set them apart. For customers, it is very necessary to know every detail regarding the customers so they can choose one as per their needs.
Material and Durability
Roll-N-Lock compromises neither the built material nor its durability. Whereas most of the products in the market have normal aluminum, Roll-N-Lock applies two layers of aluminum for extended strength. It needs no saying how durable a good quality aluminum can be. This tonneau cover is extremely durable and long-lasting due to the excellent quality aluminum built. The brand claims this cover can hold up to hundreds of pounds without any fuss. Apart from the base, the surface material is also excellent. The vinyl surface material is strong enough to protect the cargo from outside elements.
Pace Edwards eliminates all the traditional construction material and opts for something new age. It adds aluminum slats and to support the slats, and there is an ArmorTek overlay. Basically, ArmorTek is new to the industry, a polymer that is highly weather resistant. It is incorporated with the aluminum panels to intensify the overall strength of the cover. It also enhances durability to a noticeable extent.
Design and Cargo Space
Nothing can beat Roll-N-Lock in saving cargo space; it features the most compact canister, so the users have larger cargo space. It sits just seven ¼" deep and is extremely low profile in design. Also, the canister housing is not like other space-consuming retractable models. It facilitates the users with both the retracting comfort and extra cargo space at the same time. The housing lid is aerodynamically styled for better fuel economy.
Knocking off the low profile design, Pace Edwards comes with an advanced option; the flush profile design. This design is quite new to the industry, and it keeps the bed cover mounted inside the truck bed rails. This results in a more sleek appearance and tight-fitting. The canister is 9-3/4″, thus saves remarkable cargo space.
Weather Protection
Roll-N-Lock does not add any additional features for weather protection as the cover itself is strong enough to tackle any weather adversities. Yet, there are some safety features to mention. The housing lid of this tonneau cover is attached to the unit with two screws and two pins which results in a tight-sealing against rain and snow. Also, for accidental water intrusion, there are built drainage fittings available.
Pace Edwards also includes built-in channels to keep the water off the bed cover. This cover is also capable of protecting the cargo from extreme temperature and UV rays. Thus it is appropriate for delicate cargo transporting. The construction frame is strong enough to protect from heavy snowfall and rain.
Ease of Use
Roll-N-Lock believes in easy and comfortable operation; it includes a contoured hinge, torsion spring and other crucial features for smooth rolling operation. The torsion spring is enclosed in a 3″ aluminum casing for frictionless rotation. Again, the contoured hinge design also plays a significant for smooth rotation and easy operation.
For utmost customer comfort, this model also has a finger insulator grip. This grip lets the users grasp the handle without burning the fingertips in extreme heat. Opening or closing this tonneau cover is not a big deal at all. It comes with a lever and key to open the cover within seconds. To pull the cover back, there is a built-in pull strap. Thus users don't need to force the cover for rolling and also won't require any manual effort.
Even Pace Edwards does not compromise to provide comfort to its customers. Though it does not fully eliminate the manual effort, no doubt, it minimizes effort to the least. The tension spring integrated into the cover retracts smoothly. Upon squeezing the pinch grip under the rear plate, the cover retracts smoothly. Thus one needs the least effort to manoeuvre Pace Edwards cover. Also, the design makes it easy to access the bed. The cover does not restrict the rear window view.
Lock Mechanism and Security
Roll-N-Lock is the best you can have regarding security and lock systems. It ensures an almost impenetrable seam to prevent any leakage. It has a revolutionary 4 point lock system along with a tailgate lock. In short, theft becomes next to possible once you switch to this truck bed cover.
Pace Edwards, on the contrary, does not have anything special regarding the locks. It is pretty basic with the tailgate lock. But, it is highly effective. Once it is locked in conjunction with the tailgate, be sure your cargo is safe and inaccessible without the keys.
Summary
This Roll-N-Lock vs Pace Edwards comparison points out the basic differences between these two brands. Customer must bear in mind their requirements and then choose the best-suited one between these two.
Frequently Asked Questions (FAQ)
Roll n Lock bed covers are made in the United States. The company has a manufacturing facility in Arizona where all of its products are made. Roll n Lock is a family-owned business that takes pride in making high-quality products that are built to last.
Pace Edwards is an American company that specializes in manufacturing retractable truck bed covers. The company is based in Austin, Texas and all of its products are made in the United States. Pace Edwards has been in business since 1991 and has a reputation for making high-quality products.
Is the Roll N Lock tonneau cover waterproof?
The answer is yes! The Roll N Lock tonneau cover is made from heavy-duty vinyl that is designed to withstand the elements. Plus, the cover features a unique interlocking system that creates a watertight seal. So you can rest assured that your truck bed will stay dry, no matter what the weather brings.
A roll-n-lock tonneau cover is a type of cover that is used to protect the bed of a truck. This type of cover works by rolling up and then locking into place, providing a secure and weather-resistant seal. There are many benefits to using a roll-n-lock tonneau cover, including increased security, protection from the elements, and improved gas mileage.
Related Article