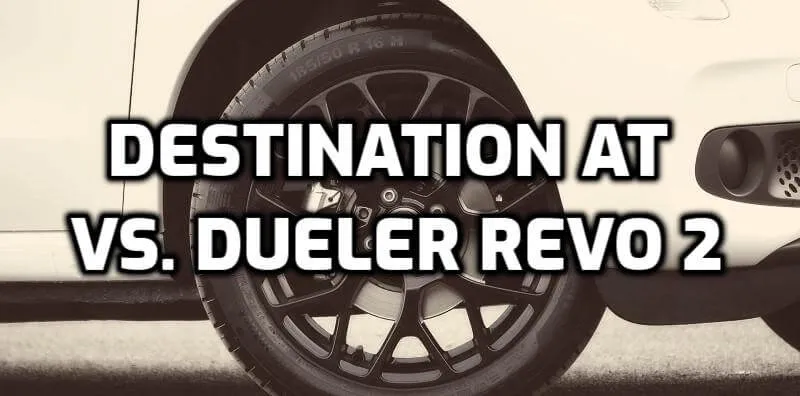 Ever have a hard time deciding what tire to buy? Well, Bridgestone Dueler Revo 2 vs Firestone Destination AT is your chance to make that decision! Both tires are very good and it will come down to preference. But if you're looking for something specific like fuel efficiency or traction in rain, we recommend reading this article before making a final choice.
Compare Table
The two major criteria for selecting a tire are the treadwear and traction rating. Bridgestone Dueler Revo 2 tires have a higher treadwear rating, but Firestone Destination AT tires provide better overall traction.
| | |
| --- | --- |
| | |
| | |
| | |
| Tire size P235/75R15 105 S | Tire Size P235/75R17 108 T |
| | |
| 50,000 Mile Limited Treadwear Warranty | Treadwear Warranty Up To 50,000 Miles  |
| It Resist Cracking, Chipping and Tearing | Impressive Wet Traction And Handling |
| Load Capacity 2028 Pounds | Load Capacity 2205 Pounds |
| On-Road Handling, off-Road Toughness | Excellent For Quiet, Comfortable Ride |
| 5-Degree Noise Reduction Technology Helps Minimize Noise Generation | Stepped Inside Notch And Sawtooth Grooves Improve Snow Traction |
| Built for Pickup Truck, Jeep and SUV | Suitable For Light To Medium Trucks |
| | |
Why compare?
Firestone and Bridgestone have been popular names in the tire industry, thanks to their quality guaranteed products. These two companies have their fair share of customers. They are regarded as one of the market leaders too. Competition between the two companies is immense. 
The products we've seen from these two companies are full of quality, no doubt there. But from a customer point of view, you have to stick to one of them. This problem is most seen between firestone destination AT and Bridgestone dueler Revo 2. These two have pretty similar properties and carry out the same function. That's what drives the customers to search for more info or to compare them face to face. We haven't found anything concrete on the internet comparing these two products. So, here we are comparing two marvelous products heads on.
Tire Type & Built Quality
Both these tires are all-season tires accompanying you through any weather. It has multiple technologies making it stronger all season, eventually making its low noise and vibration-free. Built quality compliments the tires all season feature throughout its lifetime. 
The first one in our article has a carbon reinforcement that can reduce wear, tearing, and many similar harms. The tread compound is computer optimized, so it is very efficient in shape or materials. The carbon that we talked about in the long link. The wrap on the exterior is spiral which is made of nylon. The tire can reduce noise by 5 degrees. 
 The second tire in our article has semi stealth tread blocks that can evacuate water faster than usual. The tooth-shaped groove gives impressive traction even in the snow. The tread compartment has two layers, and the nano pro-tech ensures you get optimal traction where you need it. The company guarantees 100% fitment. Dura tech and stepped inside notch accounts for the impressive handling you get across the whole tire life. 
Tread & Section Details 
Learning the section and tread details will enable you to read the tire signs and numbers. That's why it is so important to go over this once. The Destination AT has a section width of 235 same as the dueler Revo. The rim diameter is 15 inches with a width of 7 inches. The tread depth of the tire is 13 32nds. The load capacity of the tire is 2028, with a load index of 105. The speed rating is S class and UTQG is 460AB. 
The second tire has a lot of similar functions, but they have their difference here. The rim diameter is 17 inches with a width of 6.5inch. Tread depth is 11 32nds. The load index is 108 with a load-carrying capacity of 2205. This tire also has a UTQG rating of 500AB and T speed rating. 
Lifespan
The lifespan of the tires is subjective to how you drive and where you go. Commonly, you will get a more considerable lifespan when you drive around town compared to off-roading adventure. Plus, not all tires are cut out for extreme conditions like wet surfaces or off-roading, for example. 
These two tires that we are talking about are all-season tires capable of towing and weight lifting. They are also equipped with some of the most modern technology there is. So, it is obvious that they are likely to last longer. These two tires have 50,000 miles tread life warranty, but customers report that they easily last for 80,000 miles on average. 
 Suitable For 
Buying tires is a bit tricky if you don't have enough information about your vehicle or the product you will buy. Specific measures and points need to be taken into consideration when you are buying a tire. 
The first tire in our segment is best fitted for SUVs and light trucks. And the second one is more fitted towards a light to medium trucks. Tires are manufactured keeping certain vehicle styles in mind. You can't just go on and buy random tires. It can cost you a huge amount of money and an unnecessary drive back to the store. Therefore, you should be informed about the tire's suitability. 
 Price
The price for the tires is quite reasonable compared to the other tires in this segment. These tires are what you call value for money. Tires are a costly investment as all the tires are replaced at the same time. So, it is wiser to find one that doesn't hurt you financially and gives you the performance you want. 
The price of the first tire is slightly more than the second one. But the additives we talked about in the built quality make up for it. If the price suits your budget and the tires fit your vehicle, you shouldn't have any second thought about the purchase.
Summary
All of your vehicle tires should be replaced at the same time to enjoy a longer lifespan. These tires promise to give you a long lifespan alongside premium performance.
Frequently Asked Questions (FAQ)
Firestone Destination at2 tires have a ply rating of 2. This means that they are made of two layers of material, which makes them more durable and resistant to punctures than other tires on the market. If you're looking for a tire that can handle rough terrain and provide a smooth ride, Firestone Destination at2 tires are a great option. Thanks for reading! We hope this information was helpful.
Bridgestone Dueler tires are made with a special compound that helps them to resist freezing and provide excellent traction in snow and ice. They also feature wide grooves that help to evacuate water and slush, further improving traction and grip. Bridgestone Dueler tires are an excellent choice for winter driving safety.
Are Bridgestone Dueler tires 10 ply?
Yes, Bridgestone Dueler tires are 10-ply. This means that they are made of 10 layers of material, which makes them very strong and durable. They are a great choice for those who want a tire that will last long and perform well in all conditions.
Related Article