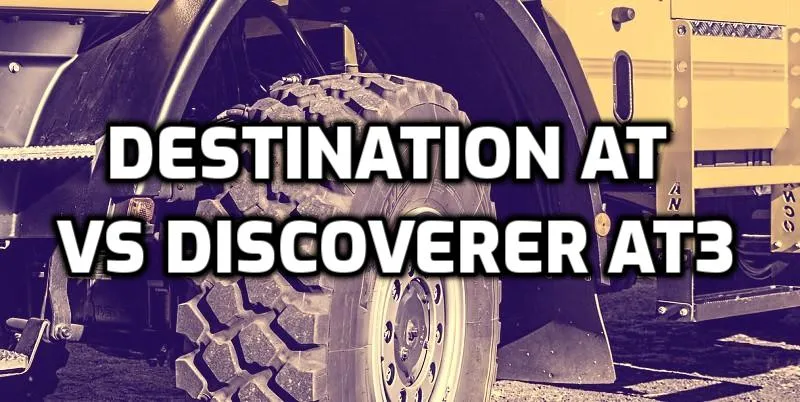 What do you need in a tire? For most drivers, the answer is simply good traction and a smooth ride. But for those who tow heavy trailers or drive on rough terrain, it's also important that the tires provide stability at high speeds. If you're looking for a tire that will serve your needs no matter what they are, then look to Firestone Destination AT and Cooper Discoverer AT3 Tire!
Compare Table
When it comes to passenger cars, SUVs and crossovers, the Cooper Discoverer AT3 has slightly better wet traction than the Firestone Destination A/T. The downside to this is that in dry conditions these tires have about equal performance. This means if you live in a place where there is rain year-round or snow during winter months then you would want to invest in the Cooper Discoverer AT3 tire instead of the Firestone Destination A/T because of its superior wet weather grip on dirt roads.
| | |
| --- | --- |
| | |
| | |
| Tire Size P235/75R15 105 S | |
| | |
| Load Capacity 2028 Pounds | Load Capacity 3195 Pounds |
| Resistance to Irregular Wear | Hauls Heavy Loads With Less Wear |
| Strong Wet and Dry Handling | Extreme Durability for Hauling |
| | |
| 5-Degree Noise Reduction Technology Helps Minimize Noise | Built to Withstand the Ongoing Assault From Dirt and Gravel |
| | |
| Built for Pickup Truck, Jeep and SUV | Suitable for SUVS, Light Trucks and Medium Trucks. |
| 50,000 Mile Limited Treadwear Warranty | 60,000 Miles Limited Treadwear Warranty |
| | |
Why Compare?
Finding tires for SUVs can be frustrating given the fact there are too many options. Yes, it's a sweet dilemma to have. But in the end, you got to settle for a tire that matches your needs and preference. 
The only way you can choose one is by narrowing it down. We've encountered multiple customers that narrowed it down to these two tires that we are talking about today. From this point on, you got to compare the two tires face to face. But that would take up all your time in a day as they are not stated in an organized way. 
We've taken the liberty to construct a compact article comparing these two brilliant tires. After reading the article, you'll be able to come to a purchase decision.  
Tire Type & Built Quality 
The Destination A/T made by firestone has been one of their most successful products over the year. The whole tire compound is computer optimized and O-bead is used in the building. It has a long-link carbon that helps the tire resist wearing, distorting, tearing or many sorts of harm. The spiral wrap on top accounts for a high level of uniformity. This advanced technology helps the tire to reduce noise to 5 degrees.
Discoverer A/T3 is more advanced compared to the previous one we talked about. This tire is all-season, all-terrain, implying that they can go anywhere, anytime. The rugger shoulders and sidewalls of the tire suggest the same. The tire's exterior has even arc technology that ensures that the tires don't wear unevenly and produce bumps. The deep grooves are whisper grooves with a unique barrier to stop sound, giving you a quiet, comfortable ride. Stone ledges are pretty strong ejecting stones and other dirt safeguarding the tire. 
Section & Tread
Tread and section details can make you confident about your tires. And confidence is mandatory because you can't go on a long drive thinking your tire might fail you, right?
The Destination A/T has a section width of 235mm and a rim diameter of 15 inches. The tread depth of the tire is 13 32nds and has an aspect ratio of 75. The load index is 105 with a load-carrying capacity of 2028 pounds. UTQG rating of the tire is 460AB and the speed rating is S. 
The cooper tire is built much more aggressively. It has a section width of 275m with a rim diameter of 18 inches. The tread depth of the tire is 16 32nds and the aspect ratio is 70. The right has outrageous weight lifting capabilities. The load index is impressive 125 and it can carry a load up to 3640 pounds. UTQG rating is 620AB and the speed rating is S which is the same as Destination A/T
Traction
Traction is an essential aspect of a tire. We usually see three types of surfaces. The regular one, snowy and the wet surface. Traction of a varies according to the surface and so does the performance. 
The first tire that we've here is an all-season tire. That means they are well made for any surface. The second tire of our article is an all-season all-terrain tire that can go through any surface even in the extreme of weather. Both the tires will give you formidable traction on a dry surface. Thanks to the tread design, rain gutter, and silica-infused tread compound, these tires will perform high standards even on the wet surface. Cooper tires do comparatively better in snowy surfaces thanks to their sawtooth block design. The firestone tire is good as long as the snow is moderate. 
Lifespan
The lifespan of both tires is pretty long. Discoverer A/T3 wins this round as they have a better average lifespan of 60,000 miles than the 50,000 miles of the Destination A/T. 
The lifespan of tires is something mostly subjective. You can realize that if you pay enough attention. If you check your tires regularly, look after them and don't drive roughly, you would get more comprehensive services regardless of the average. Tires must be changed after 1,00,000 miles even if they are not completely worn out. 
Price
Price is an important factor for buying anything. The same applies to the tires. The first tire one our article resides in low budget tire segment. They are not necessarily bad. They are quite good for the money invested. The second tire lives in a mid-range budget. Given the features and built quality we talked about earlier, it's quite justified. Both these tires have their pros and cons and come with their separate fan base. You should not pay heed to that, rather you should buy the tire you genuinely think would be good for you.
Summary
Buying tires are a daunting affair if you don't have the information. But this can be changed into an easy-going task by doing the proper research.
Frequently Asked Questions (FAQ)
When it comes to snow and ice traction, the Cooper Discoverer AT3 is rated very highly. In fact, it's one of the best all-terrain tires you can buy if you live in an area that gets a lot of snow and ice. The tire's aggressive tread pattern helps it bite into snow and ice, while its wide footprint provides good traction on slippery surfaces.
On average, Cooper AT3 tires will last for around 50,000 miles. However, this will depend on a number of factors such as the type of vehicle you drive, your driving habits, and the roads you typically drive on.
Firestone is a trusted name in tires, and their Destination tires are no exception. These tires are designed for durability and performance, and they're made by a company with a long history of quality tire-making. If you're looking for a good set of all-season tires, Firestone Destination tires are a great option.
Yes, Firestone Destination A T tires are directional. This means that they should be mounted on your vehicle so that the tread pattern rotates in the correct direction. If you're not sure which way the tread pattern should rotate, consult your vehicle's owner's manual or a professional tire installer. Incorrectly installed directional tires can negatively affect your vehicle's handling, traction, and fuel economy
Assuming you are talking about the Firestone Destination LE2 tires, they typically last around 50,000 miles. However, this can vary depending on a number of factors, such as how you drive and the roads you typically drive on.
Related Article