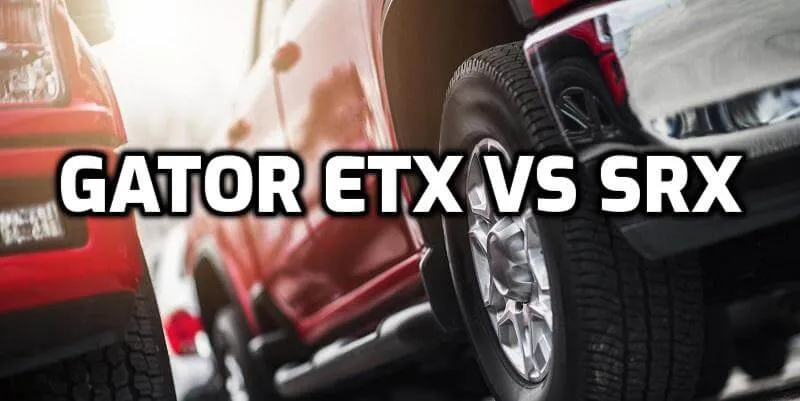 Soft roll-up tonneau covers are very popular in the tonneau cover market for their simple and easy-to-use features. Also, these types are very cheap in terms of pricing. Usually, this system is designed with just a vinyl tarp sheet which stays clamped upon the guide rail.
This might not be as strong as the hardcover but is still used to protect the cargo from prying eyes or rough weather. Famous American brand Gator is the proud manufacturer of two identical tonneau covers named Gator ETX and Gator SRX. As both of the models are produced by the same company, there is very little difference between them.
There are many factors to consider when choosing a tonneau cover for your truck. If you're trying to decide between the Gator ETX and the SRX, here are a few things to keep in mind.
The Gator ETX is made of tougher, more durable material than the SRX. It's also UV-resistant and won't fade in the sun. The Gator ETX is a great choice if you're looking for a cover that will withstand heavy use.
The SRX is made of lighter-weight material, so it's easier to install and remove. It's also more affordable than the Gator ETX. If you're looking for a cover that's easy to use and won't break the bank, the SRX is a good option.
Both covers will protect your truck bed from the elements and keep your cargo safe and secure. Ultimately, the best tonneau cover for you will depend on your specific needs and preferences.
Gator ETX Vs SRX Table
| | |
| --- | --- |
| | |
| | |
| No-Drill Required to Installation | Easy Installation Without Any Power Tools |
| Tension Control Is Adjustable to Suit the Conditions | Adjustable Tension Control for Suit The All Climates |
| Allows Full Access to Your Truck Bed | Access to 100 Percent of Your Truck Bed |
| Industrial Strength Leather Grain Textured Vinyl | Storage Straps Keep Cover Secured While Driving |
| Limited Lifetime Warranty With 30 Days Easy Exchange | 10 Years on the Tarp and Limited Lifetime Warranty on the Frame |
| Easy to Use and Only Takes Seconds to Open and Close | Easy to Operate Trigger Latch Makes Operation Simple |
| Introducing Smart Trigger Latch to Easily Operate the Entire Cover | Auto Adjustable Tension Control Works to Protect the Bed Area Secure in Rough Time |
| Compatible With Most of the Popular Truck Models | Fits With All the Most Popular Truck From the Year 2015 to Current Year |
| Single Piece of Side Aluminum Rails Along With a Leather Grain Vinyl Top | Highly Durable and Tear Resistant Industry Grade Vinyl |
| | |
| | |
| | |
Why Compare
As both of the models are produced by the same company, there are very few comparing features between them. But still, here we are working hard to give you every detail of information before you choose a model for your special desire.
Here we are discussing these two models of the same company in terms of Compatibility, Material, Exterior and outlook, Functionality, Installation, and Warranty. I hope it will help you to decide on the perfect device after you finish the write-up.
Compatibility
In recent times, all of the tonneau cover manufacturers have come up with many different sizes to cover up most of the popular truck model's rare portion. Currently, the most widely used sizes are 5.7 feet, 6.7 feet, and 8.2 feet. Both of the models mentioned here can cover most of the popular truck models. But it is highly recommended to check the correct size based on your owned truck bed size.
Material
Usually, these types of products use aluminum rails and soft vinyl sheets to cover up the entire truck bed like Gator ETX and even SRX. First, the single piece of the robust aluminum frame needs to be clamped inside of bedside rails. Upon this channel, an Industrial grade leather-grain vinyl sheet is mounted to provide a perfect covering feature. The plan covering sheet remains strongly incorporated with side rails and ensures the topmost leakproof environment inside the bed area.
External Outlook
As the guide rails of ETX are clamped just under the side rail border, it ensures the sleekest and low profile zero-emission aerodynamics in the rare part of your truck body. The rolled-up coils can be fully opened up or fully closed in any specific condition.
Both of the models allow full bed access when those remain in a fully opened position. It would be best if you thanked Gator for their low profile design concept, which not only looks better; but also can reduce some fuel costs as well.
Functionality
To secure your truck bed, both models come up with a one-handed trigger latch on the driver seat side. It is just a one-handed operation to control the soft roll-up covering sheet. A hook strap can hold the entire rolled-up coils. While these straps keep your cover safe, you can focus on driving without worrying about it. Also, thanks to the auto adjustable tension control feature which helps the cover remain tightly locked and leakproof when necessary.
Installation
Gator ETX and SRX combine the simplest possible mechanism to mount the entire system within 30 minutes to an hour. All you need to work on is clamping the aluminum guide rails just by tightening bolts and screws. After this, the pre-assembled soft rolled-up coil needs to adjust on the top of the bed. There is no need to think about any power tools or drilling machines in the process.
Warranty
Both ETX and SRX soft roll-up truck bed covers are proudly manufactured by the American company Gator using globally sourced materials. This company offers 30 days of 'Love it or Swap it guarantee which ensures the exchange for another Gator cover within 30 days of purchase. Also, both models are backed up by a limited lifetime warranty on the aluminum frame and ten years on the vinyl tarp.
So, it is almost all we need to consider before having a buying decision between these two models. As you realize, both models are exactly the same in almost every aspect. Here the only issue you need to consider is availability. Specifically, Gator designed two different models with the very same features just to take better control of some local markets.
There is a good chance that you might not find both of the models available in a specific state. In our expert's opinion- you might choose any of the models mentioned here based on availability; without worrying about missing anything.
Related Article