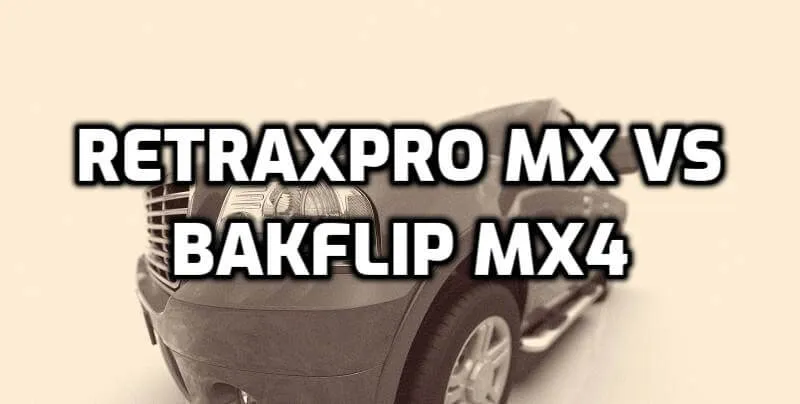 The Retrax Pro MX and Bakflip MX4 Tonneau cover are two great options for truck owners looking to improve their gas mileage by reducing drag. They both offer excellent features, but which one is right for you? To find out, take a look at the comparisons below!
Retrax Pro MX Vs Bakflip MX4 Table
Both the brand are equally famous and flaunt a magnificent line of tonneau covers. And picking between these two can be pretty tough. In this comparison guide, readers will get to know about the basic differences between the features.
| | |
| --- | --- |
| | |
| | |
| Dimension 65 x 14 x 16 inches | Dimension 81 x 9 x 23 inches |
| Easy No Drill Installation | Cover Installs Without Drilling |
| Supports 500 Lbs Evenly Distributed On Top | Can Hold Up To 400 Pounds Evenly Distributed |
| Has Water Drainage System | EPDM Rubber Seals Add Great Water Resistance |
| Limited Lifetime Warranty | Comes With 5 Year Warranty |
| Can Be Effortlessly Locked Down At Any Point | Multi Function Tailgate Seal |
| Matte Finish For UV And Scratch Protection | Matte Finished For Protecting Against Marks, Scratches And UV Damage |
| Constructed From Industrial Double Wall Aluminum | Manufactured Using Aluminum Panels |
| Suitable For Fits 2019 - 2021 Chevy/GMC Silverado/Sierra, works w/ MultiPro/Flex tailgate (Not Compatible w/Carbon Pro bed) 5' 10" Bed | Fits 2004 - 2015 Nissan Titan 6' 7" Bed (78.9") |
| | |
Material
Retrax keeps the construction material quite simple yet durable. The durable aluminum construction is extremely strong and is capable of providing the utmost protection to the cargo. Also, the formation is so sturdy that it can also carry almost 500 lbs. weight when distributed evenly.
It comes with a matte black powder-coated exterior which is scratch and fades resistant. The overall construction is so well built that the brand claims a lifetime warranty. The same goes with the Bakflip as it also uses aluminum as the main construction material. But it adds extra feathers to the cap with its addition of the prop rods.
These rods are great for supporting the whole construction and especially support the cover in an upright position. The exterior of this tonneau cover prevents any sort of unwanted fingerprints and scratches. It is strong enough to carry almost 400 lbs. weight without any hassle.
Design
Unlike the soft covers that remain bulk when rolled, the Retrax tonneau cover is flush-mounted and seamlessly fits the truck bed. The fit is tight enough and the ball bearings ensure smooth rolling without any Velcro, straps, springs, or snaps. The low-profile design complements the overall outlook of the truck. Also, the canister comes with an anti-rub spiral design which prevents the cover from coming in contact with itself while rolling. Thus no chance of scratches at all. The cover is designed in a way to maintain the finish for a long.
Bakflip excels in the design aspect; efficient and elegant. The rails of this tonneau cover come with a finished look and do not allow any exposed raw aluminum. It eventually enhances the overall appearance and gives the truck a cheek touch. There are rubber bumpers available to prevent the cover from scratching the truck's cab. And the most important part of the design is the 100% bed accessibility. Users can secure the opened cover with the struts and can enjoy full bed accessibility.
Weather Protection
The Retrax protects the truck bed from outside weather. Be it heavy rainfall or snow, and this tonneau cover can work against all. Though there is not even the slightest chance of leakage, the drainage tubes can carry out the water.
Bakflip is well known for its weather safety features; the cover is UV resistant, thus carrying no sensitive goods. It seals the truck bed in a manner that dust cannot enter the truck bed. It also protects against rainfall and theft. There are EPDM rubber seals to keep the extra water away.
Ease of Use
The Retrax tonneau cover comes in handy to guard the cargo and unlike most of its contemporaries, it does not give a tough time to the users. Retrax provides utmost customer ease while using. The sealed ball bearings work like magic and make the rolling extremely smooth. Users don't need to hassle and there is no risk of being stuck. Also, the ball bearings ensure zero maintenance which eventually is a great relief.
Bakflip glides so smoothly that it does not even require the least manual effort from your side. There is a string latch attached to the cover, users just need one hand to pull the cover open. Also, the cover gets latched in any position and does not flap while driving.
Lock Mechanism and Security
Retrax comes with two lock systems; the ultimate tailgate lock and the simple latch system. The cover can be latched at any position to the truck bed rail and forms a tight fit. It eventually leads to security against the weather conditions. But the tailgate lock is the final locking system that can protect the cargo from theft and damage. Make sure you use a premium lock on the tailgate for better safety.
Bakflip lets the users shut the cover even when the tailgate is not shut. It gives you full freedom whether you want to keep the tailgate open or shut; in any position, the cover can be locked. But for extensive safety shutting the tailgate is the best option.
Installation
Retrax tonneau cover does not require any extra hand to be installed. The no-drill installation system requires all the basic tools within 40 minutes and no extra effort. The whole installation process is a reward for the users indeed. Bakflip offers the same comfort as the no-drill installation option. Only a socket set and a wrench are all you need to install this amazing tonneau cover. And it may take an hour barely to be installed.
Frequently Asked Questions (FAQ)
The BAKFlip MX4 is one of the most popular tonneau covers on the market, and for good reason. It's made from high-quality materials, is easy to install, and provides great protection for your truck bed. But is it worth the price tag?
Here's a quick rundown of the BAKFlip MX4's features:
– The cover is made from aluminum, which makes it lightweight and durable.
– It has a powder-coated finish that resists scratches and UV rays.
– The cover can be installed in about 30 minutes.
– It has a locking system that keeps your belongings safe and secure.
So, is the BAKFlip MX4 worth it? We think so! It's a high-quality cover that's built to last, and it's easy to install. Plus, it provides great protection for your truck bed. If you're looking for a tonneau cover, we highly recommend the BAKFlip MX4.
Retrax Pro MX and Retrax Pro XR are two of the most popular types of retractable truck bed covers. They both offer a sleek, stylish look that can really enhance the appearance of your truck. But what is the difference between these two products?
The main difference between the Retrax Pro MX and Retrax Pro XR is the material that they are made from. The Retrax Pro MX is made from aluminum, while the Retrax Pro XR is made from fiberglass.
Aluminum is a strong and durable material, but it is also quite lightweight. This makes the Retrax Pro MX easy to install and remove, and it won't add a lot of weight to your truck.
Fiberglass is also strong and durable, but it is heavier than aluminum. This makes the Retrax Pro XR a bit more difficult to install and remove, but it will add some extra strength and stability to your truck bed.
So, which one should you choose? It really depends on your personal preferences and needs. If you want an easy-to-install cover that won't add a lot of weight to your truck, the Retrax Pro MX is a great option. If you want a cover that is a bit more difficult to install but will add some extra strength and stability to your truck bed, the Retrax Pro XR is a good choice.
We're happy to report that the BAKFlip MX4 is completely watertight. This cover has been tested in some of the most extreme conditions, and it has always held up perfectly. So if you're looking for a tonneau cover that will keep your truck bed dry, the BAKFlip MX4 is a great option.
Yes, the Retrax Pro is waterproof. This makes it perfect for use in all kinds of weather, whether you're at the beach or on the slopes. Plus, it's easy to clean if it gets dirty.
Conclusion
Retrax tonneau cover is the best choice for trucks that have to go through rough weather conditions. The water-tight seal protects it from the upcoming rainfall. Also, the truck bed is sealed in a manner that dust cannot enter. Bakflip can provide you with all this at an affordable price with amazing ease of use. It surely gives an opportunity to the users to maximize their truck bed and grab a great bargain.
I hope you like this blog post, if yes then share it on your social media networks such as Facebook, google plus, Twitter, Pinterest, etc by pressing the buttons at the end of this post. By doing so you will help us to improve the quality of this blog. We appreciate your help by sharing your comment below in the comment box, so please don't hesitate to share your thoughts with us.
Related Article