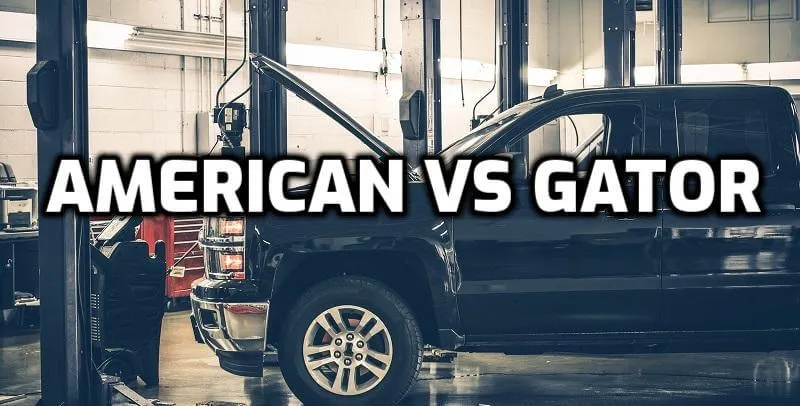 Well..! We all know it's not always easy to find the right product- when the market is saturated with different brands and models. You might find all of them offer a quite similar type of solution for specific needs. But still, as different brands produce the same solution, it must not be the same in every aspect.
Our experts are very glad to find out the differences between these and help you out to choose the best fit for your particular needs. Today's article is about two top-rated American tonneau cover brands: American Tonneau Company Soft Tri-Fold and Gator SFX Tri-Fold.
When it comes to choosing a tonneau cover for your pickup truck, you have a lot of options. American and Gator are two of the most popular brands on the market, and they offer a variety of different covers to suit your needs. So, which one is right for you?
American tonneau covers are known for their durability and easy installation. They're also affordable, making them a great option for budget-minded shoppers. American covers come in a variety of styles, including soft and hard top options.
Gator tonneau covers are also durable and easy to install. They're a bit more expensive than American covers, but they offer a sleek, stylish look that many truck owners prefer. Gator covers are available in both soft and hard top options.
So, which brand should you choose? American or Gator?
Compare Table
| | |
| --- | --- |
| | |
| | |
| Completely Assembled and Ready to Install | No Tools Are Needed to Install the Cover |
| Vinyl Grain Tonneau Finish | Vinyl Grain Tonneau Finish |
| | |
| Durable Textured Vinyl Protect From Stretch, Fade or Crack | Industrial-Grade Vinyl Resists Tearing |
| Simple Latching System Allows You to Quickly Open and Close | Mounts on Top of Your Truck's Bed Rails to Prevent Water Intrusion |
| Backed by a Limited Lifetime Manufacturer Warranty | Limited Lifetime Warranty on Frame, 10 Years on Vinyl |
| Made With Heavy-Duty and Tear-Resistant Fabric | Hand-Operated Quick Latches Are Used to Open and Close |
| Proudly Engineered and Assembled in the USA | Tailgate Seal Offers Even More Bed Protection |
| | |
| | |
| | |
| | |
Why Compare
As I told earlier, there is always some specialty- still as both of the products mentioned here offer soft tri-fold covering mechanisms. Moreover, both of the models are being produced by one of the most renowned USA market standard auto parts manufacturers.
But in terms of material, design and appearance, functionality, installation and warranty- we need to find out which model should work best with different types of users. Let's get into the main discussion.
Material
Usually, soft folding covers use aluminum frames to clamp the cover vinyl on the top of the carriage part. Here both of the brands use the same technology. American Tonneau Company, which is around 30 pounds in weight- assembled with high quality, tear-resistant and very durable vinyl sheet and robust aluminum panel to protect the inside of the truck bed.
Even Gator SFX is designed with the same concept. Sturdy aluminum panels including cross support bows allow the product weights of 42 pounds.
Design & Appearance
Both of the models come up with exactly the same design concept to cover up the truck bed part. One may not detect any visible difference between these two models in the first look. After the successful installation, both of the models remain very sleek on the top of the side rail. Thanks to the gorgeous design concept to ensure the tremendous and stylish outlook and the best possible usability.
Functionality
As both the products are manufactured using a similar design principle, their usability is almost indistinguishable. American Tonneau Company introduced a simple latching system to open or close the cover within seconds. Very similar easy-to-use quick latch handles are used to manage Gator SFX. This incredible innovation is the current industry standard which is maintained by the top-class manufacturer.
Weatherproofing is also a crucial part when considering the range of operation of the cover. Both of these two protect your bed from dust, water or snow, with perfect use of water-resistant foam rubber seals- quite impressively. But don't forget about the cross-bow support of Gator SFX. It adds some extra protection during the situation.
Installation
Soft folding covers generally come up with pre-assembled, easy-to-install blueprints. All you need to do is unbox it and install, just by following the instruction manual. Even, you don't need to look for any tools to clamp. Both of the models mentioned here offer the same provision. Hardly 5 minutes is enough to set your course. But for the aluminum cross-bows, Gator SFX might take longer than the other one.
Warranty
From the name of American Tonneau Cover, this brand holds the proud USA manufacturing brand value. The same goes for Gator SFX, as they both are responsible for maintaining the American brand value and after-sales service. Here American Tonneau Cover allows you a limited lifetime warranty.
This goes for the tarp and hardware components. Here Gator wins the race with the 'Love It or Swap Its Gator guarantee. If the product does not meet your expectations, you can easily return your model for another Gator cover within 30 days from the date of purchase. Including this, SFX also offers a limited lifetime warranty on the aluminum frame and ten years on the vinyl sheet.
In short, it is really confusing to choose any one between these two models. You see, in terms of warranty and mounting mechanism, Gator SFX provides a bit extra than American Tonneau. But, American Tonneau is a bit more expensive than the other model and takes some extra cash to make this exclusive product be owned by you.
But in other aspects, both contenders fought well with their very advanced use of craftsmanship and experience.
In my opinion, it's your turn to land on the specific model of your preference. If you're short on budget Gator would be the ultimate choice. But if you can manage the extra bucks, our expert team will prefer to go for an American Tonneau Cover.
Related Article