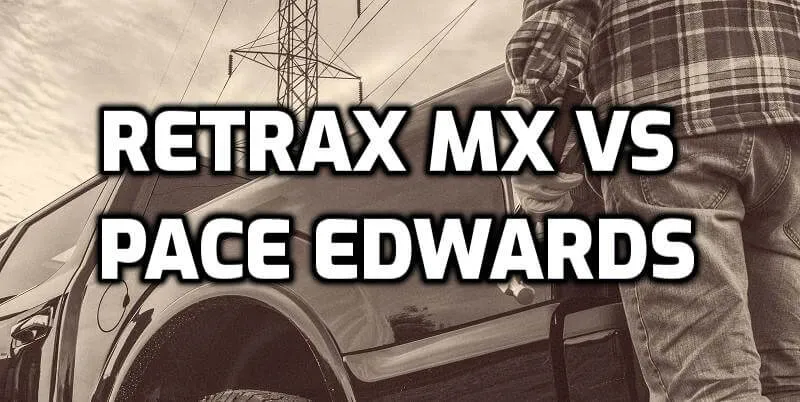 The RetraxONE MX and Pace Edwards Tonneau cover are two of the most popular tonneau covers on the market. They both have a number of features in common but also have some key differences that set them apart from each other. In this blog post, we will compare these two options so you can make an educated decision about which one is right for your truck.
Retrax Vs Pace Edwards Table
When it comes to tonneau covers, there are a lot of brands and models on the market. But which one is right for you? To help answer this question, we will compare those two in terms of price, features, warranty coverage, weight capacity, and more.
| | |
| --- | --- |
| | |
| | |
| Easy No Drill Installation | Easy No Drill Installation |
| Tough Matte Finish Deters Scratching | Vinyl Grain Finish Tonneau Cover |
| Limited Lifetime Warranty | One Year Limited Warranty |
| Superior Protection Against UV Damage And Scratches | Designed For Quick Installation And Removal In A Minutes |
| Works With 5th Wheels Hitches | Works With Most 5th Wheel Hitches |
| Supports Up To 300 Lbs Evenly Distributed | Low Profile, Aerodynamic Design Saves Gas |
| Constructed From Polycarbonate With Reinforcing Aluminum Rods | Constructed From Aluminum With Amortek Overlay |
| Suitable Fits 2015 - 2020 Ford F-150 Super Crew & Super Cab 5' 7" Bed (67.1") | Suitable Vehicles 2014 - 2018 6-1/2 Foot Bed |
| | |
Material
RetraxONE MX is widely known for its long-lasting material; it lasts for a lifetime, is tear-resistant, and is extremely resilient. It is built from a polycarbonate sheet that is very strong and capable of providing necessary cargo safety. The scratch-resistant texture goes a long way and is proven to protect the cargo from UV rays also. It can hold up to 200 lbs. of weight without any hassle.
Pace Edwards comes with a powder-coated aluminum panel as the main material and the heavy-duty material is long-lasting. The heavy gauge aluminum panel can handle 1200 lbs. of weight which is a huge deal for professional cargo carriers. It is highly robust and is a custom fit that enhances the overall look of the truck.
Weather Protection
Though Retrax does not put extra effort into sealing the cargo, it is commendable for keeping the goods intact. Protecting the cargo inside is the basic duty of any tonneau cover. Retrax excels in this department with flying marks. Be it the extreme snow or the melting heat. The weather conditions anyhow won't affect the truck bed. From -50 to +200°F, Retrax claims to pursue protection under any weather condition. Moreover, the material is well built to protect the goods from sunlight, rain, and UV rays.
Many times, though the tonneau cover is capable of protecting the cargo from certain leakages that may occur at any time. Here, bangs the Pace Edwards with its intelligent drainage tube. The Canister Drainage Tube makes it super easy to carry away the water from the truck bed. Silicone Rubber hinge seals are great for sealing the whole truck bed to protect the delicate goods inside.
Lock Mechanism
Retrax tonneau cover is not like the regular covers that lack the security aspect instead this one is jam-packed with some extensive security features. It has a key lock system which eventually makes it impossible for the thieves to open and thus ensures utmost security. Again, the flush-mounted latch is extremely easy to operate as it can be opened only with a touch of a button single-handedly. For further convenience, it can be locked at any position along the rail.
Pace Edwards comes with an electromagnetic brake that locks the bed locker at any position and also works perfectly fine with a closed tailgate. Also, users with a locked tailgate will get extra benefits and more safety. Anyhow, Pace Edwards believes in the traditional locking system and yet is extremely great and prevents any risk.
Ease of Use
Retrax is mesmerizing in operation and customers are going crazy over its ease of use features. This brand focuses solely on designing the covers so that users don't need to hassle opening or closing them. It does not need any sort of mechanism or the sealed ball bearing rollers to prevent any sort of jam, freeze, and frail. The canister is designed to create more space for the cargo and takes up the minimum possible space.
Pace Edwards takes the game one step forward with its remote control retractable feature. The cover needs just a push of a button to operate. The powerful electric motor comes with electromagnetic brakes which ensure smooth operation every time. Moreover, the cover features a self-lubrication feature thus users don't need to bother about frequent maintenance.
Installation
Retrax plays a smart game when installation is considered; it needs the basic tools to install the cover. And as every truck is unique, the covers are designed with an adjustable mounting system to fit every truck bed.
Pace Edwards eliminates the drilling hassles and simply gets installed with the clamp in design. Users can alone be enough to install this cover and it does not even take more than an hour.
Frequently Asked Questions (FAQ)

There are a ton of different types of tonneau covers out there, and it can be tough to know which one is the most secure. But don't worry, we're here to help.
The most secure tonneau cover is the Roll-N-Lock M-Series. This cover features patented interlocking panels that provide maximum security for your truck bed. The cover can be locked in place, making it impossible for thieves to access your belongings.
So if you're looking for the most secure tonneau cover on the market, the Roll-N-Lock M-Series is the way to go.
There is no definitive answer to this question since there are a variety of tonneau covers on the market and each one has its own set of features and benefits. However, some tonneau covers are easier to remove than others, so it is important to consider your specific needs when selecting a cover.
Can you walk on a hard tonneau cover?
Yes, you can walk on a hard tonneau cover. However, it is not recommended as it can damage the cover. If you must walk on the cover, be sure to use caution and avoid walking on sharp or rough objects that could puncture the cover.
Which One is Better?
Well, both these products excel in their quality and are leading models in the present market. It depends on the customer's choice and requirements; the Retrax one is quite expensive and is priced at almost $1000 to $1200 and the Pace Edwards one is priced at $250 to $300. There is a huge difference in the price point.
Thus if users wish to opt for a budget-friendly must go for the Pace Edwards one but when the budget is not a problem, Retrax is best suitable for any truck bed cover. Again, Pace Edwards features a three years warranty and Retrax has only one year of warranty coverage. No doubt Retrax will serve a lot more than that.
Also, Retrax is more inclined to weather protection and robust materials whereas Pace Edwards does not lack in weather protection but cannot beat the Retrax model either. Thus, if you will use the tonneau cover mostly for weather protection, there is no alternative to the Retrax tonneau cover. Retrax almost claims to provide 10% of fuel economy which means more or less it will give your vehicle mileage and will cut down the fuel costs.
Related Article