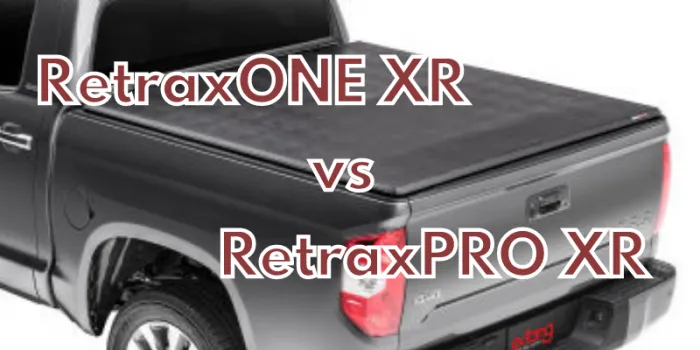 When it comes to talking about tonneau cover, Retrax is one of the very well-known brands in this sector. They have introduced two different series for their reputed product line, named RetraxONE and RetraxPRO. Auto lovers from all over the world express admiration for this brand's freshly introduced product line. In today's article, we are going to put your heads together about RetraxONE XR and RetraxPRO XR, two well-known models from two different series of the brand Retrax.
Before going over the main topic, let's have a glimpse of them. RetraxONE is a product line of Polycarbonate cover series, where RetraxPRO offers devices of premium aluminum cover series. To be straightforward, this is the only intervening space for designing two individual series.
Why compare
When you are landed on this article, it can be evident that- you are planning to buy a new tonneau cover. Before a buying decision, it is needed to research some of your shortlisted models. This is why we are covering both of the models based on several key factors in mind, which are: Material used, Outlook and appearance, Usability, Installation and lastly, Warranty policy.
Material Used: Polycarbonate compound

Material Used: Industrial-grade heavy-duty Aluminum Slats

Outlook and Appearance:

* Low Profile Design

* Aerodynamic

* Premium 

Outlook and Appearance:

* Low Profile Design

* Aerodynamic

* Premium 

Usability: One-touch handle

Usability: One-touch handle

Installation: Easy Clamp-On Installation

Installation: Easy Clamp-On Installation

Warranty: 1 year full warranty

Warranty: Lifetime Warranty

Material used
Like we discussed earlier, the only crucial difference between these two models is the material they used. Firstly. RetraxONE XR is a part of the series of Polycarbonate made covers. Polycarbonate is a compound material with high impact resistance and is used very intuitively in place of aluminum. This matte powder-coated scratch-proof sheet can hold up to 200 lbs of evenly distributed weight in the fully closed position.
This 70 pounds weighted device can perform in temperatures from -50°F to +200°F and is UV protected. The guide rails and support beams are made of durable aluminum angle bars.

Contrariwise, RetraxPRO XR is made of industrial-grade heavy-duty aluminum slats. As aluminum is more substantial than a PC sheet, it can hold nearly 500 lbs. of weight on top of the closed panel. This aluminum slat sheet comes with a matte black powder-coated finish for the ultimate scratch-free UV ray-protected feature. Like the previous model, all guide rails where the panel is mounted are made of a single piece of firm aluminum angle bar.
Outlook and appearance
Both of the models are equipped with the Retrax's patented low profile design, which ensures a stunning appearance in addition with utmost bed protection. This aerodynamic structure is responsible for reducing your fuel cost as well. And thanks again the matte powder coat looks more premium and stays in mint condition after using it for a long period of time. But in the naked eye, one may not be able to differentiate between ONE or PRO series.
Usability
Without using spring, snap or velcro, both of the series are powered by sealed ball bearing rollers to operate the panel back and forth with easy one-hand effort. Instead of pull straps, Retrax uses a very convenient one-touch handle for both of them. The panel store canister can be retracted just under the cab and ensure the fullest bed access whenever you need it. And last but not least is the integrated Trax Rail System.
This feature allows XR to use most of the popular brands T-slot accessories from Rhino Rack, Yakima, Thule, and many more. This piece of equipment is key lockable in an open or closed position you want. To protect your cargo from prying eyes and theft, this feature can be considered the single most useful feature to allow the security you need while on the go.
Installation
This pair is proudly combined with Retrax's patented easy clamp-on installation. Without using any power tools or the use of professional auto engineers. An installation manual is included inside the package, which can guide one through the whole installation process with ease. Either model does not take more than an hour to install on the truck bed.
But it is highly recommended to use at least one helper while working on installing this device. Also, you can call their installation expert if you need further technical assistance.
Warranty
So far, we have found most of the similarities between these two models. Warranty is another ground where you might expect some disparity between these two. RetraxONE XR provides one year of full warranty from the date of purchase. After that, you can ask for any maintenance at a prorated price.
But PRO XR backs your device with a Legendary Lifetime Warranty.
If you are the original owner, you do not have to worry about any unwanted situation arising while using this product for years after years.
Considering everything, our experts will obviously choose RetraxPRO XR higher than the other model. But wait, the PRO series are around 500 bucks higher based on the marketplace and product availability. If you are short on budget ONE XR might be the right choice. Now it's your turn to point to the right product based on your special need.
Frequently Asked Questions (FAQ)
If you've ever wondered how much weight a Retrax tonneau cover can hold, wonder no more! These tough covers are designed to withstand up to 400 pounds of evenly distributed weight. So whether you're carrying a few light items or one heavy item, your Retrax cover will have no problem keeping everything securely in place. And if you ever need to add more weight, simply upgrade to the XL model which can handle up to 800 pounds. So rest assured knowing that your Retrax cover can handle just about anything you throw at it!
The Retrax one is a great option for those looking for a waterproof case. It offers excellent protection against water and is also dustproof and shockproof. It is a great choice for anyone who wants the best possible protection for their device.
How do you adjust a Retrax bed cover?
If you need to adjust your Retrax bed cover, there are a few things you can do. First, you can adjust the tension by loosening or tightening the side rails. You can also adjust the cover height by moving the front and rear panels up or down. Finally, you can adjust the angle of the cover by moving the front and rear panels closer together or further apart. With a little bit of adjustment, you can get your Retrax bed cover working just the way you want it!