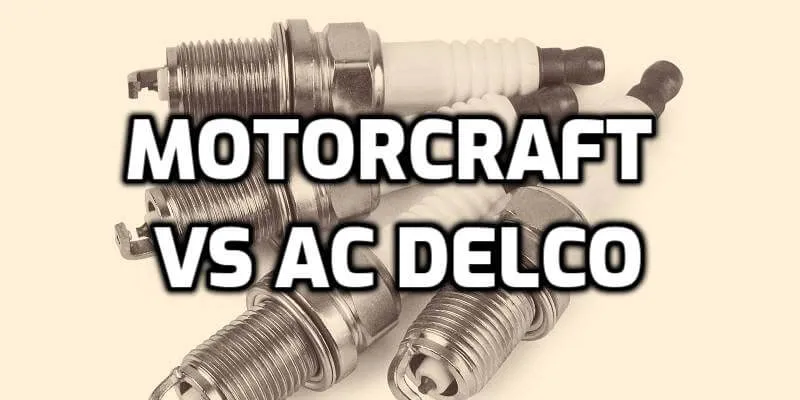 Motorcraft and ACDelco are both great brands of spark plugs, but which one is the best for your car? It really depends on what you want. If you want a brand that will last longer, then go with Motorcraft. But if affordability is your top priority, then ACDelco may be better for you! Read this article to learn more about these two brands so you can make an informed decision!
Motorcraft and AC Delco are two of the most popular brands of spark plugs on the market. So, which one is better?
Motorcraft spark plugs are designed specifically for Ford vehicles. They're engineered to provide optimum performance and durability, and they're backed by a Ford Motor Company warranty. AC Delco spark plugs are designed for use in all GM vehicles, as well as many other makes and models. They offer a wide range of benefits, including long life, low noise, and reduced emissions.
So, which brand is better?
Motorcraft Vs AC Delco Table
Various spark plugs have unique traits and qualities that allow them to stand out from the crowd and differentiate themselves. Motorcraft and AcDelco are the manufacturers of the most highly sought-after spark plugs. To better understand this, we will be comparing it with the table today.
| | |
| --- | --- |
| | |
| | |
| Spark Plugs Type: Single Platinum | Spark Plugs Type: Double Platinum |
| | |
| It Resistant to Oxidation and Arc Erosion | Pure Copper Core Results in Maximized Durability |
| Nickel Plated Shell for Improved Appearance |  Perfect for High-Performance Engines |
| Multi Rib Insulator Protects Against Misfire | These Plugs Are Designed to Deliver Long Lasting Performance |
| Comes With 2 Years With Unlimited Mileage Warranty | Ac Delco Offers a 7 Year/Unlimited Mile Limited Warranty |
| Provide Service Intervals From 60,000 to 100,000 Miles | AC Delco Double Platinum Spark Plugs Are Backed by General Motors |
| High Quality Spark Plugs Recommended by Ford Motor Company | GM Original Equipment Parts May Have Formerly Appeared as AC Delco |
| Fit Type: Vehicle Specific (Check the Manual) | Fit Type: Vehicle Specific (Check the Manual) |
| | |
| | |
| | |
Why Compare?
You'll need a decent spark plug for your vehicle if you want to have a pleasant driving experience. However, with so many choices available on the market, how can you know which plug is the best fit for your needs? Therefore, I have provided you with a comparison of the top two spark plugs so that you will not have to worry while making your purchase of a spark plug.
However, since the Motorcraft and ACDelco plugs are members of the same category, they share a number of characteristics in addition to their differences. As a result, I was hoping you could stick with me to learn even more about them.
Material
When it comes to selecting a spark plug for your vehicle, the substance of the plugs is very important. The material used in the manufacture of spark plugs has a significant impact on the efficiency of the plug. However, the Motorcraft spark plugs are made of platinum. Platinum spark plugs provide better performance and fuel economy while costing far less money than iridium spark plugs. 
Additionally, platinum spark plugs function at a lower temperature than copper spark plugs because of their platinum composition. Moreover, they may survive up to twice as long as standard copper plugs. On the other hand, ACDelco is made of iridium, which is suitable for use in modern cars. Despite the fact that this material provides superior performance and efficiency than NGK plugs.
Performance
With ACDelco spark plugs, you'll get excellent heat transmission while also increasing the spark plug's life. Ribless insulators are utilized in this plug to improve the seal between the plug and the boot and prevent leaking. In addition to having a longer electrode life, ACDelco features a solid-state suppressor with a 2-piece glass and brass cover that prevents radio frequency interference from occurring.
There is additional protection against high-pressure combustion. The center electrode improves the spark characteristics of the ignition system and lowers the voltage requirements of the vehicle's ignition system. The standard platinum core of Motorcraft spark plugs aids in the optimization of performance while also reducing corrosion and arc erosion. 
A multi-rib insulator protects your vehicle's engine against possible misfires when it is first started. Older model-year cars and certain later models may benefit from using this spark plug as a dependable replacement.
Warranty
The Motorcraft platinum spark plugs are covered by a two-year guarantee and are constructed of high-quality metal materials. They are confident in their product since they have a solid basis on which to build it and on which to depend for their consumers.
During the warranty period, ACDelco will replace any Iridium Spark Plug that fails due to a fault in materials or quality in privately owned passenger vehicles and light trucks for up to 100,000 miles if the Iridium Spark Plug was purchased from the company's retail location.
Configuration
If you are not new to the world of spark plugs, you should consider purchasing spark plugs that have already been "pre-gapped." Additionally, if you want to save both time and money by not purchasing a gapping tool to adjust the gap gauge, you may find these to be very useful. Only the size of the disparity has to be determined at this point.
Having saying that, both the Motorcraft and the ACDelco spark plugs are very simple to install in your vehicle. As a result, you should have no difficulties attaching the plugs.
Maintenance
Every spark plug contains spark gaps, which may get clogged with dust and rust if not cleaned regularly. It is for this reason that it requires frequent maintenance. Because ACDelco is a high-performance spark plug in and of itself, it requires no maintenance; nevertheless, periodically monitoring the spark gap can improve performance even more.
As a result, for the Motorcraft, maintenance is of secondary significance to its operations. However, you may conduct a frequent inspection of this plug to ensure better functioning in the long term.
Pros and Cons
Motorcraft Spark Plugs
Pros
Installation that is stress-free and high-quality

A lengthy period of usefulness

A high melting point resists erosion well.
Cons
Pros 
Long-lasting

Improved overall performance

There has been no discernible deterioration

 
Cons
Is The Acdelco Spark Plug A Good Spark Plug?
Spark plugs from ACDelco are appropriate for the majority of cars and are considered "high-quality replacements."
What Is The Lifespan Of Motorcraft Platinum Plugs?
If the replacement spark plugs are anticipated to last 100,000 miles or more, they should be of the same kind (platinum or iridium) as the originals, unless otherwise specified. Standard spark plugs have a lifespan of about 40,000 miles.
Is It Better To Use Hot Or Cold Spark Plugs?
Generally speaking, you should use the spark plugs recommended by your car's manufacturer under normal driving conditions. You might consider using a hot plug when your spark plugs are clogged by carbon deposits, when your engine has a rich air-fuel ratio or when it burns oil, and when you do a lot of local low-speed driving.
How Often Should Spark Plugs Be Changed?
This relies on the spark plugs in your vehicle. High-quality spark plugs will outlast inferior ones. Change your copper core spark plugs every 30,000 miles and your iridium core spark plugs every 50,000 miles. This period may be reduced if your engine isn't in great shape, so check your spark plugs for wear and replace them as needed.
Conclusion
If you've made it this far, you understand Motorcraft and ACDelco spark plugs. So now you may compare their characteristics and select one.
Related Article