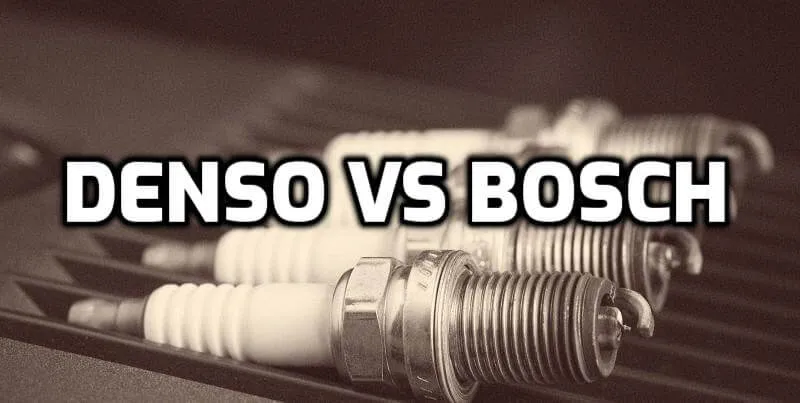 Which spark plug is best for your car? If you're like most vehicle owners, the answer to that question is not clear. There are a number of different variations of spark plugs out there, and it can be difficult to determine which one will work best for your needs.
To help answer this question, we've put together a guide that will go over what makes these two brands different from one another and why they are both good options for your car.
Denso vs Bosch Table
Different spark plugs have different characteristics and distinctive features that help them to stand out on their own. Denso and Bosch produce the most desired spark plugs. For this reason, we'll be comparing Spark Plugs today.
| | |
| --- | --- |
| | |
| | |
| Spark Plugs Type: Double Iridium | Spark Plugs Type: Single Iridium |
| | |
| Iridium Firing Pin & Iridium Ground Electrode Inlay Offer Higher Performance | Iridium Center Electrode & Platinum Ground Electrode |
| Quick Installation Without Adjusting the Gap | Worlds Smallest Diameter That Maximizes Firing Potential |
| Copper Core Provides Excellent Heat Range on Pre-ignition & Fouling | Promotes Higher Spark Energy & Less Heat Quenching |
| 4 Times Longer Life Compared to Standard Copper Spark Plugs in the Market | Enhanced Flame Propagation for Increased Engine Efficiency |
| 7 Year Performance Satisfaction Guarantee | Designed to Last Beyond 100,000 Miles |
| 360 Degree Laser Welding Increases Durability | 360 Degree Laser Welding Ensuring Quality Bond and Structural Strength |
| Fit Type: Vehicle Specific (Check the Manual) | Fit Type: Vehicle Specific (Check the Manual) |
| | |
| | |
| | |
Why Compare?
Both being spark plugs, you might ask, how are they comparable? Well, that's exactly the answer, as they both are spark plugs and do the same thing. Although all the spark plugs provide sparks and help in the ignition, the difference is if one spark plug has a better build material than another one is value for money.
As Denso and Bosch produce the best spark plugs in the automobile market, they have exceptional features that distinguish them from others. So that's why we present you the comparison between Denso vs. Bosch Spark Plugs. 
Material
The material of the spark plugs plays a vital role when it comes to choosing a spark plug for your car. The material of the spark plugs has much to do with the efficiency of the plug. Most of the spark plugs are copper-made. For older vehicles with low voltage-based ignition systems, copper-made spark plugs are the ideal options.
But at present, the latest spark plugs come in platinum or Iridium. Platinum provides good overall performance, whereas Iridium offers the best service at a comparatively high cost. Both the Bosch and Denso spark plugs are Iridium made. So best performance is guaranteed!
Performance
Both the Bosch and Denso spark plugs are made of Iridium. Although people are only known for copper-made spark plugs, little do they know the Iridium-made spark plugs provide a better performance, help to spark the engine faster, and last longer.
Believe it or not, no one comes close to Bosch spark plugs when it comes to performance. Since 1902 Bosch has been known for their high quality and best performance spark plugs. The double Iridium firing pin of the Bosch spark plugs helps to produce the spark faster and provides performance up to 4x times than regular spark plugs in the market. The reason behind their optimum performance is the Nano-technology ultra-fine wire and high-quality laser-welded electrodes.
On the other hand, Denso uses the Iridium electrodes with the smallest diameter of only 0.4 mm. But don't judge its capability with its diameter only. The Iridium tip can provide the fastest ignition in just milliseconds! Besides producing faster sparks, this spark plug lessens heat production, and 360-degree laser welding ensures solid structural strength.
Durability
Iridium-made spark plugs are proven to provide better performance and more longevity than other ones. Both the bosch and Denso spark plugs use Iridium as a material for their spark plugs. One thing to note is that Bosch sparks plugs are proven to be 4x times durable and long-lasting than other spark plugs. So if you're looking for a long-lasting and durable spark plug, Bosch would be the perfect choice for you!
Maintenance
Spark plugs have slots or gaps in them for proper fittings. As a result, dirt and debris can get inside these slots and, as a result, can damage the spark plugs. So that's why spark plugs need maintenance.
Denso spark plugs have U-groove inside them. So they need regular maintenance if you're riding through sandy and dirty roads. On the other hand, nothing is specified for Bosch spark plugs. Regular maintenance is necessary for spark plugs!
Installation:
Installing the bosch and Denso spark plugs is easy if you know how to do so. Almost all the spark plugs come with "pre-gapped" options so that they can be easily installed. However, not all of them might come with this gap. So if you're new to buying and installing spark plugs, we suggest you go for the "pre-gapped" ones or seek the help of a mechanic to install the spark plugs.
Pros and Cons
Bosch Spark Plugs
Pros
Double Iridium firing pin alongside top-notch quality

Last almost 4x more than copper spark plugs

Compatible with the latest technology engines

Pre-gapped for providing best quality performance

Ultra-thin (.06 mm) wire electrode

Can provide consistent performance up to 100,000 miles
Cons
Not recommended for vehicles with old technology

Price
Denso Spark Plugs
Pros
High-quality design and excellent hardness ensure plug durability.

The most recent spark plug technology

Excellent performance

Perfect for LPG engines

Over 120,000 miles of consistent spark performance

High heat and pressures are not a problem.
Cons
Wear and tear may affect fuel economy over time

All listed automobiles may not be appropriate
Are Denso Spark Plugs Any Good?
Ans: Both Denso and bosch are known for producing high-quality spark plugs. And if you look closely, they both have some similar outstanding features. So lastly, it all comes to you when choosing a spark plug!
Which Company's Spark Plugs Are The Best?
Ans: Denso, Bosch, NGK, and ACDelco are some of the most renowned spark plug manufacturers. These companies use high-quality materials in spark plugs that help drive the vehicle's performance when used.
How Long Does Denso Spark Plugs Last?
Ans: The Iridium spark plugs of Denso last longer than the copper ones. The Iridium ones last almost up to 120,000 miles.
How Often Should You Replace Iridium Spark Plugs?
Ans: If you're using a copper-made spark plug, you may need to change it after every 20,000 to 60,000 miles. On the other hand, long-lasting spark plugs (made of Platinum and Iridium) last around 80,000 miles to 150,000 miles!
Conclusion
So that's it when it comes to knowing about bosch and Denso spark plugs. So far, we have tried to provide you with the detailed specifications of these two spark plugs. Now you should decide which one to go for between Denso vs. Bosch Spark Plugs!
Related Article