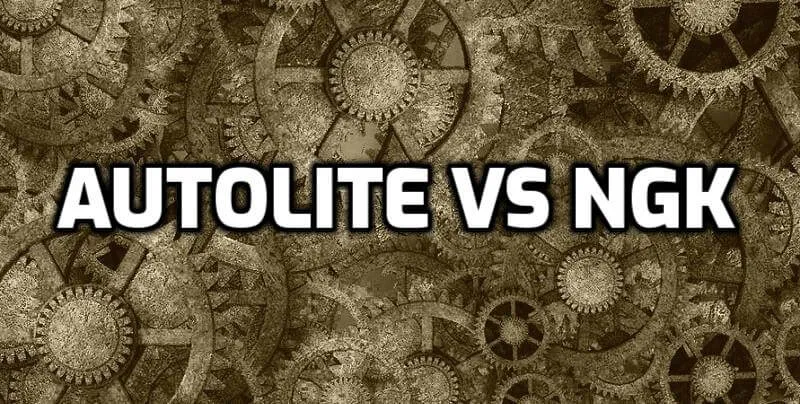 It is considered that the NGK spark plug is relatively better than the Autolite. However, some cars are an exception to that fact and cope well with Autolite plugs. Autolite is one of the best selling spark plugs in America; the NGK plugs are better positioned regarding their quality.
Autolite is ideal for small engines and is known for its "easy start", and cars are supposed to run better with Autolite. At the same time, NGK will load up and pays off in the long run.
Autolite vs NGK Table
There has been rather mixed feedback when it comes to reviewing both these spark plug. NGK spark plugs are acknowledged for their impressive gas mileage and enhanced performance, where any discussion of spark plug rarely goes without mentioning Autolite. Autolite spark plugs are known and used all over the globe for their affordable price point and durability.
| | |
| --- | --- |
| | |
| | |
| Model: Autolite APP5325-4PK | |
| Spark Plugs Type: Single Platinum | Spark Plugs Type: Single Platinum |
| | |
| | |
| | G-Power Platinum Alloy Spark Plugs |
| With Less Voltage Easier to Starts and Quicker Acceleration | Reduces Ignition System Voltage Requirements |
| Double Platinum Spark Plugs Virtually Eliminate Gap Erosion, Reduce Misfires | Give Protection Against Anti Seizing |
| Improve the Engine Performance for a Longer Life & Fuel Economy | Increases Fuel Economy & Lowers Emission |
| Lifespan 60,000 Miles Service Life | Lifespan 30,000 to 50,000 Miles |
| Fit type: Vehicle Specific (Check the manual) | Fit type: Vehicle Specific (Check the manual) |
| | |
Main Features
With a vast range of options, both Autolite and NGK provide you with various spar plug to choose from. Let's skim through some of their flexes:
Assures no Gap Erosion
First things first. Spark plugs are supposed to create the spark that will create a mild explosion and communicate through a subtle jump of current. It works as a bridge, and with Autolite, you surely don't have to worry about miscommunication as it leaves no gap behind. The full platinum focused tip ensures a complete bridge.
With more than 1,000 options NGK doesn't disappoint anyone. Moreover, NGK is made with "Trivalent Metal Plating", which proudly owns the credit for superior anti-corrosion function. These spark plugs are made out of authentic material which doesn't allow them to wear off easily. The exterior doesn't let dirt get clung to the surface. As a result, NGK tends to last long.
Optimize Engine Performance
Spark plugs are very much among the parts that join the system and keep the engine in working mode. However, they can provide an effortless ride via a proper electrode bridge and spare you a decent sum and a good quantity of fuel. Thus, resulting in an optimized engine that is prone to last long.
Nevertheless, NGK spark plugs are known for their low combustion quality, one of their biggest flex. They use very little fuel for emission; thus, it doesn't consume much fuel and strive off the engine and saves you a decent amount of money. Thus, providing you excellent mileage.
High Tech Nickel Side
Autolite is engineered with precision to sustain the gap through a modified nickel side. Not with one sort of material but with a combination of two or more to maintain that particular distance.
No doubt, the hot-spot of a spark plug is their 'tip'. It is the very edge that communicates and ignites the spark that jumps to the other. Keeping these facts in consideration, the NGK company builds their spark plugs with extra focus on the tips. Both the pole is made with laser welded Platinum centre electrode tip for the better arc.
Hard Copper Core
Without any exception, Autolite can be trusted to provide better performance in all sort of situation. They are well known for their solid copper core that maintains a continuous flow of electrode from one tip to another.
Limitations

With all the eye-catching pros NGK spark plugs have been reported for their infamous quality of often misfiring. The plugs should have a gap of +/-0.008″ as mentioned by the manufacturing company. Nevertheless, there have been cases where NGK had failed to play its role even after conducting subtle in the gap.
Platinum is one of the rarest and strongest metal can cost you a big sum of money. On the other hand, the iridium to are not much cheaper compared with the Autolite.
Which one is Better?
By a huge margin, Autolite has been crowned with the title of "America's top-selling spark plug". It provides flawless service not only in the cases of small engines but also in bigger sized ones. For easy start and effortless acceleration, Autolite is an ideal choice. Autolite runs far better in the long run when compared with the conventional copper ones.
However, if you are looking for durability and high power which stands out than usual, settle for an NGK spark plug without being sceptical.
Summary
As you might have already witnessed that both of these spark plugs are pretty much similar to each other. For both the plugs are worth a trial for choosing the ideal complement for your vehicle. With Autolite having a rating of 4.6 stars and NGK having 4.7 stars out of 5 there is no possibility for a strong regret of loss.
Frequently Asked Questions (FAQ)
If you're looking for a quality spark plug, NGK is a great option. NGK plugs are known for their durability and reliability, making them a popular choice among car enthusiasts. While NGK plugs may cost slightly more than other brands, they're definitely worth the investment. So if you're looking for a top-quality spark plug, NGK is the way to go.
Autolite spark plugs were created by the Autolite company. Founded in 1911, Autolite was originally a manufacturer of automobile parts and accessories. In the 1930s, the company began to produce spark plugs, and soon become one of the leading suppliers of this product. Today, Autolite continues to be a major player in the spark plug market, and its products are used in a variety of vehicles.
Yes, Autolite spark plugs are made by Ford. Ford has been using Autolite spark plugs in its vehicles for many years now. Autolite has a long history of making quality spark plugs, and the company's products are trusted by many automakers. If you're looking for a dependable and high-quality spark plug, consider Autolite.
Are NGK Spark Plugs good?
If you're wondering whether NGK spark plugs are any good, the answer is a resounding yes! NGK has been in the business of manufacturing spark plugs for over 80 years, and they are one of the most trusted names in the industry. Their spark plugs are used by some of the biggest names in automotive manufacturers, including Honda, Toyota, and Nissan. So if you're looking for a quality spark plug that will give your engine the performance it deserves, NGK is definitely the way to go.
Related Article