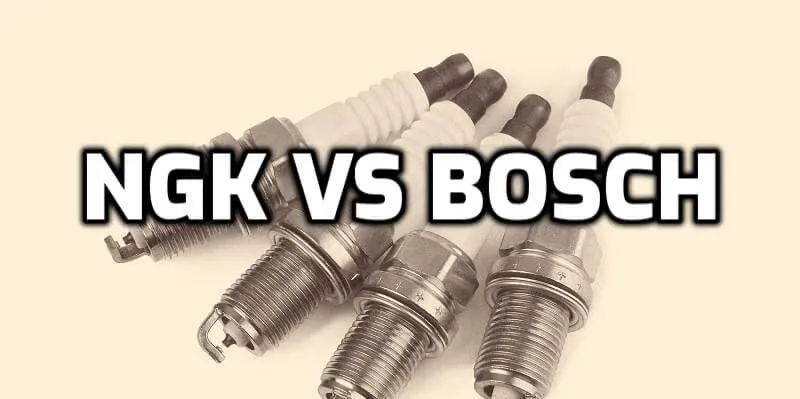 Some people think that the only thing that matters when it comes to spark plugs is which brand has the best price. However, there are many other factors that should be considered before deciding on a particular type. In this blog post, we will discuss NGK and Bosch Spark Plugs and how they compare side by side.
NGK, they are known for its quality and durability. Their spark plugs are designed to last longer and provide a better firing performance. They also offer a wide range of options to choose from, so you can find the perfect fit for your vehicle.
Bosch, on the other hand, is known for their innovative designs. Their spark plugs feature cutting-edge technology that provides a more efficient combustion. They also have a wide range of options available, so you can find the perfect fit for your vehicle.
NGK and Bosch are two of the most popular brands when it comes to sparking plugs. But which one is better?
To answer that question, we'll need to take a closer look at each brand and what they have to offer.
NGK vs Bosch Table
We know how hectic it is to find the right spark plugs. That's why we bring you a comparison between two famous brands of spark plugs so that you don't need to do any research. So walk with us to find out more about spark plugs.
| | |
| --- | --- |
| | |
| | |
| Spark Plugs Type: Double Iridium | Spark Plugs Type: Iridium IX |
| | |
| Iridium Firing Pin & Iridium Ground Electrode Inlay Offer Higher Performance | Fine Wire Iridium Center Electrode Ensures High Durability |
| Quick Installation Without Adjusting the Gap |  Perfect for Today's High-Performance Engines |
| Copper Core Provides Excellent Heat Range on Pre-ignition & Fouling | 0.6 mm Laser Welded Ensuring High Durability and a Consistently Stable Spark |
| 4 Times Longer Life Compared to Standard Copper Spark Plugs in the Market | Superior Anti Corrosion and Anti Seizing Properties |
| 7 Year Performance Satisfaction Guarantee | Lifespan 60,000 to 80,000 miles on Average |
| 360 Degree Laser Welding Increases Durability | Ground Electrode Shape to Allow For More Area for Flame Expansion |
| Fit Type: Vehicle Specific (Check the Manual) | Fit Type: Vehicle Specific (Check the Manual) |
| | |
| | |
| | |
Why Compare?
When it comes to reliable and durable spark plugs, the most famous names that come to mind are NGK and Bosch spark plugs. They have been in the industry for a very long time and giving each other tough competition. It is because they have so many similarities as well as dissimilarities.
For example, both the spark plugs serve pretty well and are reliable at the same time. However, both have different materials in them and different features. For instance, if you want the most durable spark plug for your automobile, there's nothing like NGK.
On the other hand, for convenience, you can go for Bosch plugs. But that's not all; there is more to compare between them, which we'll find later in this article.
Material
The Bosch Double Iridium Spark Plugs offer the latest OE spark plug technology, delivering excellent performance and long life. Optimal performance is provided by the ultra-fine wire design and laser welded tapered ground electrode, while the iridium center and ground electrodes provide long-range performance. Use Bosch Double Iridium Spark Plugs to maximize the power of your engine.
On the other hand, NGK Spark Plugs came out as one of the top-rated spark plugs because they provided the finest combination of high performance, fuel efficiency, durability, and reliability. High-quality iridium spark plugs have a longer lifespan than their copper or platinum counterparts.
If you're seeking ease, though, NGK's copper plugs are the finest option available at this time. While they are the most expensive, they are also the most durable – you can even go as far as 80 000 miles with them.
Gapping
A spark plug gapper tool is used to adjust the spark gap on spark plugs that have been manufactured with that feature. A single plug may be made to fit many engines, although each engine will have a different gap. Automobile spark plugs generally have a 0.6-1.8 millimeter gap (0.024 and 0.071 inches). Please make sure the plug gap is within the prescribed range by measuring it using a gap gauge.
Your car's owner's handbook will most likely specify the ideal spacing for your specific model year and brand of vehicle. Also, Bosch and NGK plugs are frequently pre-gapped at the manufacturer, making installation a breeze.
Performance
For maximum dependability, heat management, and wear resistance, Bosch spark plugs use a double-iridium design. However, ultra-thin is used to help with performance. The tip measures 6 millimeters in length. That little tip allows for a hotter yet simpler ignition, which improves performance.
In addition, it has an insulator with ribs to minimize misfires. The nickel-plated shell, which is completely corrosion-resistant and anti-seize, cannot be overlooked. Ultra-fine electrode wire means silky-smooth engine response and idle, with better fuel efficiency.
These copper spark plugs of NGK produce an optimum air-fuel combination so that you may expect an increase in power and torque. It's also extremely durable, with metal coating features that resist corrosion and seizing and a long insulator nose that helps keep it clean.
Pros 
It's simple to set up and doesn't require any adjustments.

The fusion voltage of this spark plug grows less over time.

It lasts a lot longer and is quite dependable.

It's really efficient.
Cons
Customers reported that after 5,000 miles, the plugs no longer worked.
Pros
The process of installation is quick, simple, and straightforward.

improves the performance of automobiles

improved reaction time of the accelerator
Cons
Is NGK A Reliable Brand?
NGK is one of the most sophisticated spark plugs on the current market. Plugs made by this Japanese company use double iridium instead of double platinum, providing smooth sparks and long endurance. 
NGK's target market has always been high-performance car enthusiasts who seek improved gas mileage together with better throttle response. Even the tiniest detail, like the silver transition metal, has left an indelible impression on me.
How Many Kilometers Can Bosch Spark Plugs Last?
Bosch's iridium spark plug series offers OEM iridium long-life plugs with an iridium fine wire center electrode and an iridium/platinum alloy ground electrode. These plugs should last around a hundred thousand kilometers under typical operating circumstances.
Is There A Shelf Life For Unopened Spark Plugs?
Unopened spark plugs should have an unlimited shelf life if stored in a dry, cold atmosphere. Spark plug longevity is only influenced by corrosive environmental conditions like dampness or by repeated drops.
Conclusion
So, which brand is better? NGK or Bosch?
The answer really depends on what you're looking for. If you want a quality spark plug that will last longer, NGK is a great option. If you're looking for a more innovative design, Bosch is the way to go.
We hope that all your confusion regarding spark plugs comes to an end if you've read this article so far. So remember all the above-discussed information whenever you want to buy any of these spark plugs.
Related Article