Mobil 1 Vs Valvoline Motor Oil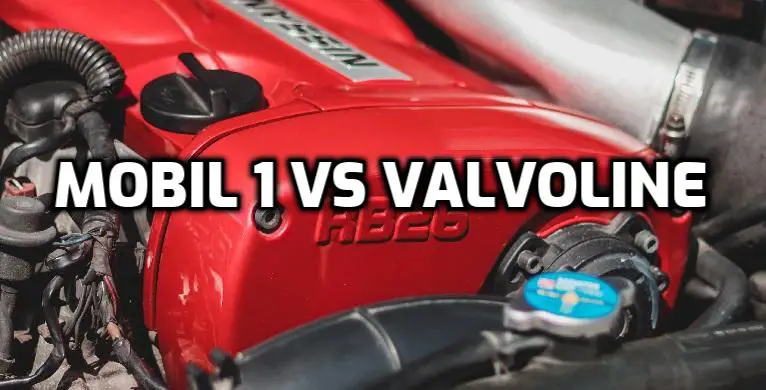 When it comes to motor oil, there are a lot of different options on the market. You can choose between Valvoline and Mobil 1, but which is the best? In this blog post, we will compare these two brands and help you decide which one is right for your vehicle.
It's always confusing and daunting when you're in the market for motor oil. There are so many different brands of oil with additional benefits to offer. It can be hard to know where to start! This blog post will help you decide between Valvoline and Mobil 1 oils by providing key information on each brand, their differences, and what they offer.
Valvoline vs Mobil 1 Table
If you are considering using the same oil as earlier or upgrading your vehicle, here is a comparison that might help you decide which one to pick.
| | |
| --- | --- |
| | |
| | |
| Even Under Extreme Driving Conditions And Rough Roads It Sustains Its Performance | Features A New Lubricant Technology Which Offers An Extended Service Life |
| Gives Superb Performance Even Under High Temperature | Protect Critical Engine Parts For Up To 10,000 Miles Between Oil Changes |
| 40% More Protection Than Industry Standards | Provides Excellent Internal Engine Heat Protection |
| Resist Oil Breakdown 10x Better Than Industry Standards | Maintain Engine Seal Performance And Prevent Leaks |
| Better Protection Against Deposits With Extra Engine Cleaning | Extend Engine Life By Working To Prevent Damaging Deposits And Sludge |
| Due To Exhaust System Damage By Shielding Important Engine Components | Mobil 1 Also Helps Control Oxidation To Prevent Oil Breakdown |
| It Has Durable Anti-Wear Additives | Comes with Sufficient Anti-aging Technology |
| | |
Why Compare?
Valvoline and Mobil are two of the most popular motor oil brands on the market. They both have a lot to offer drivers, but some key differences can make one or the other more appealing for your needs. It is important to consider your driving habits, car type, and other factors before deciding which oil brand will suit you best.
Overall Price:
The price point for full synthetic motor oil from either Valvoline or Mobil oils can vary quite a bit depending on your purchase size. However, each competitor's basic line of oils is priced very similarly.
Quality:
Both Valvoline and Mobil offer full synthetic motor oil, which is the best kind of oil for your car to run smoothly without any issues. They both have high-quality products that will keep your engine running well!
Performance:
Mobil is known for its high-performance oils that protect your engine even in extreme driving conditions. If you're looking for an oil that can keep your car running smoothly no matter what, then Mobil might be the better choice.
Environmental:
Mobil is a much greener company than Valvoline and, as such, offers oils that have been certified by the EPA to meet high environmental standards. Mobil will be the better choice if this is important to you.
Mobil 1 Motor Oil Short Review
If you want to make your car last and not need to change the oil often, use Mobil 1 Extended Performance full synthetic motor oil. It has a special blend that will protect the engine for up to 20,000 miles.
It can reduce the amount of friction, making it hard for dirt and sludge to build up in the engine. This oil also protects your car's engine from heat up to 500 degrees Fahrenheit and from cold down to -30 degrees Fahrenheit. That means when you start your car in winter.
Mobile 1 Extended Performance meets ILSAC GF-6 standards. This will help your engine avoid low-speed pre-ignition and wear down the timing chain. It will also keep your engine clean, which will help you with fuel economy.
Valvoline Motor Oil Short Review
Valvoline is an oil brand that has been around for a long time, and it's known as one of the most reputable brands available today. It offers high-quality oils at affordable prices to keep your car healthy and running smoothly. Valvoline might be the better option if you're looking for a more affordable motor oil that offers the same quality as other brands.
Valvoline Advanced Full Synthetic oil will help keep your engine working as it should. It has special ingredients to make sure that your engine is running well. With premium anti-wear additives, superior antioxidants, and extra detergents, you will surely get the excellent protection for your car.
Max Life-Span Engine Oil is formulated to tackle the toughest challenges. It protects engines up to 40% better against wear, inhibiting ten times more oil breakdown and defending 25 percent more against deposits than industry standards. That means you'll get maximum performance and life out of your engine. And with its wide temperature range, it ensures that your engine.
Our Observation
The main difference between Valvoline and Mobil 1 motor oils is that Mobil 1 extends engine life up to 20,000 miles between oil changes, and Valvoline contains antioxidants that are 10-times more effective at preventing oil breakdown. Both are meet or exceed the community standards.
Mobil 1 offers high-performance oils that protect your engine even in extreme driving conditions. At the same time, Valvoline is a more affordable option that still offers high-quality products.
Conclusion
Valvoline and Mobil are great options for your car, depending on what you're looking for! They both have high-quality products with different benefits to offer drivers. If you would like any additional information about these two oils or if you'd like to learn more about what they have to offer, contact your local mechanic!
Frequently Asked Questions (FAQ)
That really depends on your specific needs and preferences. If you're looking for the best possible performance, Mobil 1 is probably the way to go. But if you're trying to save money, Valvoline is a great option.
Valvoline is one of the most popular and well-recognized brands of engine oil on the market, and for good reason. Valvoline has a long history of providing high-quality products that keep engines running smoothly and efficiently. In addition, Valvoline oils are designed to protect against wear and tear, helping to extend the life of your engine. Overall, Valvoline is an excellent choice for those looking for top-quality engine oil.