Mobil Super Vs Mobil 1
Synthetic Oil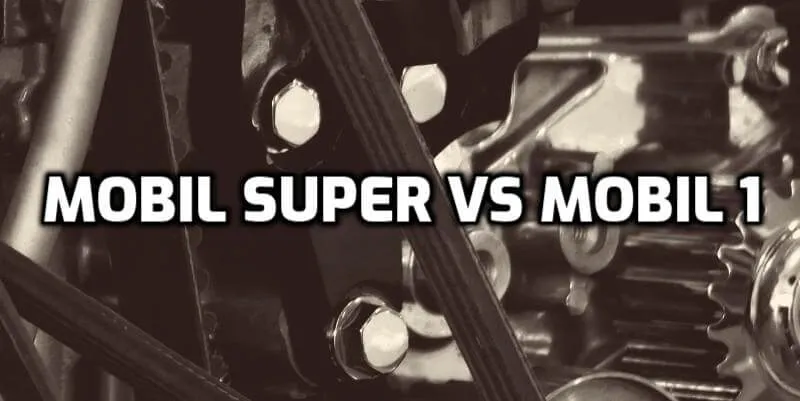 There are many different grades of motor oils offered by Mobil. The two most popular types are Mobil Super and Mobil 1 Synthetic. This article will look at the differences between these two oil types and what you can expect performance-wise when using them in your car or truck.
Mobil 1 vs Mobil Super Chart
This Comparison table is a great way to see what each oil is best used for. It also provides you with data such as viscosity, additive content, and the flashpoint of each oil.
| | |
| --- | --- |
| | |
| | |
| | |
| Mobil Super Extends The Life Of The Engine | Outperforms Conventional High Mileage Oils |
| It Gives Protection Against Sludge And Wears | Excellent Overall Lubrication And Wear Protection |
| Mobil Super Has Friction Reducing Additives | Helps Reduce The Sludge And Deposits  |
| Guaranteed Covers Up To 7,500 Miles Between Oil Shifts | Protect Up To 10,000 Miles Between Oil Changes |
| Certified as API SN/Resource Conserving | Mobil 1 High Mileage Meets ILSAC GF-6 Standards  |
| Best For Cars With More Than 75,000 Miles | Provides Excellent Internal Engine Heat Protection (Up To 500 Degrees F) |
| Recommended For Gasoline Cars And Light Duty Trucks | Recommended By Exxonmobil For All Types Of Modern Vehicles |
| It Is For All Gasoline-powered Vehicle, Including Turbo-charged Engines, Found In Passenger Cars, SUVs, And Light-duty Vans And Trucks. | High Performance Turbo Charged Modern Engines As Well As Light Vehicles, Vans And Trucks Can Use Mobil 1 Synthetic Oil |
| | |
Why Compare?
Both of these synthetic oil does an excellent job in their respective field. These oils are fully synthetic and protect the engine from forming and building any wear, tear, and deposits. Despite having some similarities, these two oils have other dissimilarities too. Here we bring you more information about these two oils.
The main difference between Mobil Super and Mobil 1 is that Mobil 1 advanced full synthetic oils have the latest additive and base oil technologies for outstanding performance and protection. Mobil Super is a synthetic oil that performs similarly to other synthetic oils on the market.
Mobil Super Oil Review
Mobil Super High Mileage 5w30 fuel oil combines traditional and synthetic oils designed to prolong the life of engines with more than 75,000 miles on them. It protects against engine rust, corrosion, and sludge with performance additives.
It improves viscosity in various environments and temperatures, including low temperatures. It also includes a seal conditioner to help deter leakage and save money on diesel.
Mobil Full Synthetic High Mileage has excellent oil breakdown tolerance, offering long-term protection and preserving oil viscosity at high operating temperatures. Both gasoline-powered motors, including turbo-charged engines, are recommended for passenger cars, SUVs, and light-duty vans and trucks.
Benefits of Mobil Super
Regular use of Mobil Super extends the life of the engine.
It gives protection against sludge and wears.
Mobil super has friction-reducing additives.
It guarantees 5000 miles of engine protection.
Guaranteed covers up to 7,500 miles between oil shifts, 1.5X longer than our natural and synthetic blend oils.
Mobil 1 Oil Review
Mobile 1 has been around for over a century and is one of the automotive industry's most well-known and well-respected brands. As the name implies, the Mobil 1 extended capacity synthetic motor oil is designed for longer oil change times. You'll be able to drive for at least 10,000 miles before needing to replace the gasoline.
Sludge can be no match for this substance, thanks to Mobil1s' entirely synthetic formula. Deposits would therefore not be a problem for you. Consider how much longer your engine would last if you use this product.
You will see a boost in your fuel economy. You know how nice it will be to save a few dollars at the gas station, so give this motor oil a shot. There will be absolutely no disappointment.
Benefits of Mobil 1
It has excellent anti-wear results in extreme cold and extreme heat.
Mobil 1 synthetic oil extends the life of your engine.
The three-pack of Mobil 1 is just 27.9 pounds in weight.
It is resistant to freezing.
Full Synthetic Formulation
Full synthetic motor oil is always a better option over conventional oil cause it has more benefits to offer. It offers improved fuel economy, better stability, better temperature stability, protection against wear and deposits, and better lubrication in extreme weather and whatnot.
The Mobil 1 oil is fully synthetic and made with a combination of high-performance base oils and additives. Also, Mobil 1 is free from toxins that ensure the optimum shape of the engine.
Mobil super high mileage oil is also full synthetic. It is specially made for those vehicles that want to upgrade from conventional or synthetic motor oil. Mobil Super extended engine life and gives protection 1.5X longer than any other traditional oil.
Excellent Cleaning
During combustion, creating wear and tear is a very usual thing. But synthetic oil like Mobil Super and Mobil 1 are here to help the vehicle. A cleaning engine is one of their most essential features.
Mobil Super and Mobil 1 synthetic oil clean any grime, dirt, oil, sludge, and other contaminants forming and building in the engine. They have an ultra level of cleaning that you do not even worry about clogged deposits in the engine.
Reduces Wear
Another important thing is checking how much wear protection your motor oil has to offer. Cause in the engine, there will be metal-to-metal contact that will always be going on and cause wear and tear in the machine.
So the purpose of the engine oil is to lubricate the engine's part enough that it does not come into contact with friction. Mobil 1 creates a thick layer between the moving parts and ensures their best performance. Mobil 1 also gives good performance in the older engines.
With a compatible additive system composition and extra seal conditioner to help prevent leakage, Mobil Full Synthetic High Mileage helps prevent sludge and sediment formation helping minimize engine damage.
Protection in Extreme Temperature
Mobil 1 also avoids breakdowns in low and high temperatures, in addition to cleaning and wear safety. It has a wide variety of temperatures that are suitable for any situation. With this oil, you should expect a steady flow if it's cold or humid.
It stays flowing in temperatures as low as -40 degrees Fahrenheit, making it ideal for fast cold-weather starts. As a result, the engine will not seize or experience friction due to a lack of gasoline.
The Mobil 1 can also withstand high temperatures. This oil will not thin in hot weather and will continue to lubricate components efficiently. This oil is capable of enduring a wide range of temperatures. Mobil Full Synthetic High Mileage resists oil breakdown well, ensuring long-term protection and preserving oil viscosity at high operating temperatures.
Longer Engine Life
Mobil 1 offers improved stability in a variety of oxidation states and temperatures. It relieves strain on your parts, ensuring a smooth and consistent flight. This thermal and oxidation stability extends the life of your engine and ensures that it continues to run smoothly. Mobil Full Synthetic High Mileage also ensures the engine's long life and protects it from wear and deposits.
Frequently Asked Questions (FAQ)
Is Mobil Super good oil?
Yes, Mobil Super is a good oil! It's been tested and proven to deliver excellent performance and protection for your engine. So if you're looking for quality motor oil, Mobil Super is a great option.
What is the difference between Mobil super oil and Mobil 1 synthetic oil?
There are a few key differences between Mobil Super oil and Mobil 1 synthetic oil. For one, Mobil 1 is completely synthetic, while Mobil Super oil is a blend of synthetic and conventional oils. This means that Mobil 1 will last longer and perform better in extreme conditions than Mobil Super oil. Additionally, Mobil 1 has a higher viscosity rating, meaning it can better withstand high temperatures and maintain its performance during extended use. Finally,Mobil 1 comes with a longer warranty than Mobil Super oil. So if you're looking for the best possible performance and protection for your vehicle, choose Mobil 1 synthetic oil.
Yes, Mobil Super is a synthetic blend. This means that it is made with a combination of synthetic and conventional oils. The synthetic oil helps to improve the performance of the engine, while the conventional oil helps to keep the engine clean and lubricated. This makes Mobil Super a great choice for those who want the best of both worlds.
Summary
Now that you know all the differences between these two full synthetic oil. Whichever oil you choose, keep in mind the facts I mentioned above. In short, Mobil Super synthetic oil offers protection for up to 7,500 miles between oil changes for conventional oil or up to 10,000 miles with Mobil 1 extended performance synthetic motor oil. This article will help you choose the right oil for your vehicle.
Related Article