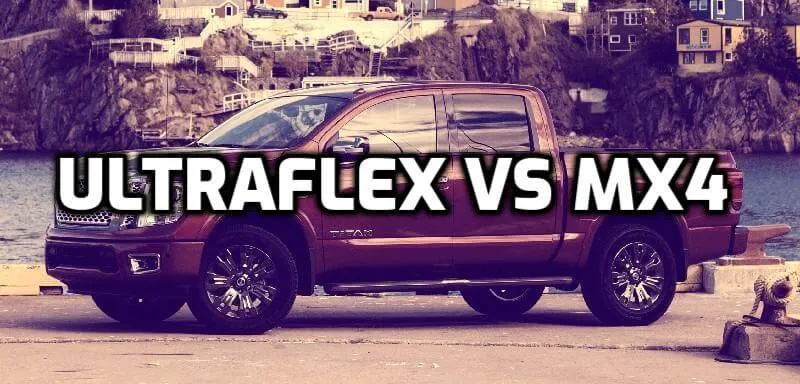 When it comes to tonneau covers, there are a lot of different options to choose from. Two of the most popular options are the Undercover Ultraflex and the Bakflip mx4. Both of these covers have their pros and cons, so it can be difficult to decide which one is right for you. In this article, we will compare the two covers and help you decide which one is the best fit for your needs.
Bakflip MX4 vs Undercover Ultra Flex
Undercover Ultraflex and Bakflip MX4 are both outstanding and well-qualified tonneau covers. But there are some significant differences since they are from different brands. So if you are finding a perfect tonneau cover for your pickup truck, it will be easy for you to choose between these two types of tonneau covers by going through the key differences between them.
| | |
| --- | --- |
| | |
| | |
| Comes With Stylish Matte Finish With Durable Aluminum Panels. | Made out of reinforced-fiberglass, polymer top and aluminum underside in the inner surface. |
| The lower panels are lined with a carpet-like material. | The lower panels are finished in black powder coating. |
| Comes with 5-year, hassle-free guarantee | Comes with 5-year, hassle-free warranty. |
| Easy to install & take 30-60 minute to install by yourself. | Easy to install & take 30-60 minute to install by yourself. |
| Load rating 400 pounds of evenly-distributed weight | Top of the cover can handle a load rating of 400 lbs |
| Dual Action Tailgate Seal for Easy Operation | This MX4 can be closed with the tailgate up or down. |
| It folds up to your truck's bulkhead area where it is held straight up in place with prop rods. | It folds all the way back against your truck's cab on foam rubber bumpers, ensuring third brake light visibility on short and standard truck beds. |
| | |
UnderCover Ultra Flex
Ultraflex is the latest version of Undercover tonneau covers. Ultraflex has some amazing features that increase its functionality. The easy and simple installation process of Ultraflex is another extra addition to its qualities.
You can use the Ultraflex tonneau cover in many different ways. It is possible to lift or roll up the soft tonneau covers. You can also fully cover the bed of your truck when you don't want to use it as a pickup truck.
The Ultraflex tonneau cover has specific levels of security, and it's easy to operate because it is equipped with an automatic latching system. This cover can also be locked with a key, and it comes with a 5-year warranty.
Matte black finish.
Made from aluminum and polymer material
Tri-fold design with versatile settings.
Sturdy aluminum construction that resists corrosion.
UV protective cover to keep cargo safe from the sunlight.
Dual-action tailgate for better access.
Locks with a key and has an automatic latching system
It has a sleek, low-profile design
Carpeted under panels to protect your cargo.
The Ultraflex tonneau cover is weather-resistant and fully watertight
Scratch-proof coating to minimize damages.
Includes an LED rail light for nighttime use.
Super simple clamp-on installation.
Water-resistant drainage system.
Weight capacity rated at 400 lbs.
Warranty for 5 years.
Bakflip MX4 Tonneau Cover
Bakflip MX4 is a famous kind of tonneau cover, which is available in a panel style and made from four EPS foam-filled aluminum panels. The cover has a simple slider mechanism, which is very easy to understand and use. Bakflip is also extremely user-friendly.
The cover is made from high-quality materials, making it durable and robust. This cover also has an easy installation feature that doesn't require any drilling.
Made from lightweight aluminum panels.
Extraordinary low-pressure design.
Security locks included.
UV resistant cloth cover to resist sun damage.
Customizable fender and tailgate cuts with the provided templates.
Includes a free-standing light for nighttime use.
Adjustable tension system to accommodate different loads.
Convenient and fast installation procedure.
Comes in a matte black finish only.
EPDM rubber seals make the roof more water-resistant.
Comes with 5 Year Limited Warranty
Compatible design and other accessories
Weight capacity rated at 400 lbs.
Our Observation
Both the Bakflip MX and the Undercover Ultraflex tonneau covers are great products. They both have their advantages, so you really can't go wrong with either one. Both covers have a similar design, so you won't be able to tell much of a difference between them.
However, the Bakflip MX is made from aluminum panels, while the Ultraflex is made from a polymer material. This will be important to consider if you are looking for a particular aesthetic. The installation process of both tonneau covers is very easy and straightforward. They can be installed by yourself without any help.
The Bakflip MX comes with a five-year warranty, while the Ultraflex tonneau cover has a five-year warranty. The Bakflip MX is more durable, but the Ultraflex tonneau cover offers better resistance against water damage.
Are the Covers Weather Resistant?
Both of the covers are weather-resistant. They both have UV-proof covering to protect your cargo from sunlight. They also have a good water drainage system, which makes them worthy of use in all kinds of weather.
Are the Covers Easy to Install?
Yes, both Undercover and Bakflip covers are easy to install. It is also neither an expensive nor a lengthy procedure because you will need only a few tools to get this done with installing the tonneau cover.
9/16 Wrench or socket
7/8 Drill bit & drill
Phillips screwdriver
When you buy a tonneau cover of either of the brands, and installation sheet will come with that. If you go through the sheet, you will understand the whole procedure clearly. On top of that, if you follow the instructions properly, you will be able to complete the whole job almost within one hour. So, it is easy to install the Bakflip covers.
Where Can You Find Tonneau Covers?
Tonneau covers are available in any automobile accessories shop. Also, you can find them for online shopping on Amazon, Walmart, eBay and other sites. It will not be hard enough to find them. But it is necessary to select the right one for your pickup truck with your expected features.
Conclusion
The main difference between the Undercover Ultraflex and Bakflip mx4 tonneau covers is that the Ultraflex folds up to your truck's bulkhead area. You can easily fold it up to use only a portion of its length. The Bakflip MX4 has bumpers on the back that fold the cover back against your truck's cab so that the third brake light is always visible.
I hope this article will help you to select the right tonneau cover for your pickup truck. Both of these tonneau covers have some merits, and it would be better to choose the one that suits your needs.
Frequently Asked Questions (FAQ)
There's no doubt that the BAKFlip MX4 is one of the best tonneau covers on the market. It's made from high-quality materials and it's built to last. Plus, it's easy to install and use. If you're looking for a top-notch tonneau cover, the BAKFlip MX4 is a great option.
Yes, Undercover Ultra Flex is waterproof! This means that you can wear it in the rain, snow, or even in the pool without worry. Plus, its water-repellent finish will help keep you dry and comfortable all day long.
BAKFlip covers are a great investment for any truck owner. They offer superior protection from the elements and keep your cargo dry and safe. They are also very easy to install and remove, making them a convenient option for those who need to access their truck bed frequently. Overall, BAKFlip covers are an excellent choice for anyone looking for reliable, durable truck bed protection.
Armor Flex is designed to support a variety of weights, so you can choose the perfect option for your needs. It can support up to 500 pounds, making it ideal for a variety of applications.
Related Post List