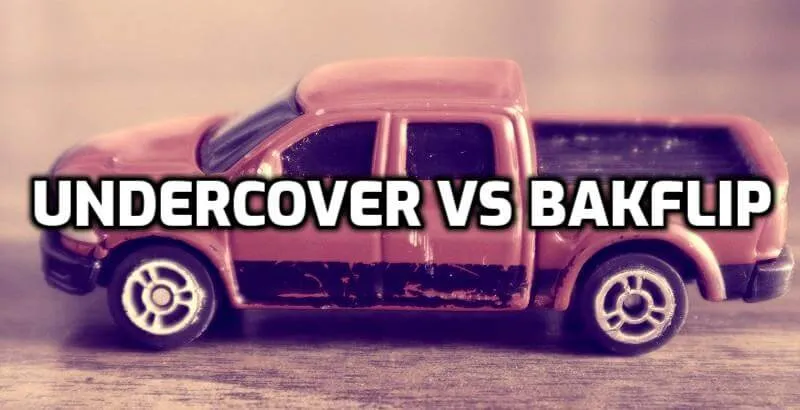 Which is better? Undercover Flex or Bakflip g2? This is a question that many people ask themselves when they are looking for the perfect tonneau cover for their truck. The answer isn't always so simple, because there are many factors to consider. In this blog post, we will discuss some of the things you should think about before buying one over another. We'll compare features and prices of both brands in order to help make your decision easier!
Undercover Flex vs Bakflip g2 Table
Tonneau covers do not only mean your investment of a hyped amount, but it also determines the security of the cargo you intend to transport. Picking any random one will cost your pocket and can also ruin your valuable cargo goods. To facilitate the customers with a proper judgment on buying a quality tonneau cover, our team has crafted this Undercover Flex vs Bakflip G2 comparison.
| | |
| --- | --- |
| | |
| | |
| | |
| | |
| | |
| Suitable Models Fits 2002 - 2021 Dodge Ram | Suitable Models Fits 2015 - 2020 Ford F150 |
| Material is Fiberglass-reinforced polymer (FRP) and Aluminum | Material is Aircraft grade aluminum panels |
| Locking Mechanism Automatic Latches  | Locking Mechanism Automatic Latches  |
| Bed Access Full Bed Access | Bed Access Full Bed Access |
| Textured Low Profile Textured Finish | Black powder coated glossy finish |
| | |
| | |
Why Compare?
BAK Industries has been prominent as an industry for a long time, but they actually gained apt recognition with the manufacture of tonneau covers. They have the most amazing line of covers with different features and price points to meet the needs of a wide range of customers. Meanwhile, Undercover Flex is designed, taking inspiration from Bakflip itself.
So, both the models have quite the same built structure and features. Even Undercover has maintained a price range close to the Bakflip G2 as well. But there are still some key differences that readers must know to determine the best-suited one between these two. This Undercover Flex vs. Bakflip G2 comparison will surely aid any further confusion among the buyers.
Material
The Undercover Flex is built with fiberglass-reinforced polymer (FRP); this keeps the overall cover lightweight yet stronger and dent resistant. However, the fiberglass material itself is extremely sturdy but to intensify the strength, and the top skin is made with aluminum.
No wonder aluminum means more durability and strength. The material claims to never fade, tear or warp and provides immense protection from outside elements. Even it supports cargo carrying on top of it and can hold up to 300 lbs. weight.
Bakflip G2 features aircraft-grade aluminum panels for extended durability and strength. The aluminum is black powder-coated; a glossy finish, and rustproof quality. The aluminum gives way more safety than the traditional vinyl covers. This infrastructure is capable of holding almost 300 lbs. of weight. Moreover, this material is not only robust but also ensures complete protection from UV rays. Thus users can carry any sensitive goods without worrying.
Weather Protection
The Undercover Flex does not only protects the cargo from weather adversities, but it also carries away water from the gear and truck beds. It has a rail mounting system backed by rubber seals and drain tubes. These rubber seals and drain tubes successfully evict (if any intrusion happens) water from the truck bed. There are EPDM seals to prevent utmost water resistance. Moreover, the hardcover itself is capable of protecting the cargo from heavy rain or snowfall, or even the hot sun.
Bakflip G2 has a proper drainage system to keep the water away from the cargo. The built-in drainage system contains dual tubes; these tubes come into action once there is any water intrusion inside. Besides, it has OE quality perimeter seals for weather resistance; keeps the moisture away. It also ensures UV ray protection and is suitable for carrying sensitive or fragile goods.
Design and Bed Access
Undercover Flex is nothing less than a stylish accessory to any truck's appearance. The low-profile design with a black glossy finish keeps the outlook game-high for any truck. The design does not only enhances the appearance of a truck. It also focuses on letting the customers have proper access to the truck bed. This cover can be folded in many positions. This feature ensures the customers can access the cargo as they prefer.
It also has built-in pop rods to secure the cover in position while driving. Even being opened, with 100% bed truck bed access, drivers can drive the truck without any flapping or disturbance.
Also, the Bakflip G2 does not lag behind when it comes to designing and appearance. This solid cover looks extremely rigid and classy. It ensures a no-profile design by laying flush to the truck bed rails. Bakflip G2 lets the user put the cover flipped, closed, or folded without even concealing the 3rd brake light.
This thoughtful outcome in designing keeps the driving process extremely safe. Moreover, the seamless installation ensures 100% bed access; thus, users can carry taller goods without any hassles.
Lock Mechanism and Security
Undercover Flex knows the value of cargo security. However, it does not flaunt any fancy locking mechanism but sticks to the basic latching system. The automatic latching system is more than enough to lock the tonneau cover into the truck bed rails. Moreover, the sturdy aluminum panels are quite strong to prevent any intrusion.
Bakflip G2 features the same automatic latching system and efficiently locks the cover into the bed rails. Though the locking mechanism is quite the same yet BAK industries grab an extra point for full perimeter seals and an extra-strong tarp. The seals are extremely effective against bugs and dust; the hard tarp with automatic latches prevents potential theft.
Ease of Operation
There are multiple pull handles and cables to operate the latches of the Undercover Flex model. Users don't need to put any manual effort to open or close the latches. Moreover, drivers can drive the truck by keeping the tarp in three secure positions; fully open, partially open, and closed. Also, it has a dual action seal that lets the buyers shut the tailgate without elevating the cover.
Bakflip G2 makes the operation process extremely easy with prop rods and safety buckles. Prop rods are used to keep the cover in an upright position while open. And the safety buckles hold the cover while driving even when the cover is folded, flipped, or closed. The easy-to-use slam latches are perfect for smooth operation.
Summary
The Undercover Flex vs. Bakflip G2 points out the basic differences between these two tonneau covers. The Undercover Flex model is just an inspired version of the Bakflip G2 tonneau cover. Both come in the same price range and performs quite the same. Buyers may pick any of them without any hesitation.
Frequently Asked Questions (FAQ)
Yes, UnderCover Flex is 100% waterproof. You can confidently take it out in the rain or snow without worry. Plus, its rugged construction can stand up to even the most intense weather conditions. So no matter what Mother Nature throws your way, your undercover Flex will be there to protect your gear.
No, BAKFlip and UnderCover are not the same company. BAKFlip makes hard folding truck bed covers, while UnderCover specializes in soft, rolling tonneau covers. Both companies make high-quality products that will protect your truck bed and keep your cargo safe from the elements.
The answer depends on the specific cover you have, but most covers are designed to hold up to about 500 pounds. So, if you're carrying light cargo, you shouldn't have any problems.
Of course, if you're carrying heavier items, you'll want to make sure that your cover is up to the task. Some covers are rated for higher weights, so be sure to check before you load up.
In general, an undercover tonneau cover is a great way to keep your belongings safe and secure while driving. Just be sure to check the weight limit before you load up.
Related Post