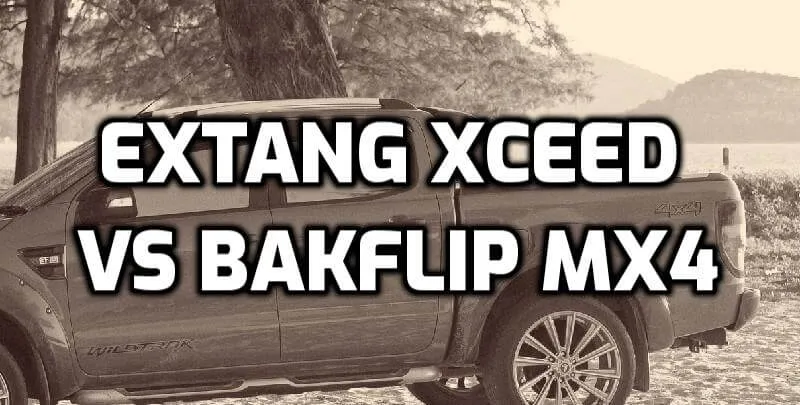 Tonneau covers are a great way to protect your truck bed from the elements. They also provide you with a convenient storage area for items, and keep things out of sight from would-be thieves. Tonneau covers can be expensive, but if you're looking for the best value in tonneaus then look no further than Extang Xceed and Bakflip MX4 Tonneau Covers!  Xceed is a model from the brand Extang and BAKFlip MX4 from the company named BAK Industries. Both of them offer a solution for hard folding covers.
Extang Xceed Vs Bakflip MX4 Table
In this table, we will review two popular The Extang Xceed and Bakflip MX4 Tonneau Cover. We'll take a look at what sets them apart, how they compare in price, and which one might work best for you!
| | |
| --- | --- |
| | |
| | |
| Comes With 5 Years Of Warranty | Comes With 5 Years Of Warranty |
| Compatible With 2 Different Sizes Of 5' 7" (67.1 Inches) And 6' 7" (78.9 Inches) | Offer 3 Different Sizes Of 67.1, 78.9 And 97.6 Inches |
| Matte Black Finish With Extreme Low Profile Design | Premium Matte Black Finish With Low Profile Design |
| Industry First Rotary Release Latching System | Dual Action Tailgate Seal Automatically Latch To Both Sides Of The Truck Bed |
| Durable Enduracoat Covering Provides The Ultimate Water Resistance | Maintain Water Proofing With Automotive-grade EPDM Rubber Seals |
| Weighted 65 To 75 Pounds Depending On Panel Size | Weighted Around 70 Pounds |
| Solid Aluminum Cover Panel And Guide Rail | Aluminum Panel And Rails Along With Pre-molded, Die-cut, Shock-absorbent Bumpers |
| Allowing Up To 500 Lbs Of Weight Evenly Distributed | It Can Rated Up To 400 Lbs Of Evenly Distributed Weight |
| Rotary Release Latching System | Dual Action Tailgate Seal |
| | |
Why Compare
Comparing two or more similar products is a way to find the right choice for you, based on your very unique preference. After all, it is held in high regard that you do not want to misuse a single penny of your hard-earned money. Our experts always love to help you with better buying decisions. In terms of compatibility, the material used, outlook, ease of use, after-sales service/ warranty and installation process, let's try to find out which you can consider buying.
Top Highlighted Points
A tonneau cover, which is relatively a modish module in the automotive industry, is not only a bulky exterior to make your truck look nice but also helps you protect the carriage part of a pickup truck and improve aerodynamics. This device has become popular among truck owners in the last couple of decades, especially in first-world countries. This very useful and ingenious piece of equipment widely varies in style and mechanism.
Compatibility
Most truck manufacturers come up with three different sizes of the truck bed. It is not a wonder that cargo cover brands also design their products depending on that specific size. Xceed offers two basic sizes of 5′ 7″ (67.1 inches) and 6′ 7″ (78.9 inches). It is compatible with almost all the brands from 2009 till to the current year. Sizes may vary a little (1 or 2 inches) for the models after 2015.
Whereas MX4 ensures a more coherent option by offering all the available sizes. Including the previously mentioned proportions, it puts forward the largest 8′ 2″ (97.6 inches) for customers who want to cover up their truck bed. But this one might not be fully compatible with the vehicles which are older than 2013.
Material
Both of the models come up with high-quality, industrial-grade folding aluminum panel covering mechanisms. This material has been granted as the industry standard for the last couple of years. Along with the panel, guide rails are made of a single piece of aluminum angle bar for utmost durability.
Both were exceptionally done to seal all the corners and nooks with EPDM rubber to protect the bed from water spilling. The only addition for MX4 is the shock absorbent plastic bumpers on either side of the panel to provide extra vigor and a scratch-proof surface.
Exterior
Combining these two with a stunning matte black finish makes both models look pretty gorgeous while getting on the road. In the first look, one might not find any visual difference between these two. Low-profile mounting techniques allow the covering panel to stay almost parallel with the guide rail. Both remain stacked on the bed while it is partially open. Two tightening rods allow the folded panel to hold upright just behind the driver's seat.
Ease of Use
As you have already perceived- though both of them are from different manufacturing companies, they have very indistinguishable design and performance. Still, Xceed assures individuality with its 'Rotary Release Latching System.' This allows more security to the operation cable. With the help of durable EnduraCoat covering, it provides the ultimate water resistance. Moreover, you can carry up to 500 lbs of evenly distributed weight on your closed truck bed.
At the same time, MX4 also grants you the option to carry nearly 400 lbs on a truck bed. A dual-action tailgate seal is used to operate the cover lock. Besides, in most cases, it allows for 3rd brake light visibility depending on the vehicle model.
Warranty
These truck bed covers are secured with five years of warranty like many other competitors in the market.
Installation
As most modern tonneau cover manufacturers extensively focus on simplifying the installation process, these two are done quite well here. To install any of them, you do not need to spend more than an hour without using any power tools.
This write-up definitely helps you go for a better buying decision, which we promised earlier. It is our pleasure always to make you a happy customer.
Conclusion
Both, Xceed and MX4 truck bed covers are available on Amazon.com right now. Though they do not differ extensively, their mechanisms and other features significantly vary from each other. This article is certainly going to help you make a wise choice for your upcoming purchase!
Frequently Asked Questions (FAQ)
If you're looking for a top-of-the-line tonneau cover, the BAKFlip MX4 is definitely worth considering. This tough cover is made from aluminum and provides superior protection against the elements. Plus, it's easy to install and use, making it a great option for anyone who wants to keep their truck bed in top condition.
This truck bed cover is rated to hold up to 400 lbs of evenly distributed weight. This means that you can put things like camping gear, tools, or even a motorcycle in the back of your truck without worry.
The answer is yes! All of Extang's tonneau covers are made from waterproof materials and feature a watertight seal that will keep your cargo dry in even the heaviest rainstorms. So if you're looking for a tonneau cover that can stand up to the elements, Extang is a great option.
Extang is made by a team of passionate truck bed cover experts. We've been in the business for over 25 years and have earned a reputation for making high-quality, durable products. Our team is dedicated to providing our customers with the best possible experience, and we're always innovating to bring you the latest and greatest in truck bed cover technology.
Related Article