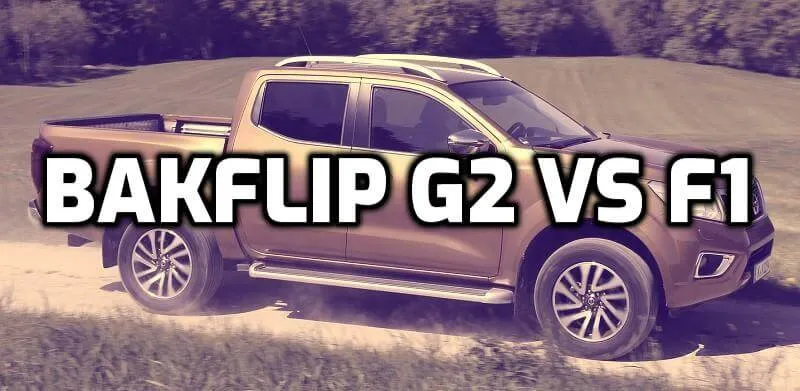 Without any double guessing, there is no questioning the importance of covers in pick-up trucks. It is as essential as the truck bed for carrying loads and supporting them throughout the journey. Not just to cover all the objects placed inside them but also to use the cover as a platform to carry double the load.
To cover and carry loads, it has to be both lightweights yet strongly built with durable material. There are many options to choose from when buying truck bed covers according to your liking. It is important to note all the precise qualities they possess so that you can pull all the right strings to pull off the best offer with the right price from the market.
Bakflip G2 vs F1 Comparison
BakFlip has been producing truck bed covers for a decent enough time to own the title of being trusty. So without being sceptical, you can completely rely on their performance and leave it up to the covers to do their job.
BakFlip G2 is relatively new among all the other standard classic models of cover type. That's why a comparison between the new and the old one is worth the discussion. Let's skim through their biggest catches before we dive in deeper.
| | |
| --- | --- |
| | |
| | |
| Mimics different part of the vehicle to provide a stylistic match. | Has the same old rigid built and finishing |
| Simply flip opens the cover and gives 100% of the truck bed access. | Opening style type is folding. |
| This cover is weight rated up to 300 lbs. | F1 tonneau cover is weight rated up to 400 lbs |
| Its offers Scratch, dent and ding resistance | Gives excellent coverage from all sorts of intruder elements. |
| Easy to install. it may take 30-60 minute to install. | Installation process takes up to 30-60 minutes. |
| It comes with 2-year, hassle-free warranty | It comes with 3-year, hassle-free warranty |
| Locking type is "Tailgate Handle Lock". | Consists of a lock type of non-locking. |
| Allows dual action tailgate operation. | Has to be lifted for the tailgate to open or close. Doesn't allow dual action. |
| | |
Main Features of BakFlip G2
Easy Installation
Three self-backing clamps on both sides help to mount the rails in place. That's it! You are good to go. The cover installs in less than 30 minutes.
Weather Friendly
Resistant to rain, snow, ice. Can carry weight up to 200lbs of the snow gathering with even distribution. Moreover, the panels do not react to heat. They do not shrink or expand due to weather conditions.
Safety & Protection
The tailgate is independent when it comes to G2. The dual-action process allows the tailgate to be open or closed, yet the cover can operate independently without bothering other parts of the car.
No extra keys Required.
One of the best features about the G2 is that the same key that you use to lock and unlock the tailgate is used for the cover. So, you don't have to carry two sets of different key pairs. Don't mess up with your car's outer look. It almost camouflages with the appearance and the low profile almost makes it look like a backless lightweight pick up truck.
Improved Gas Mileage
Gives you 11% better gas mileage. When being closed, it eliminates wind drag for improved fuel economy, resulting in sparing you a decent amount of extra penny.
Easy on-offs
To remove it is to fold it up to the cab and fasten two knobs that hold the cover in its place. To put on the cover, do the reverse, and you are all set to go in two minutes.
Limitations of BakFlip G2
It might be not easy in time to sort out the fitting. Many people find it excellent as covers, yet a huge number has a tiny issue with adjusting the G2 in its place.
Main Features of BakFlip F1
Construction
The construction is strongly built for advanced impact resistance. Consumers on average, have noted that F1 gives special protection against the never-ending-constant dent and road shocks. Thus obviously giving F1 some bonus points over other covers available in the market.
Upgraded tailgate
Upgraded tailgate operation allows dual-action except for some exceptions. Except for the Tacoma or 05-16 Ridgeline, F1 allows a dual action that allows the tailgate to be open or closed with the cover being exposed.
Protection 
The core is densely made yet with foam to prevent damages to the objects. The objects inside are very prone to road shocks that will make them hit the inner wall. But with F1, the core inside being made out of foam gives protection from within.
Limitations of BakFlip F1
Among all the pros, one of the most downright facts of F1 is that it is rather a bit costly compared with other models. Needs a certain kind of structure to fit in. Otherwise it won't serve the purpose. As if it is almost as bad as having no cover at all. Moreover, there still might be dripping wetness on the edges due to not entire coverage.
Which one is Better?
Answer: The answer right off the bat is BakFlip G2 is far better than F1. By a huge margin, G2 does all the things that F1 can and does it way better.
Summary
With many satisfied customers and with the outstanding rating of a whole 5 out of 5 stars makes BakFlip G2 the ultimate winner of the series. You can blindly trust over this tried and true product for better coverage, mileage, protection and fuel economy is just the cherry on the top.
Related Article List