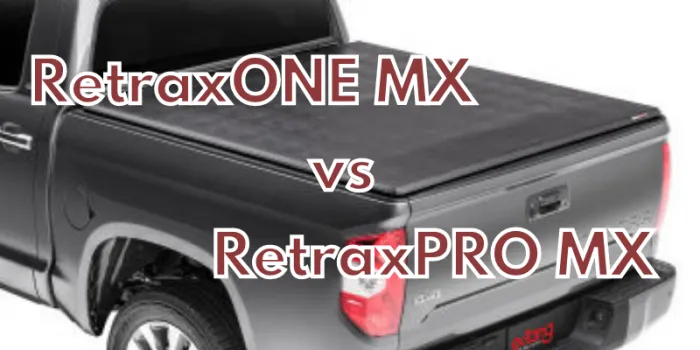 As one of the most popular truck bed cover manufacturers from the United States of America, the brand Retrax was founded in 1996. After operating for more than 20 years, their covers are still modern and unique in terms of style, security and toughness. Recently, they have introduced two different series of hard retractable tonneau covers named: RetraxONE and RetraxPRO.
Both of the series have been very popular among auto lovers so far. For those who have not heard of those yet, RetraxONE is a Polycarbonate Series and RetraxPRO offers Premium Aluminum Series covers. Without this basic material issue, there are not that many mentionable differences between these two series.
Today, here we try to differentiate- RetraxONE MX and RetraxPRO MX; two different models from two different series from the mother brand Retrax.
Why compare
Comparing between two or more products is the best way to know about each individual, especially when you are looking to buy one of them. From the experience of our expert, here we focus on several key factors like Material, Appearance and design, Usability, Installation and Warranty policy.
RetraxONE MX vs RetraxPRO MX Comparison Table Guide
Appearance and Design:

* Plain Surface

* Ergonomic

* Low-profile




Appearance and Design:

* Rugged Surface

* Ergonomic

* Low-profile

Usability: Sealed ball-bearing Roller System

Usability: Sealed ball-bearing Roller System

Installation: Clamp-On Installation

Installation: Clamp-On Installation

Warranty: 1 year warranty

Warranty: Lifetime Warranty

Material
As part of Retrax's Polycarbonate Series covers, RetraxONE MX uses a very smart alternative for aluminum and introduced a lightweight but strong single PC sheet as a covering panel. Polycarbonate is a durable material with superior impact resistance. Also, this 70 pounds of rigid construction ensures UV protection with an incredibly resilient matte finish. Without any joints, hinges or moving mechanism, a single sheet of polycarbonate is finely crafted to retract very smoothly on the side rail. This solidly built structure can hold up to 200 lbs of evenly distributed weight on the top of the panel.

On the other hand, RetraxPRO is constructed by combining aluminum slats; as a part of Premium Aluminum Series covers. A retractable panel made of industrial-grade aluminum slats, which remain mounted on an aluminum side beam. Aluminum provides the extra strength to hold up to 500 lbs on evenly distributed weight to confirm the highest cargo space management. The product weight is 90 pounds without packaging.
Appearance and design
Both of the models appear to be very indistinguishable from the first look. The only visible one is the ONE MX's plain surface against the rugged surface of PRO MX. Both of the models are equipped with their patented ergonomic and low-profile design concepts. This cover panel mounted flush to the rails ensures a great stunning look as well as the fullest protection for the inside of the bed area. The black matte finish coating matches with almost all popular colors available.
Usability
A sealed ball-bearing roller system is used in both models to move the panel whenever you need it smoothly. This intuitive spiral track design allows the coving mechanism to steer without any spring, snaps and pull straps to avoid the jam, freeze or failing down- when the compact storage canister remains hidden under the cab. Thanks to the built-in mechanism which allows you to use the device for a long period of time without costing you extra on maintenance. Any position lockable key function allows you to fix the cover in any position on your truck bed. And must not forget about the convenient handle to steer the cover.
Installation
When most of the cover manufacturers come with very easy installation procedures, Retrax did quite a nice job here with their patented clamp on installation. Both of the models are very easy to install and may take 45 minutes to an hour to complete. You do not need to use any power tools or any special skills to work on this. But as the material is heavy, it is suggested to use the help of another person while installing this device.
Warranty
RetraxONE MX provides a full one-year warranty from the date of purchase. After this period, this device is covered with a limited lifetime warranty. Any material derogation or defect in craftsmanship is being managed by the brand within the first year, without asking any question. After that, you need to pay at a prorated price unless specified otherwise.
But RetraxPRO MX wins the race where this offers a Legendary Lifetime Guarantee. This feature can be a great plus for those who want to check out the brand for the first time.
Within an inch, it is everything we need to look at between these two models. As it is very clearly demonstrated, there are not many noticeable differences between these two models without the material used and warranty policy. For these odds, you will obviously experience some price change between them depending on the marketplace and availability. But on average, RetraxPRO MX might cost around 500 bucks higher than the other one.