Both from the Wrangler families, the Goodyear DuraTrac and Goodyear Adventure tires are sought-after for their all-terrain capabilities. Let's see which among the two beasts is more recommended in your daily driving duties and environment.
Which is Better? Goodyear Wrangler DuraTrac vs. Goodyear Wrangler Adventure
Finishing a long and tiring work week makes you realize how valuable breaks are. Some prefer to stay in, while some like to pack their stuff, start the car, and go somewhere far.
If you're the latter, it is better if you have the accessories and ride that is built for the outdoors. SUVs and pick-up trucks are more suitable for long drives and having an amazing set of all-terrain tires that you can rely on could be the key to a fun, comfort-filled, and enjoyable vacation.
Let's take a look at two of the best all-terrain tires from one of the world's leading tire brands, the Goodyear Wrangler DuraTrac and the Goodyear Wrangler Adventure.
TIRE COMPARO TIME
Goodyear Wrangler DuraTrac vs. Goodyear Wrangler Adventure
Goodyear Wrangler DuraTrac

Goodyear Wrangler Adventure

Provides excellent traction in snow and deep mud

Drives well on rocky and steep roads

More enhanced lateral stability

Brute and aggressive looks

Outstanding traction and stability on dry roads

Dependable grip and handling in wet weather

Comfortable riding experience

Noisier than the Adventure

Not recommended in deep mud and heavy snow
Goodyear Wrangler DuraTrac: For Outdoor Trips on the Track
The most popular AT tires for light-duty trucks, vans, pickups, and commercial vehicles from Goodyear are the Wrangler DuraTrac tires. This set of American tires is popular in providing traction whether the ground is dry, muddy, rainy, or wet. Nevertheless, the DuraTrac is also best in performing on icy surfaces.
Goodyear Wrangler DuraTrac Design
If you value aesthetics, the Goodyear DuraTrac makes a great head-turner. If you are into eye-catching tread patterns, these tires may completely transform your vehicle. The tire has a more brute and bold look since its edges were not overly rounded. What a beaut.
Special rim protectors that come with Goodyear DuraTrac tires assist in preventing the tires from rupturing on their own. The DuraTrac's capacity to self-clean is also enhanced by grooves. High angle center blocks are a feature of Goodyear DuraTrac tires that increase their stability and grip, giving you a more pleasant riding experience.
Excellent grooves make them the perfect choice for off-road excursions. Maximum traction is made possible between the tire and the road surface by the wide grooves. It is also resistant to chips, tears, and chunking and will last for an extended time.
Goodyear Wrangler DuraTrac Performance
Goodyear DuraTrac tires use the most advanced Goodyear tire technology to perform optimally on all difficult landscapes. The tire can endure a lot of demands when transporting, hauling, and rugged off-road use on a frequent basis, and it is ideal for all-season driving.
DuraTrac tires are designed in a manner that allows your vehicle to readily withstand an environment that is steep and rocky. Wider shoulders and slips, which guarantee a tight grip, allow you to drive at high speeds even on peaks. They also have deep grooves to keep mud and dust from contacting the surface directly.
On snow, DuraTrac tries to have incredible maneuverability; they move without slipping. These tires, usually referred to as cold weather tires, are the finest choice for driving in icy conditions.
Although Goodyear DuraTrac tires function well on roads, they work best on snow-covered paths. Despite being quite noisy, they are nevertheless touted as the best for off-road trips.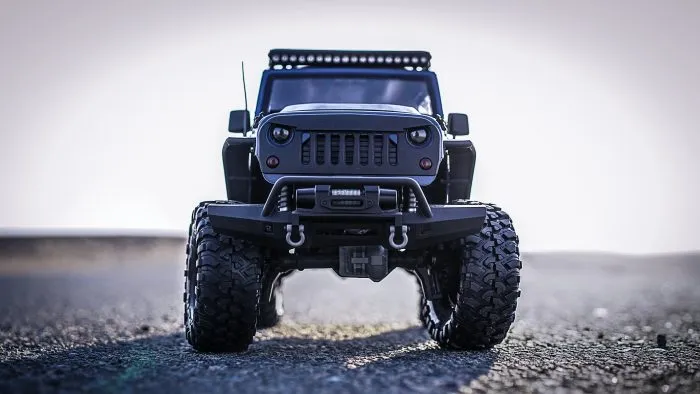 Goodyear Wrangler Adventure: The Name Says it All
The Goodyear Wrangler All-Terrain Adventure is one of the most adaptable all-terrain tires you can get on the market right now. It was made for SUVs and light commercial vehicles. This tire is intended for drivers who spend about 80% of their time on the highway and 20% exploring off-road areas. Compared to the DuraTrac, the Wrangler Adventure carries more cutting-edge technology, while also being easier to acquire because of its price.
Goodyear Wrangler Adventure Design
The improved, longer-lasting tread life by Goodyear Adventure was innovated through DuPont Kevlar – a tread compound that increases resistance to chunks, cuts, and tears. For those who frequently drive on gravel roads, Kevlar also offers more strength and durability.
Additionally, the Durawall tech from Goodyear strengthens sidewall integrity by reducing punctures. You can observe the dynamic symmetric tread patterns with open shoulder blocks and sipping tread lugs for superior traction on rock, dirt, and light mud as well as increased grip strength in wet and snowy weather.
This tread pattern not only gives the tire a fashionable appearance but also aids in providing comfort on the road, and traction off-road.
Goodyear Wrangler Adventure Performance
As anticipated, this tire performs superbly on dry roads. Its on-road handling is so good that it's nearly hard to ascertain any flaws. It provides good traction for speed as well as an acceptable cornering grip. Additionally, it has short stopping distances on regular roads and outstanding stability at full speed.
The Wrangler All-Terrain Adventure merits attention if you're seeking a trustworthy all-terrain tire that will provide a safe driving experience in rainy situations. Large circumferential grooves on the Wrangler All-Terrain Adventure serve to direct water away from its surface.  Therefore, there is a tiny chance of aquaplaning. Even in the wet, it has excellent cornering. On slick surfaces, it can stop quickly enough.
On snow-covered highways, its aggressive tread pattern offers sufficient traction and grip. With its decent siping, it also handles icy roads effectively. The Pro-Grade LT-metric tire series also has the 3-peak mountain snowflake insignia, a symbol that it can function effectively in extremely snowy circumstances.
Sand, rocks, and shallow mud are examples of mild terrains where traction, handling, and braking of the Wrangler Adventure are excellent. For those who decide to camp, fish by the lake, or trek in low mountain areas, the Adventure becomes a dependable travel partner.
However, it doesn't perform as well in thick muck as you might anticipate from a Goodyear Wrangler tire. Overall, it performs exceptionally well off-road, especially given that it is an all-terrain rubber rather than an off-road-only tire.
Goodyear Adventure tires were purposefully built by engineers using Kevlar® fiber toughness, which helps protect them from unexpected punctures – making them a fantastic option for highways and rough driving surfaces.
While the Goodyear Adventure tire makes a good outdoor travel companion, the Goodyear Wrangler DuraTrac is recommended in terms of adaptability and performance in any weather – especially on snow. When tested, you will find out that Goodyear Adventure performs better in muddy conditions, while DuraTrac excels on rocky and ice surfaces.
While DuraTrac has been tested to be a durable tire for hauling, the reliability, performance, and value for money of the Goodyear Adventure are also quite decent. It's no longer a surprise because the technology and materials used for the Adventure are ensured to be long-lasting and most importantly, adventure-ready.
Frequently Asked Questions (FAQ)
The answer is yes! Goodyear Wrangler Adventure tires are designed for enhanced traction and stability in all weather conditions, including light snow. So if you're looking for a tire that can handle your off-road adventures and keep you safe on the road in winter weather, Wrangler Adventure tires are a great option.
Goodyear Wrangler DuraTracs are designed to last for up to 50,000 miles. However, this will vary depending on how you use your tires and the conditions you drive in. If you frequently drive off-road or in harsh conditions, your tires may not last as long. But if you take good care of your tires and drive mostly on paved roads, you can expect them to last for the full 50,000 miles.
On average, Goodyear Wrangler Adventure tires last for about 40,000 miles. However, some drivers have reported getting up to 60,000 miles out of their tires. Ultimately, it just depends on how you use and care for your tires.
Goodyear Wrangler tires are known for their durability and all-terrain performance. If you're looking for a tire that can handle off-road driving or tough conditions, the Wrangler is a good option. The tires are also designed to provide a comfortable ride, even on rough roads.
These tires are made with a three-ply construction that helps to provide strength and durability on the road. The Adventure tire is also designed with an aggressive tread pattern that helps to provide good traction in all types of driving conditions.