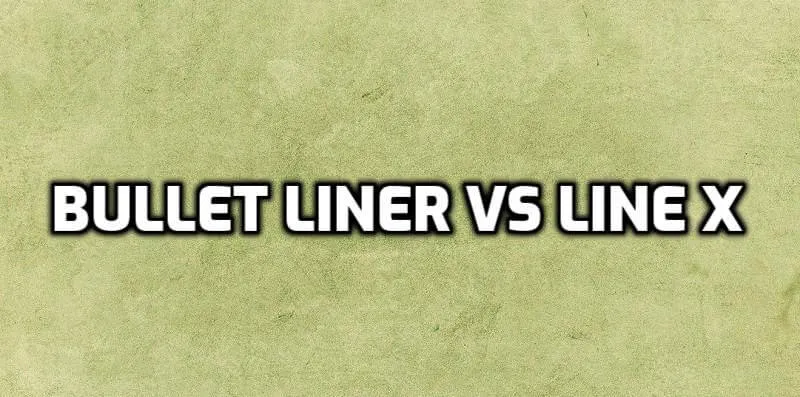 Technological advancement has eased our way into everything. Bedliners today will amaze you with their engineering brilliance. With tons of benefits to offer, it is the first choice of every vehicle owner. 
Why Compare?
Coating your truck isn't the hardest thing to do. I'll tell you what it is. Well, it is finding the right Bedliner to do it for you. When you opt for a spray-on, you already know why it is better than the roll-on or drop-in. But spray-on is manufactured by a lot of companies nowadays and it is certainly not easy to choose which one is the best protection for your vehicle.
Today we have come here with a very widely talked about comparison. This comparison is between two-bed liners that are setting the tone out there and gradually becoming the face of the industry. So, without further ado, we should get down to its details and hope to enrich the readers with helpful information that will help them make the purchase decision. 
Bullet Bed Liner Vs Line X
| | |
| --- | --- |
| | |
| | |
| Comes with coating, spray gun, hardener, and additional additives | Comes with coating, spray gun, hardener, and additional additives |
| Applicable on pick up trucks, military appliances, fleet, trailers. | Applicable on heavy duty trucks, utility bodies, landscapers |
| Good tensile strength of 2600 psi | Top of the group tensile strength of 3000+ psi |
| Takes only 10 seconds to dry | Takes about half hour to dry |
| Flagship formula, gold standard | |
| Fine grit with no bubbles and uniform in nature | Fine grit with no bubbles and uniform in nature |
| Made of gen II polyurea hybrid | Made of Urethane polymers |
| Adhesion to any kind of metal, even wood, flexible yet tough membrane works great in deadening sound and vibration | Thin in nature yet capitative enough to absorb vibration and sound  |
| Lifetime warranty guarantees superior protection | Lifetime warranty guarantees superior protection |
| | |
Highlighted Point
Package 
Here we have two companies that have been in the business for over 30 years. These companies are regarded as the setting stone for the liner industry today. And when I am saying that they are undoubtedly one of the best, I am not bragging. 
The quality product excels in all departments starting from the very first packaging. You will enjoy the premium vibe of the products once you hold them in your hand. On the inside, you'll get a coating, a spray gun, a hardener, and other necessary tools you'll require. 
Built Quality 
From the introduction above, you already know it is hard to ignore. The first liner in our segment is made of a gen II polyurea hybrid. The company states that it is the most advanced formula for a liner yet. It has reached such a point that it is now regarded as the gold standard. The second one on the list is not lagging far behind, with their innovation, they are using an eco-friendly urethane system.
Durability
Line X as a company has proved their worth to its consumers. 'Workhorse' is the perfect adjective that suits this product. You can put this utterly durable product through almost anything, and it's at the same time corrosion, rust, scratch, and leak-free. 
The Bullet liner does all the above and adds more to the game. Your vehicle will be scuff and puncture-free too. Technology has enabled them so much that they are calling their product impenetrable. 
Aesthetics
The first liner of our comparison provides a smooth-looking grit and glazing finish. The spray is bubble-free, so spraying you is bound to get an attractive-looking coating. 
The second one provides more of a rusty look. Now, the rusty look is preferred for more grip and cargo usage. It does ever so well in heavy-duty. But many a consumer might not prefer a rusty finish in household usage. 
Thick or Thin 
Bullet coatings are quite thick yet they are very flexible. One of the advantages you get is that it is adhesive to many substances; you can apply it to wood. This is a luxury, not every liner can offer. 
The following one is thinner. Having been thin, it spreads nicely when spraying. It can still absorb vibration, sound, and impact. They have an overwhelmingly big score like 3000+ in terms of tensile strength. This states that there was no compromise in quality. 
Suitable Vehicle 
We already talked about how the use of liners is increasing exponentially. The first liner can be used in cars, jeeps, tractors, motorcycles, flood beds, fleets, toolboxes, skateboards, and playground equipment. 
The succeeding one is more dedicated to your automobile needs. It applies to heavy-duty trucks, utility bodies, landscapers, and similar vehicles. 
Installation
Installation of liners is child's play. Anybody can have a go and do a decent job coating. But if you don't feel confident enough, you can always contact a service center. 
This will increase the cost of implementation. The preceding one is likely to cost more. There are few reasons for that. One of them is that they dry slowly compared to the first one in our article. 
Customer Feedback
We can go on and on about technical specifications. But in the end, it's the customers that decide which one they will go for. Both these products have their respective fan base. 
The first company is known for innovation and technology. They are the first to provide 4th gen products to consumers. The product is too awe-inspiring. The sealant tech and ever longing effort to hold on to their crown as the gold standard provide the best liners to their customers and so far, their customers love them.
As for the ensuing one, they too are loved by their customer base. For their technical elegance, you are chosen for multiple purposes—off-road needs, everyday hauling, hunting, cargo duty, you name it. Being able to do this all successfully, they earned their place in the vehicles.  
Summary 
So, which one is right for you? If you're looking for durability and a no-nonsense approach, Bullet Bed Liners are a great choice. If you want something that looks a little nicer and offers more customization options, Line X Bed Liners are the way to go.
Are you still debating? Could you give it a rest? Modern bed liners are hugely similar in quality. You have to check your preference, budget, and color, and good to go with a liner that will reshape your vehicle. 
Related Article