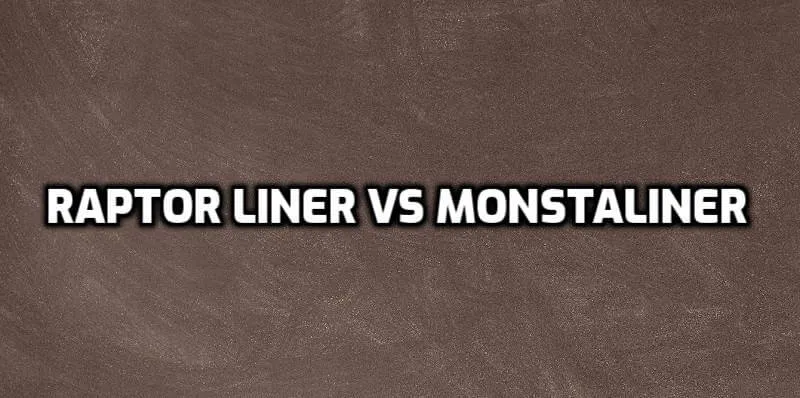 Bedliners in the market today is astonishingly useful. They take care of the vehicle alongside aesthetics. Buying a product in a booming market is a sweet dilemma to have. This is the case for the bed liners.
Why Compare 
We have all the information needed about these respected products to conduct intense research. Still, we compare them face to face. Why? Because before investing money, we like to make sure that the investment is worth the money. Both these magnificent products have good customer feedback along with technical supremacy. We have constructed a comparison guide containing the core features of both these liners.
Monstaliner Vs Raptor Liner
| | |
| --- | --- |
| | |
| | |
| Made of 2 Component Urethane System | Made of Urethane Polymers |
| | |
| Flash point is 108-degree Fahrenheit | Flash point is 108-degree Fahrenheit |
| 10 x tougher than other bedliners | |
| | Touch dry within 3 to 5 hours |
| Can Be use with brush or roller | |
| Covers up to 125 sq ft per gallon | Covers up to 60 sq ft per gallon |
| Superb flexibility & Only available in black | Top notch flexibility & Multiple color option |
| Second coat should be applied after an hour at least. | Second coat can be applied within an hour |
| Applicable in trucks, jeeps, cars, tractors. | Developed for jeep and pickup truck owners |
| | |
Highlighted Point
Package 
These two products are sublime members of the liner industry and the packing shows how carefully they are crafted. Raptor is a veteran, knows the pulse of the consumers. It includes a liner, sprays gun and hardener. The later ones come with a simpler packaging yet effective one. It provides liner and basic tools needed for installation: hardener and necessary tools you have to buy separately.   
Built Quality 
Both these liners are made out of urethane polymers. Manufacturers trust this system because of its usage. One can use it directly and it does dry off very quickly. The built quality is too good to believe actually. The number of advantages you get is unreal. UV protection, hardness you name it. Both these products come with this unique quality. 
Durability
These new liners are hassle-free in terms of durability. It goes on forever. How? The new technology-powered ingredients ensure that the coating doesn't peel off or get rusty. Immunity against corrosion and UV rays allows them to last long. These coatings have an estimated life of 10 to 20 years. 
Hardness 
Urethane integrated liners are super flexible and dry up quickly. But that doesn't affect their sturdiness. It's so sturdy that it can withstand scratches, abrasions and stains. Even in extreme temperatures, the performance doesn't lag. It also resists chemical substances, gasoline and the full coating is waterproof. There's technically no chance of any rust. 
Aesthetics
The liners are way better than roll-on paints, and I'll give you that. You can compare them in terms of efficiency or aesthetics, and it won't make much of a difference. Your vehicle gets into a good vibe once you applied these coating. Both of them look very similar to be true, even though raptor coatings have a unique texture of their own.
Their dark-colored coating is guaranteed to make sure that your money is worth it. Monstaliner on the other hand spent huge money over the last six years to back up their technically superior product with proper aesthetics. Their intensive research has opened the door to 37 color options. 
Mixing 
In terms of mixing for the first one, you just have to fill the spray gun and start coating. The hardener is optional or can be applied later on. In terms of bare steel, the application of acid primer is mandatory. The second product needs the addition of a hardener in the first attempt. Manufacturers forbid to work directly from the can. 
Suitable Vehicle 
As liners are getting hugely popular among vehicle owners, it is becoming a must-have. The applicability of the coating is widespread too. Raptor and Monsta, both bed liners are compatible for truck beds, jeep, truck covers, inside of trailers and buses, the whole of the chassis, engine and related compartments. This shows a pretty good idea that the liners can be used in almost all vehicles.  
Installation
Once the mixing is done according to the instruction, you need to look into your vehicle and see if you have any rusty areas or not. If yes, treat it with acid primer. Then spray according to your need. The coating is touch dry within an hour with the raptor and 3-5 hours with the second one. After all the area is dry, it is ready for the second coat. Try and spray every part equally. By doing so you'll have an even-looking bed. 
 Customer feedback 
Customers are utterly satisfied with the performance of these bed liners. A satisfied customer is the best advertisement you can put out there. So, this has a huge impact on how the product is shaped and performs. Everywhere in the world, these two get a good rating. We've already discussed the features and advantages you'll get once you apply the liners.
But that's not all. The liners are so well managed that they can deaden both sound and vibration. As a consumer, you won't be needing any help from anyone as you can do it all by yourself and late on. It needs no real care to maintain the quality too. 
Summary
After such a detailed discussion, there's not much left to say. With everything discussed above, you just have to decide to purchase. Tell you one thing, both of them are king in their respective price segment.
Frequently Asked Questions (FAQ)
Raptor is a great bed liner for those looking for something durable and long-lasting. It is also easy to apply and can be found at most hardware stores. Those looking for a more permanent solution may want to consider other options, but Raptor is a great choice for those on a budget or who are looking for a quick fix.
Monstaliner takes about 2-4 hours to dry completely. You can speed up the process by using a hair dryer or heat gun on low setting, but be careful not to overdo it or you could damage the liner. Once dry, Monstaliner is extremely durable and will provide years of protection against the elements.
The raptor liner is a great undercoating because it's so durable. It can withstand all kinds of abuse and keep your car's paint looking new. Plus, it's easy to apply and dries quickly. So if you're looking for an undercoating that will protect your car's paint and make it look good, Raptor is a good choice.
Monstaliner covers approximately 12 square feet per gallon. So, for example, if you have a 10×10-foot area to cover, you would need approximately two gallons of Monstaliner.
Related Article