Getting the appropriate tire can tell the difference between good times on the trail and an adventure nightmare. Off-road conditions like deep wet soil, sand, and sharp rocks are where mud tires perform best. While the Goodyear Wrangler MT/R with Kevlar has improved its technology, the BFGoodrich Mud Terrain T/A KM2 continues to prove that it is better than the Good with its characteristics.
Which is Better? Goodyear Wrangler MT/R with Kevlar vs. BFGoodrich Mud Terrain T/A KM2 – Best Mud Tires
More than the rugged, challenging paths, one of the difficult scenarios that true-blooded off-road enthusiasts could face is deciding between an all-terrain tire and a mud tire.
Compared to all-terrain tires, mud tires have a bigger tread block pattern with deeper spaces between them. As gravel, dirt, and mud are cleared from the crevices between the knobs, it gives space to dig into the majority of off-road surfaces, which makes driving it more impressive.
In this review, we'll give you two of the most popular mud tires you can get on the market: the Goodyear Wrangler MT/R with Kevlar and the BFGoodrich Mud Terrain T/A KM2.
TIRE COMPARO TIME
Goodyear Wrangler MT/R with Kevlar vs. BFGoodrich Mud Terrain T/A KM2
Goodyear Wrangler DuraTrac

BFGoodrich Mud Terrain T/A KM2

Great on and off-road performance

Good traction on dry and wet terrain

Firm stability and responsive steering

Good performance in ice and snow

Excellent all-terrain performance

Good grip on dry and wet surfaces

Great aquaplaning resistance

Excellent overall performance

Generous mileage warranty

Lower performance compared to BFG
Goodyear Wrangler MT/R with Kevlar: Taking Tire Tech to Another Level
The fact that its name carries 'with Kevlar' gives you the notion that the model is refined, improved, and designed better.
True enough, the Goodyear Wrangler MT/R with Kevlar will astonish you in many ways. This mud tire offers drivers a pleasurable ride in all terrains and is a looker in terms of rugged design characteristics.
Goodyear Wrangler MT/R with Kevlar Design
Using polymer-engineered technology improves traction on wet and dry surfaces and offers superb handling in puddles – and that's guaranteed by the Wrangler MT/R with Kevlar.
With silica tread, the asymmetric tread pattern provides potent off-road performance. The wrap-around tire design improves off-road performance in difficult terrain, including deep mud, gravel, sand, and boulders.
Goodyear is the first tire manufacturer to use Kevlar, and they claim it increases cut and puncture resistance by up to 35% compared to the normal Wrangler MT/R. It also has side walls with reinforcing ply made of aramid material that is used to make bulletproof vests. These side walls are extremely durable as a result.
Amazing traction in snow, deep muck, and rocks is achieved by using staggered sidewall shoulder blocks of the MT/R with Kevlar.
Goodyear Wrangler MT/R with Kevlar Performance
This tire can traverse any terrain with ease thanks to the sturdy Kevlar reinforcing. It does a great job of handling mud, and once you inflate the tires, it is equally stunning on rocks.
With the MT/R with Kevlar, you'll have a fun opportunity to play in the snow and go mountain crawling in your area. Off-road, they provide good traction, and the additional sidewall protection helps the driver feel secure.
This Wrangler can be used on trails with jagged rocks without the tire being cut or gauged in any way. Even when the sidewall was under a great deal of pressure and stress, the MT/R with Kevlar can simply crawl away with barely any rubber scratch on its face.
Tread life is generally good, however, for some drivers, it may be shorter depending on a variety of reasons.
For additional comfort, Kevlar has a lower noise output compared to the original MT/R. Resonance Noise Attenuated Silencer Grooves were included in the tire design by Goodyear to lessen the noise that was produced.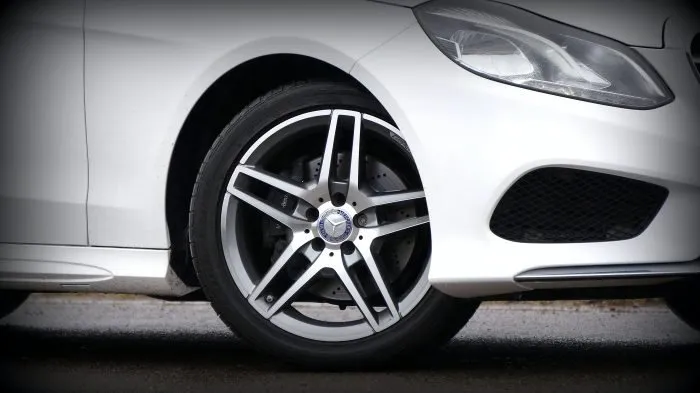 BFGoodrich Mud Terrain T/A KM2: A Mad, Mud Master
On the other side of the trail, we have an entry from BFG.
Most people today choose a mud-terrain tire that can give a tough off-road performance without the noise and uncomfortable ride on the street. One such tire is the BFGoodrich Mud-Terrain T/A KM2. It is one of the finest off-road tires the firm offers for 4x4s, Jeeps, SUVs, trucks, and other off-road movers in the US market.
BFGoodrich Mud Terrain T/A KM2 Design
BFGoodrich Mud-Terrain T/A KM2 can pass through anything in its path due to the combination of an off-road tread compound and a tread design inspired by the Krawler T/A KX, linear flex zones, and independent tread blocks.
When inflated down, the tire can go over even the harshest terrain because of the linear flex zones, which enable the tire to mold itself to the obstacles it is going over. The KM2's tread block design also contributes to a quieter ride, and we believe BFG did a fantastic job with this.
The KM2 is also shielded against cuts, snags, punctures, bruises, and other types of damage caused by the harsh conditions encountered in off-road terrains.
Additionally, BFGoodrich has included sidewall cords that are integrated into the tread, which offer 33% more strength than the original KM model. The single-strand bead of the KM2 improves ride quality for a better seat and increases tire uniformity by improving tire fit to the wheel.
BFGoodrich Mud Terrain T/A KM2 Performance
Your vehicle can handle almost any terrain if you have a set of BFGoodrich Mud Terrain T/A KM2 tires on it. This tire will do the job if you run into stones, stumps, sand, gravel, or mud.
On the trail, no matter how hard you attempt to spin the tires to clean the treads, clay-like muck is the worst for coating your tires – filling your lugs and effectively turning your tire into a slick. In this area, the KM2 functioned as planned. The tread cleaned itself too. That is possible because the blocks are separated from one another sufficiently.
The grip is good when wet. The dry grip is also decent. Excellent resistance to hydroplaning can also be felt when driven. They functioned admirably in deep standing water, even during torrential downpours. Deep lugs, which create several routes for the water to escape, are mostly responsible for this amazing KM2 feature.
Although they have subpar stopping power and unsteady handling on wet ground, they are ideal for off-road use because of their exceptional sidewall strength.
The KM2 may have an intimidating, aggressive appearance, but BF Goodrich has proven to be more silent on the road.
Verdict
The MT/R with Kevlar is maybe the best off-road tire made by Goodyear. It was initially released ten years ago, but it's still a solid option for modern off-road use. They are made to move your vehicle to the trail and return you home; they are reliable and strong.
On the other hand, the BFGoodrich KM2 also operates admirably, and its tread life is just as excellent. The only thing to watch out for is driving on icy or wet road surfaces, but in off-road and muddy environments, it performs the best. On top of its power, the KM2 generously offers its buyers a 90,000-mile warranty. So for this review, the BFGoodrich KM2 is a better and bolder mud tire that you can use for a longer time. Its performance is more maximized and impressive compared to the MTR with Kevlar. The only downside is the price. But as we have seen in life, the best things are rarely inexpensive, and BFGoodrich tires are unquestionably worthwhile.
Frequently Asked Questions (FAQ)
How long does Goodyear Wrangler MTR last?
Goodyear Wrangler MTR tires are known for their durability and longevity. In fact, many drivers report getting upwards of 80,000 miles on a set of these tires. That said, it's important to keep in mind that tire life can vary depending on a number of factors, including driving habits and conditions. So if you're looking to get the most out of your Goodyear Wranglers, be sure to drive carefully and keep an eye on the condition of your tires. With proper care, you can expect your Goodyear Wranglers to last for many miles to come.
Typically, Goodyear Wrangler Kevlar tires last between 40,000 and 50,000 miles. However, this can vary depending on how the tires are used and maintained. For example, if you frequently drive on rough roads or in extreme weather conditions, your tires may not last as long. Proper care and maintenance is essential to extend the life of your tires. Be sure to check the pressure regularly and have them rotated according to the manufacturer's recommendations.
Kevlar tires offer several advantages over traditional tires. First, they're much lighter, which reduces the vehicle's overall weight and improves fuel efficiency. Second, they're extremely strong and resistant to punctures, making them ideal for use on rough terrain or in extreme conditions. Finally, Kevlar tires have excellent grip and traction, providing superior handling and performance.