Ride On Tire Sealant Vs Slime Tire Sealant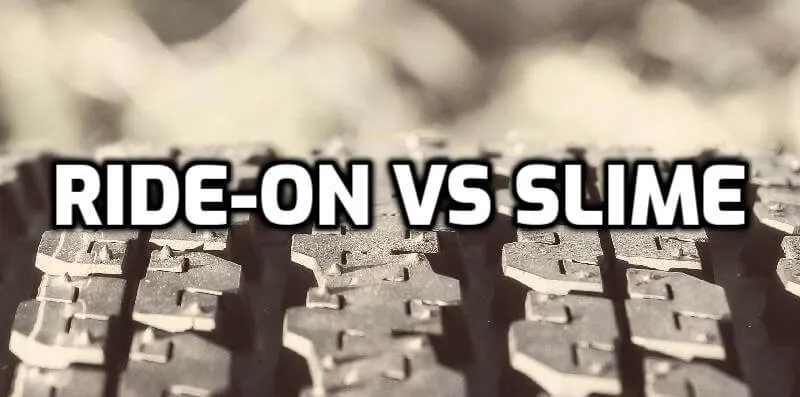 Looking for a stellar tire sealant to help yourself in an unexpected puncture? Welcome to our Ride On Tire Sealant vs Slime discussion to eradicate confusion between these two. Although both are leading tire sealants of recent times, some structural differences make them compete with each other. Both work great to seal a sudden tire leakage. But which would be a better deal? Let's try to explore.
Why Compare
Just like you are in a dilemma before investing in a tire kit, so many people face the same situation. To help them out, a head-to-head competition between two world-class tire repair kits is presented with all their functional details.
Both the manufacturing companies claim their supremacy. There are also two schools of thought regarding these. Some people find Slime more convenient. The rest vote for Ride On as a better sealant. What will an amateur do in this situation? Even if you check the details, they both contain similar types of materials. That's why an expert opinion is highly required to make a decision. 
Ride On Tire Sealant Vs Slime
As our professional team has direct experience of analyzing both the sealants, we have come up with a neutral overview of Slime and Ride On exploring all their chemical details. Hope this helps. Look into the following comparison table to have a glance at both their technical differences.
| | |
| --- | --- |
| | |
| | |
| | |
| | |
| Not suitable for highway vehicles | Works on-highway vehicles too |
| | Auto sealing and balancing method |
| | Works both as a sealant and a balancer |
| Repeated repairing for two years | Corrosion-free protection for two years |
| Withstands most extreme temperature(-37°C to 82°C) | Reduces tire operating temperature |
| Makes tire self-sealing tires while you ride | Makes tire self-sealing tires while you ride |
| | |
Ride-On Tire Sealant Review
Have you thought of getting a telling tire sealer and a balancer in one frame? Yes, you read it absolutely right. Ride On Tire Sealant offers this unique opportunity to pamper your vehicle tire with ultimate perfection. You will definitely love this tire treatment that is suitable for any and every ride including on and off-road. Besides, the versatility exceeds all limits as it cures tires of cars, trucks, industrial tires, bikes, and SUVs.
The most expedient feature is probably the fibers. They are way more robust than steel- around six times stronger. Because of this fiber coating on the inner liners, the tire gets longer life and doesn't go flat due to accidental puncture.
Not only you get to print the tire leaks but also you will be balancing the vehicle by assembling the wheels. Ride-On is available in diverse formulas to meet different car requirements. If you are a rough rider or a slow-motion driver, both on-road and off-road applications can count on this amazing tire protection kit.
You can consider it as an all-in-one tire treatment as it provides numerous tire solutions. The list includes preventing flat tires, maintaining hydrodynamic balance, self-healing properties, prolonging tire life, minimizing noise and vibration, alleviating porosity air loss, lessening fuel consumption, reducing operating temperature, etc., and many more. 
Already satisfied? Wait there are more. For your information, Ride On is a preventive tire solution. It is a water-based sealer that is applied while the tire is being fitted. You can apply it through the valves as well.
By creating a protective layer around the inner liner, the sealant maintains the exact pressure point for a tire to avoid getting flat. In this way, it saves a huge buck by not letting you purchase a new set of tires. On top of that, it saves the environment by reducing flat tire disposals.
Slime Short Review
Using the famous Fibro-Seal technology, Slime has made a stable place in the automotive industry since 1989. They produce a wide range of tire kits to solve any sort of tire issue. When you are in the middle of a journey, it is unexpected to get abrupt tire damage. But what to do in this situation? Needless to say, Slime is the perfect tire solution to get rid of this kind of emergency. 
Although it is not manufactured for highway vehicles, the extreme ability to withstand temperatures from -37°C to 82°C makes up for the minor issue. Besides, it is quite affordable to work for any type of vehicle. What we loved the most is the packaging. It comes in bottles and consequently easily portable to anywhere. To learn more about this popular leakage sealer, visit our Slime vs Fix A Flat contention.
The Best Pick Between These Two
To determine the greater grab, you need to figure out so many things. Based on the facilities you demand and the fund you can spend, both Slime and Ride-On can be wonderful choices in their own ways. 
Ride-On is not only a tire sealer but also a balancer. If you go for it, the tires will be automatically balancing themselves without any considerable pressure loss. Furthermore, the preventive sealant is already active when you face an abrupt puncture or scratch. No matter how much pierce your tire goes through, it will be effectively sealed by this self-sealer and self-healer.
Reasonably, Ride On is a bit pricey compared to the regular tire repair kits and balancing powders. On the other hand, Slime Tire Sealant has quite an attractive range of advantages at an affordable price. It lasts pretty long providing sealing properties for two consecutive years. Also, they can withstand extreme temperatures. 
But they are not suitable for high-speed vehicles on the highways. In this regard, Ride On will be a better pick as they cater to any and every vehicle tire- be it a new one or an old one. Considering all the chemical properties, we think Ride-On will serve you better in any situation if you can spend more. 
Final Verdict
A friendly reminder in the closing note. Whichever tire sealant you go for, don't forget to match the manufacturers' manual in terms of application. Elsewise, you will end up misusing the properties. 
However, what will you vote for in this debate of Ride On Tire Sealant vs Slime? Cost or quality- which is your concern? Let us know your thoughts by leaving your valuable comments below.
Frequently Asked Questions (FAQ)
The slime tire sealant is a great way to ensure that your tires are properly inflated and sealed. It is easy to use, and it works well on both new and old tires. It can also help extend the life of your tires by preventing flat spots from forming.
No, tire Slime does not ruin tires. In fact, it can actually help extend the life of your tires by keeping them inflated and protected from punctures.
Assuming that you have followed the instructions correctly and have not punctured your tire, Slime tire sealant can last up to two years. This means that you can continue using your Slime-sealed tires without having to worry about them going flat. Of course, it is always a good idea to check the pressure of your tires regularly just to be safe.
You should put sealant on your tires every six months. This will help to keep them properly inflated and prevent flats.