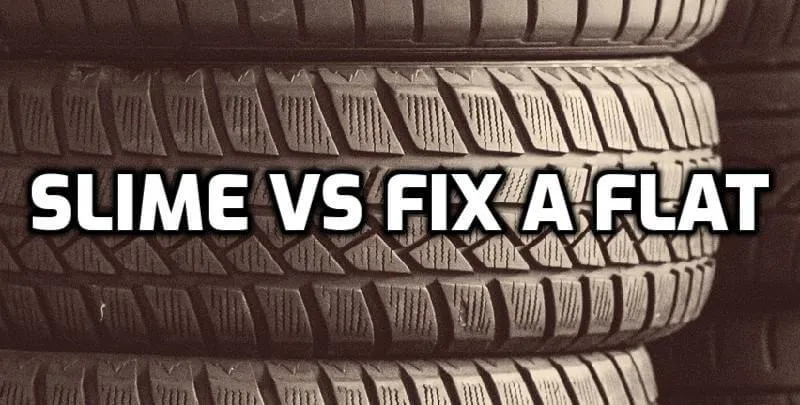 Hunting for a credible quick fix when your tire suddenly leaves your hands amidst a journey? Then you must have heard about two stellar tire sealants of recent times. Why not try a forthright fight between them to choose the better one from Slime vs Fix A Flat? Get ready to pick the best suit for you and let your vehicle tire not go flat abruptly.
Why Compare
There are varieties of tire sealants in the market. Not all of them are worth buying. While investing in a good set of tire repair kits, you must consider the conveniences first. Does it meet your needs in an emergency? 
As we have already mentioned, both these kits are blessings for those who encounter sudden leaks to their vehicle tires. But of course, as they are architecture differently, they have their own structures which make them diverse. Some features of them will work for you, some will not.
Tire Slime Vs Fix A Flat
In this regard, an elaborated analysis between these two is highly expected by the consumers. It could deliver detailed information on how they could help you to stop experiencing flat tires. Also, save both your time and money and know which is a better choice for you.  Let's explore the features and specs in the chart below.
| | |
| --- | --- |
| | |
| | |
| | Model: Fix-A-Flat S60420-6PK |
| | Seals Up To 1/4" Punctures |
| Non-highway Vehicles Safe | Works On-highway Vehicles Too |
| | Sealing and Inflating Method |
| Repairs And Inflates In Seconds | Repairs And Inflates In Seconds |
| Repeated Repairing For Two Years | 33% More Sealing Capability |
| Withstands Temperature(-37°c To 82°c) | |
| | |
Slime Tire Sealant Study
What types of vehicles do you drive? A car, bicycle, bike, truck, and whatever it is, Slime will just be okay to seal the deal when your tire needs emergency repair.
You can rely on this eco-friendly tire solution to keep the environment safe. Experience no aerosol to make it toxic. Furthermore, it is water solvent, corrosion-free and non-flammable. Aren't you already amazed by the super convincing conveniences? They are strong and sturdy when it comes to resolving the punctures in no time. These fast-acting adhesive substances are synonymous with feasibility to fit any sort of vehicle.
Being founded in 1989, Slime has passed a long path to conquer consumers' contentment. Today, the name itself is an identity to offer every sort of tire solution. Use their versatile tire fixes based on your needs and prolong the life of your old tires. They offer you a fast and facile DIY option to fix punctured tires instead of buying a new one. The manufacturers claim that they will serve for two consecutive years. Sounds good, right?
However, you should remember that these products come with a strong warning against driving on the highways.  So, if you are a highway driver, they will not be functionally feasible for your vehicles. Although they will repair the leak temporarily. Slime sealants do wonder by repairing tire slits up to ¼" diameter through their Fibro-Seal technology.  
How many Slimes you should install in your vehicle can be meticulously measured by the user-friendly Slime calculator. For general-sized tires, you will get the chart printed on the packaging though. Enjoy your journey with Slime tire sealants and make it interruption-free. 
How About Fix A Flat
As the name suggests, it is a temporary fix to prevent flat tires on the road. Are you up for an appointment?  Suddenly your tire has got a hole? No worries if you have a can of Fix A Flat in hand. 
Do you know the most interesting thing? You need not be an expert in this field to mend your damaged tires. No particular tool is required to get the job done. This tire sealant will print the prick in the quickest possible time frame.
So, how does it work? Sealing the hole and swelling the tire simultaneously is the key contexture of this famous automotive brand. As they are conterminal with pressurized can sealants, you can avail them by spending a few bucks. A small can will cost you $8-$10. A wide variety of cans are also available. 
The down factor is they cannot withstand pressure for long and restrict the movements on the road. But the easiest using method makes it appreciated. Just keep spraying until your tire is sealed. It will not take more than three minutes.
Also, bless yourself with 33% more sealing power and up to 100 miles mileage. Like the Slime, it is also a harm-free and environmentally safe tire sealer that is projected with water-based materials. Also, it is 100% recyclable. So, maximize the lifespan of your tires by choosing Fix A Flat. 
Which Should You Choose? 
It absolutely depends on you. We have put in all the details about these two killer sealers. Now you will be able to make your own judgments based on your tire's demands. 
But still, as we have an intention to guide you through the right path, let's try to discover both their pros and cons. Slime works fine for most vehicles, particularly for mountain bikes. As they are flame-resistant, they are totally risk-free.
On the other hand, Fix A Flat is famous for its easy application. Even an amateur can fix a damaged tire with it immediately. So, a quick fix is the main trick here.  But they will not last as long as Slime. Well, if you want a long-lasting solution for your pierced tires, go for Slime. Or else, choose the other option if you want a rapid repair. If you want you can check our other tire Sealants Tireject Vs Slime Tire Sealant review.
Final Verdict
After going through all the detailed descriptions, what is your selection- Slime or Fix A Flat? Although both of them are temporary solutions. Replacing or repairing tires by professional experts is the best way to protect your vehicle. We hope you can make a wise selection to let your tire last longer and prevent puncture.
Frequently Asked Questions (FAQ)
What works better Fix-a-Flat or Slime?
If you're stranded on the side of the road with a flat tire, you're probably wondering what will work better to get you back on the road: Fix-a-Flat or Slime? Here's a quick rundown of each option to help you decide.
Fix-a-Flat is a aerosol able product that you insert into your tire through the valve stem. Once it's in, it will quickly seal up any holes and allow you to inflate your tire so you can continue on your way.
Slime is also a consolable product that you insert into your tire through the valve stem. However, unlike Fix-a-Flat, Slime will not only seal up any holes, but it will also reinforce your tire so it's less likely to get a flat in the first place.
So, which should you use? If you're looking for a quick fix that will just get you back on the road, then Fix-a-Flat is probably your best bet. However, if you're looking for something that will actually help prevent flats in the future, then Slime is the way to go.
If you're thinking about using Slime tire sealant in your tires, you might be wondering if it's any good. The short answer is yes! Slime tire sealant is a great way to prevent flats and keep your tires in good shape. Here's what you need to know about using Slime tire sealant.
Slime tire sealant is made from a mixture of latex and Kevlar fibers. It's designed to quickly plug holes in your tires, preventing air from escaping. This can help you avoid getting a flat tire, or at least delay the need for a new tire.
How long does Slime in a tire last?
Slime in a tire lasts for about two years. After that, it starts to break down and loses its effectiveness.

Does Fix-a-Flat ruin your tire sensors?
If you're wondering whether Fix-a-Flat can ruin your tire sensors, the answer is no. Fix-a-Flat is designed to be safe for use on all types of tires, including those with tire pressure sensors. So if you have a flat tire and need to use Fix-a-Flat, go ahead and do so without worry!