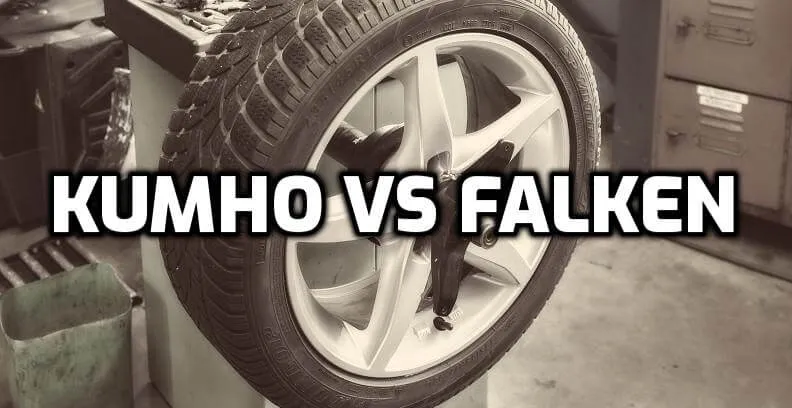 You need to invest in new tires, but you don't know which one to buy. You're having a hard time deciding on whether Kumho or Falken is the better option for your car because there are so many different opinions out there about what kind of tire is best for certain cars. This article will help clear up any confusion and give you an unbiased opinion on the matter.
Kumho Vs Falken Table
It is difficult to say that one tire is better than the other. Kumho and Falken are two of the most popular brands on the market today, but there are a few important differences between them.
| | |
| --- | --- |
| | |
| | |
| | |
| | |
| | |
| | |
| Load Capacity 2601 Pounds | Load Capacity 2833 Pounds |
| | |
| Excellent Grip And Stability In Inclement Weather | All-terrain, Any Weather Rugged Capability |
| Dual Silica Compound Is Engineered To Cool Quickly And Wear Evenly. | 3D Canyon Sipe Technology Interlocks The Shoulders To Resist Wear From High Torque |
| 55,000 Miles Warranty On Treadwear And 6 Years Limited Lifetime Warranty. | 55,000 Miles Warranty On Treadwear And 6 Years Limited Lifetime Warranty. |
| | |
Why Compare?
Typically, customers do their research and go on to buy a tire that matches their preference. Many a tire is accountable for better fuel efficiency, driving comfort and power generation. These things must be considered before buying a tire. This information is available but is scattered. And you have to work hard to compare tires of your choice.
Tires in today's segment are at51 and a/t3w. These two tires are known for their quality. They are proving their worth in the market for quite a long time now. Suppose you primarily choose these two tires and want to compare them thoroughly so that you can buy one. You aren't likely to find a legit source comparing them.
This is the case for many vehicle users. And being so popular tires in the same category, the need is imminent. So, here we've created a complete article comparing these two tires face to face.
These tires are all-season, all-terrain tires with the enormous capability to tow and withstand heavy loads. Their built quality is likely to impress you even more.
Kumho road venture will first attract your attention with the symmetrical tread design specially engineered for a quiet and comfortable ride. An angled chamfer with a deep tread block keeps the tires clean and robust snow or mud performance. The central grooves are deep and channel the rainwater in a sec. at51 is known for minor wearing as double silica is used inside the compound to cool the tire quickly.
Falken has been in the market for 35 years, but they are already among the fan favourites with their top-notch quality. Wild peak a/t3w tires are one of their top products. Let's find out why
The tire has the deepest tread compared to other tires in the category. 3d canyon sipes are present so the sidewalls are locked and resist any wearing. The shoulders of the tires are rugged and protected, so this tire performs equally good off-road. Heat diffuser technology and silica are used in the compound to cool faster, resulting in minor wear. The exterior has a bead apex that plays the part of a shield and protects the tire so that you can enjoy easy handling and durability in the long run.
Tread and Section Details
Tread and section details will help you get a look at their technical details. We can get an idea about their toughness and suitability. We start with the Falken made a/t3w. The tire has a section width of 285mm and a rim diameter of 17 inches. The tread depth is 13.6 32nds which is regarded as excellent. The load index of the tire is 117 with a load-carrying capacity of 2833 pounds. The wild peak tires are T speed rated with a UTQG rating of 660AB. The total aspect ratio of the tire is 70.
The road venture at51 is now a legendary product of the market. The product has a huge customer base. The section width of the tire is 265mm with a rim diameter of 18 inches. The tread depth of the tire is 13 32nds and the aspect ratio is 65. This T speed-rated tire has a UTQG rating of 540AB. The load index of the tire is 114 and the load-carrying capacity is 2601 pounds.
Lifespan
Tires naturally come in contact most with the roads, and for this very reason, tires have to be tough to withstand such pressure and deliver performance. Tire failure can be hazardous, as we all know. So, the duty falls upon the manufacturer to build tires that last the promised lifetime.
These two tires are made by two of the Asian heavyweight company in the auto industry and they have a rated warranty period. The warranty period on both these tires is 55,000 miles on tread life and six years limited lifetime warranty.
Customers report that the tires last as they promise and can service more if you take minimum care. Driving carefully can enlarge the lifespan of the tires.
Suitable For
Both these tires are finely tuned for any road. From the muddy construction site to the smoothly paved highways, these tires go the distance anyway. As you already know that both these tires are all-season, all-terrain tires. They will provide you with top-class performance throughout your lifetime.
These tires are ideal for lifted vehicles like SUVs, light trucks, jeeps, and other 4×4 vehicles. With road hazard protection and the tire, customers opt to go with the tire without much worry.
Price
With tons of new technology infused into the tire, the a/t3w is more of an expensive choice. Japan made Falken tires are always a trustworthy choice if you are looking to spend some extra bucks. At51 is also a perfect budget-friendly option to go with.
Price is something that should be considered in the first place. You don't want to hurt yourself knowing that you can't afford a product of your choice, right? So, the technique is to set the price range and look for a tire in that section.
Summary
No matter how much discussion is carried out, the final decision should depend on your vehicle type and how you drive it. We hope reading this article helped you with your purchase decision.
Frequently Asked Questions (FAQ)
In general, Kumho tires are known for being reliable and long-lasting. Many drivers report being happy with the performance of Kumho tires, especially in terms of grip and handling. Additionally, Kumho offers a wide variety of tire types and sizes to choose from, so you can find the perfect set of tires for your car.
Falken tires are a popular choice for many drivers, and for good reason. Falken tires are known for their quality, durability, and performance. Falken tires also offer a wide range of options to suit every driver's needs. Whether you're looking for tires for your daily commute or for a weekend getaway, Falken has
Who is Falken Tire made by?
Falken Tires are made by the Falken Tire Corporation, a subsidiary of the Sumitomo Rubber Industries. The company produces a variety of tires for passenger cars, SUVs, light trucks, and racing vehicles. It is headquartered in Tokyo, Japan.
Related Article