Wix VS K&N Oil Filter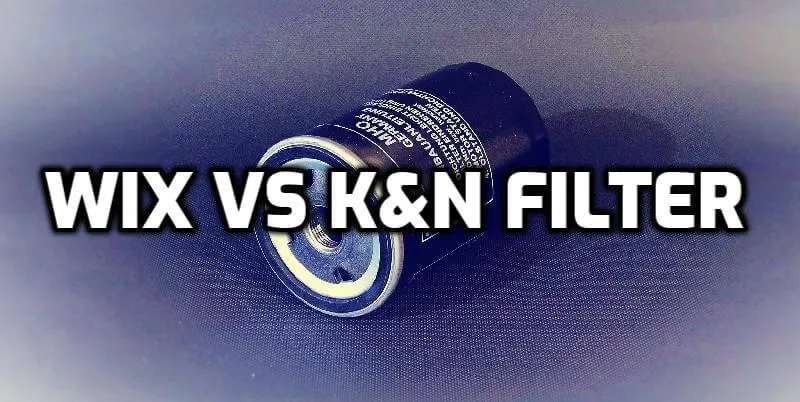 When you're looking to buy a new oil filter, there are plenty of options to choose from. Wix and K&N are two of the most popular brands on the market, but which one is better?
Both Wix and K&N filters have their pros and cons, so it ultimately comes down to personal preference. As We Seen While Reviewing Wix filters are made from high-quality materials and are known for their durability, while K&N filters offer superior filtration performance.
K&N vs Wix Table
So, why not try a forthright disputation and let them decide which would serve them better? In this regard, we have put together the highlighted features of both the oil filters in the table below.
| | |
| --- | --- |
| | |
| | |
| Designed for Everyday vehicle | Designed for High-performance vehicle |
| Oil change interval Up to 15,000 miles | Oil change interval Up to 7,500-10,000 miles |
| Filtering ability Excellent | |
| | |
| Special feature is Heavy-duty base | Special feature is 1-inch nut and silicon valve |
| | |
| Oil Type Conventional, synthetic, or synthetic blended | Oil Type is Denser motor oil |
| Efficiency around 95% at 20 microns | Efficiency around 85% at 20 microns |
| | |
Why Compare?
As this debate has been continuing for several years, this is not going to end anytime soon. Some will vote for Wix, some will object and question the opinion and the circle will continue. But what will a new buyer do before purchasing? What is the exact difference that will strike the customers? Let's try to find out.
Primarily we want to show what the filter does for the engine. Which works how to keep your engine protected. And how much effective they will be in which situation. Many consumers have been using one and want to shift to the other. They certainly need an honest review of both to compare these two.
Wix Oil Filter Review
Wix is a giant in the automotive industry. Starting from the year 1939, they have been manufacturing different kinds of filters successfully. In this long era of their realm, they have never compromised with quality. The same goes for their oil filters too.
Along with a mileage of 3750-10000, you will get an absolute filtering capability. This will filter every single dirt and particle. Consequently, no contamination can affect the oil flow. A regular Wix filter can undoubtedly be a perfect pick for the severe drivers in severe riding terrain.
K&N Oil Filter Review
Now, talking about the other industry-leading car fluid filter K&N, it is considered the lifesaver for off-road drivers. These filters are designed to maintain a heavy oil flow along with felicitous filtration ability. They cover a large range of vehicles including watercraft as well. Even vintage car owners can rely on them.
Being designed for high-performance engines, they are not restricted to serving other engines too. A year of limited warranty makes the product even more desirable. As it perfectly meets the OEM demands, you can indisputably trust it to protect your car engine.
Those who focus more on the vehicle's performance will certainly love its super-durable construction and heavy-flowing filtering media. Furthermore, no issues were ever complained about efficacy, compatibility, and burst strength. Every harmful toxin is filtered through an exceptionally good filtration medium. As a result, constant oil flow to the engine is inevitable even in an unexpected driving ambiance.
Before being launched in the market, each oil filter goes through laborious laboratory testing. That's why the manufacturers ensure long-term hassle-free service. Starting the journey back in the 1960s, K&N is still evolving with time.
Howsoever, they have come a long way with their exclusive filtration technology. As these oil filters are adjustable with any oil – synthetic, conventional, or blended, you can pick them up for any of your vehicles.
Main Difference
The main difference between Wix VS K&N Oil Filter in oil changing interval. Wix Oil Filter offers Oil change intervals of Up to 15,000 miles and K&N Oil Filter offers an Oil change interval Up to 7,500-10,000 miles.
Wix filter is engineered to be compatible with regular vehicles with lesser oil flow. On the contrary, the K&N outstands it by providing a heavy fluid flow for the high-functioning engines. Consequently, the latter lacks filtering capability and cleans only 40% of the non-strained engine fluid.
Though some K&N oil filters feature a one-inch nut for easy installation, not all their products have it. These two differ in the structure of the filter media as well. Wix features highly efficient synthetic media. K&N has cellulose media which is incapable of trapping tiny particles. So, it eventually leads your engine to permanent damage.
Another aspect of an oil filter is the oil-changing interspace. Wix is the winner in this regard as it permits up to fifteen thousand miles between two oil-changing periods. Though both are meticulously constructed to withstand rough and robust driving situations, both lack some or other quality.
One is good for high-performing vehicles. The other is a better filtering component. So, you are the one to decide whether you want a superfluous fluid flow (K&N) or effective contaminant filtration with proper lubrication (Wix). Let us help you figure out which oil filters are fit for your car by checking our other articles call Mobil 1 VS K&N Oil Filter.
Closing Notes
We would like to remind you that oil filters do not follow the one size fits all rule by the end of the discussion. Every oil filter is different in some aspects. So, check thoroughly from the manufacturers whether it is compatible with your engine or not.
However, after coming up with this Wix VS K&N oil filter parallelism, we suggest you decide your requirements first. Wix can satisfy you more with the long oil transfer interim if you are a regular driver. Or else, if your engine contains denser oil, K&N is your bet with its exclusive oil flow rate.
Frequently Asked Questions (FAQ)
The short answer is yes! WIX oil filters are known for their high quality and ability to keep engines running smoothly. In fact, many carmakers recommend using WIX oil filters when changing your vehicle's oil.
WIX oil filters are designed to trap small particles of dirt and debris that can build up over time and cause engine problems. They also help to keep the oil clean, which helps to extend the life of your engine.
If you're looking for a high-quality oil filter, WIX is a great option. Their filters are affordable and easy to find, and they'll help keep your engine running smoothly for years to come.
K&N oil filters are designed to improve your engine's performance. They help to trap more dirt and debris, which can clog up your engine and cause it to work less efficiently. K&N oil filters can also help improve fuel economy by helping your engine to run more smoothly. Overall, using a K&N oil filter can make a difference in your engine's performance.
Yes, WIX Filters are good for synthetic oil. They are designed to work with synthetic oils and will not cause any issues.
WIX oil filters are designed to last for up to 5,000 miles. This means that you can typically go for around five months or so before needing to replace your filter. Of course, this will vary depending on your driving habits and the type of vehicle you have. But, in general, a WIX oil filter should be good for at least 5,000 miles.