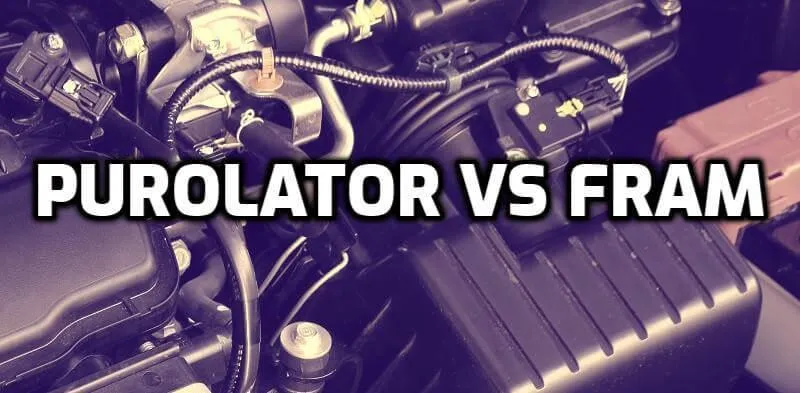 What happens when you breathe dirty air for a long time? You fall ill and become weak over time. Your engine is no exception. An engine may boast extreme horsepower and torque, but it's of no use without the right feed. Fuel and air are the feeds keeping your engine alive. While most dedicate hours choosing the right fuel, very few give importance to clean air. Clean airflow is vital for the engine to perform and stay at the peak level offering you the true joy of raw power.
Purolator and Fram top the list of air filter brands offering improved air filters for automotive, light, and heavy trucks. PurolatorONE and FRAM Extra Guard are two of their popular offerings that offer superior service at an affordable price keeping your engine ready for any challenge that might come its way.
Purolator vs Fram Table
Though both filters come highly recommended, there are minute differences that set them apart. Our in-depth comparison will help you justify the little price gap that exists between the products. Thus you will be making the right pick of your engine.
| | |
| --- | --- |
| | |
| | |
| Silicone anti-drainback valve that lasts longer than traditional nitrile to protect against dry starts and oil leaks | A special blend of fibers and resin creates a proprietary filter media that captures 95% of dirt particles that can cause harmful engine wear |
| Optimizes engine life for up to 10,000 miles | Proven protection for up to 10,000 miles |
| Provides clean air at high volume enhancing engine performance maximizing efficiency. | Resists dirt and harmful air particle only letting clean and healthy air into the engine improving overall performance. |
| Comes with high density, Multi-fiber media that traps 99% harmful contaminants ensuring top-shelf protection for the engine | Offers high-end service and protection for up to 12,000 miles ensuring most value for the bucks |
| Well-designed gaskets offers a tight seal making sure only clean filtered air gets inside the engine | Provides an instant boost to the engine Without having to repair or replace expensive parts |
| Clean air results inefficient burning of fuel delivering improved acceleration and mileage | High-performance air filter offers an upgrade to acceleration and horsepower without breaking the bank |
| Efficient combustion keeps the engine at peak condition increasing its longevity | Brings back life to old rusty engines ensuring a comfortable and fun ride |
| Has a weight of 8.8 ounces | Comes at an extremely lightweight of 5.6 ounces |
| | |
PurolatorONE Short Review
The main factors affecting engine performance are huge air volume and cleanliness. Purolator air filters have mastered both traits. They come with specially treated paper that has been designed to maximize airflow and minimize air dirt or road debris flow into the engine.
Max Filtration
The filter boasts high density, multi-fibre media that has been designed to perfection at high tech manufacturing plants delivering 99% clean air for your engine. Well-designed gaskets offer a tight seal making sure only clean filtered air gets inside your engine.
Optimum Protection
Purolator has been offering engine protection services since 1923 and has proved its dominance in the market. The PurolatorONE is no exception. Pumping clean air into your engine ensures smooth combustion, delivering enhanced acceleration and mileage while keeping the engine healthy.
FRAM Extra Guard Short Review
FRAM Extra Guard injects life into your old rusty engine giving it the much-needed boost to perform at the top level. The sudden increase in engine airflow improves the engine function cranking out high accelerating and horsepower, ensuring you get the right thrills when stepping on the gas.
Superior Dirt Management
The filter offers twice the cleaning compared to traditional products in the market. The lightweight filter comes with a dense filtration system that holds up any dirt or debris from getting into your engine. Thus you get twice the output from your engine for an extremely affordable price.
Protection That Lasts
The filter doesn't only perform but will go the distance too. It's been designed to survive in extreme weather conditions and suits a wide variety of vehicles. With top tier protection up to 12,000 miles, you won't be looking for a replacement anytime soon.
Our Observation
Both Purolator and Fram will ensure efficient and durable filtration for your engine. The orange border of FRAM Extra Guard can be attractive for certain drives who want their ride to stand out. Fram provides an extra edge for Lexus and Toyota as they are an easy fit for those rides. With 12,000 miles of top protection, they are an ideal pick that will last long.
Purolator is more balanced with its offering. The PurolatorONE comes with an elegant colour that blends into any engine setup. With 99% protection, these filters provide the right boost to your engine needs. The only downside is they require effort while fitting in Ford engines. Get the best another comparison Wix vs Fram Air Filter here.
How Do I Know if My Air Filter Needs Changing?
A dirty or clogged air filter lets less air volume get into the combustion chamber, degrading the performance. Below are few factors that will let you know it's high time to change the filter.
Fuel economy decreases

Engine misfiring occurs frequently

Weird sounds from the engine

Check engine light keeps blinking

Reduction in horsepower

Black and sooty smoke or flames coming out of the exhaust

Gasoline smell during engine start
How Often Should I Change the Engine Air Filter?
As air filters are designed to trap dust from the air, it's obvious they will become dirty and ineffective over time. Thus it's recommended to change upon facing any of the issues mentioned in the previous question. But on average, a good filter will last for 12,000 to 15,000 miles.
Can I Clean My Air Filter Instead of Replacing It?
Yes, you can. While most air filters are made for one-time use, you can extend their service life with a quick vacuum clean. But it's not recommended if you are looking for high effectiveness. Some filters may lose their form and efficiency upon cleaning. So the process must be carried out carefully.
Summary
Purolator and Fram comes highly rated when it comes to engine air filters. Fram provides an edge for Lexus and Toyota engines offering easy fit. Purolator filters are more balanced in terms of performance and look.
Frequently Asked Questions (FAQ)
Purolator is a great filter for those who are looking for quality and performance. The company has been around for over 70 years and has a solid reputation for manufacturing high-quality filters. Additionally, Purolator is committed to providing excellent customer service, which is why they offer a 100% satisfaction guarantee on all of their products.
FRAM is one of the leading manufacturers of air filters, and they make a wide variety of filters for different purposes. While FRAM does not specifically make air filters for vehicles, they do make high-quality filters that can be used in a variety of applications, including vehicle air filters. FRAM air filters are designed to trap and remove airborne particles, and they come in a variety of sizes and shapes to fit most any need. In general, FRAM air filters are a good choice for those looking for a quality filter at an affordable price.
Purolator is an American company that manufactures air filters. The company was founded in 1923 and is headquartered in Auburn, Alabama. Purolator has a wide range of air filters for both home and industrial use. Some of the most popular Purolator air filters are the pleated media filter, the synthetic filter, and the high-efficiency particulate air (HEPA) filter. Purolator also offers a line of replacement air filters for many different brands of furnaces and air conditioners.