Wix Vs Fram Air Filter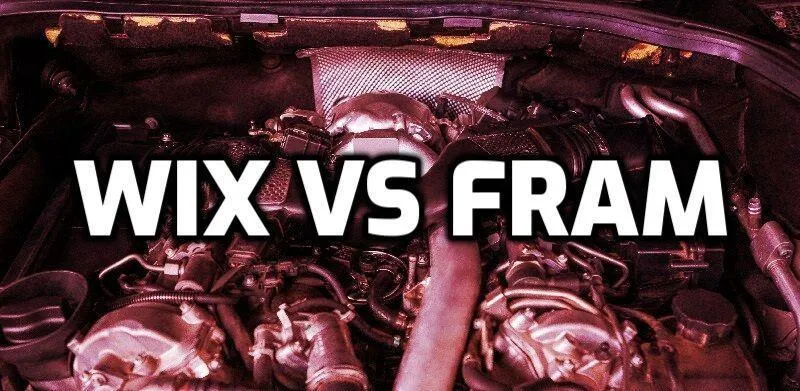 Wonder what's the gasoline smell all about? If your engine makes weird noises and has frequent misfires, it's high time to replace the engine air filter. Don't freak out because unlike other replacement or repair jobs, this won't empty your wallet.
We can save you time by suggesting two of the most sought-after brands when it comes to air filters. With products for a wide variety of engines that come in different price points, Wix and Fram won't be giving you any room for complaints. Place any of their offerings under the hood and you will be able to feel the impact of fresh air right from the moment you hit the gas.
Wix Vs Fram Table
| | |
| --- | --- |
| | |
| | |
| Highly Durable, Reliable And Low Air Flow Restriction | A Clean Air Filter Improves Air Flow, Prevents Dirt And Dust From Entering The Engine |
| Ensure Max Protection For Up To Three Years Or 30,000 Miles | 12,000 Mile Change Intervals Help Improve Overall Performance |
| Prevents Premature Engine Wear By Protecting Pistons, Cylinder Walls, And Piston Rings From Even The Smallest Particles That Can Cause Harm. | Injects New Zeal Into Sluggish Engines Cranking Up Performance And Mileage |
| Keeps The Engine Running At Top Level By Preventing Any Harmful Particles Like Soot, Abrasives, Or Carbon From Entering Into The Engine Compartment. | Feeds Clean Air Into The Engine That Is Free From Dirt And Harmful Chemicals Ensuring High Performance From The Engine |
| Captures Maximum Engine Killing Contaminates Thanks To The Air Filter Media That Boasts Nine Pleats Every Inch. This Ensures Durability And Effectivity | Provides An Easy And Affordable Engine Performance Upgrade That Doesn't Cost A Fortune |
| Wix Air Filter Media Features Nine Pleats Per Inch, Which Gives It A Longer Life  | Prevent Decreased Acceleration And Horsepower Of Your Vehicle's Engine |
| Comes With A Superior Build Quality That Uses Specially Formulated Adhesive For Holding The Pocket Plates Together. Moreover, The Filter Media Is Surrounded By A Urethane Sealing Gasket Supported By A Mesh Screen Which Is Molded To Ensure Stability. | Comes With A Dense Filtration Process And Offers An Instant Boost In Acceleration And Horsepower. Offers Easy Installation To A Wide Range Of Engines |
| | |
Why Compare
While both the brands are committed to keeping your engine running at the top level, one offers affordability and the other offers build quality. This comparison highlights the minor differences between them and their major features, which will help you make a pick quickly. Sit back and enjoy.
How To Choose
Before you even think about looking at the different brands, you must first know what exactly you're looking for. It would be best if you considered this the first step to get it right. This will help you avoid a massive error that you'll regret later. When we're talking about air filters, there are two major things you have to consider.
First of all, whether you have a diesel or petrol-powered engine. These will decide the size and pressure of your air filter. Secondly, as a car owner, you have to be familiar with your car's manual and the requirements that come with the air filter. They should be reading it from cover to cover. Even if you don't, the simple act of turning it upside down will tell you if it's installed correctly.
Wix Air Filter Features
Wix filters are designed to bring the best out of the car, light, or heavy truck engines by keeping clean air flowing into the compartment providing the necessary oxygen for smooth and efficient fuel combustion. Thus you get a substantial increment in your engine's overall performance.
Prevents Engine Wear
The functional filters prevent premature engine deaths eliminating the chances of harmful particles like soot, abrasives, or carbon from entering into the engine compartment. This is possible as your engine components like pistons, cylinder walls, and piston rings are kept safe from wear-outs in the process.
Superior Build Quality
The well-designed filters feature superior build quality and ensure protection up to three years or 30,000 miles. The build uses specially formulated adhesive for holding the pocket plates together. Besides, the filter media is surrounded by a urethane sealing gasket supported by a mesh screen which is molded to ensure stability. These results in an extremely durable build that can be felt on touch right out of the box.
Main Features of FRAM 
FRAM air filters offer affordable performance upgrades by pushing more air into your engine free from dust, debris, or elements that can mess up the fuel composition. This provides an instant boost in acceleration and horsepower injecting the much-needed boost into your sluggish engine.
Double Cleaning Capacity
The filter offers double the cleaning at half the price offering twice the filtration compared to high-cost competitors. Comes with a dense filtration process that blocks even the toughest dirt and debris keeping your engine running at full flow.
Protection That Lasts
With advanced protection up to 12,000 miles, these filters offer the most value for bucks. With easy installation, wide acceptability, enhanced performance, and effective filtration, you are sure to get satisfactory service that lasts long.
Our Observation
So what's the better pick? Well, it depends on your budget and engine model. Fram air filters are affordable and adjust pretty well with a variety of engines. If you can adjust with the slightly lower build quality, these will provide optimum protection for 12,000 miles.
Wix is more of a performance-oriented brand. They offer high-end filtering and build quality. But they come at a price. They come with a urethane sealing gasket and specially formulated adhesive that ensures a better build quality. With a slight increase in upfront payments, the premium filters justify their price with three years or 30,000 miles of service.
Does a Performance Air Filter Make a Difference?
Yes, they do. Performance air filters make a difference in the air volume that it filters feed more to the engine. This speeds up the ignition process cranking out more horsepower than before. Besides, a quality air filter doesn't need to be replaced frequently. Before you make the buying decision, check out the green filter vs k&n.
How Long Do Wix Air Filters Last?
Wix is among the top brands when it comes to air filters. Their offerings are efficient and durable. Though the service time may vary upon weather and road conditions, a premium Wix air filter can easily last up to three years or 30,000 miles.
Does the Air Filter Make the Car Louder?
Air filters are designed to let clean air flow into the engine compartment boosting the combustion process. Though it improves the engine's overall performance, the improvement has little effect in increasing the engine sound or making it loud.
Summary
Wix and Fram are top-selling Air filter brands that dominate in their category. While Fram offers more budget-oriented products, Wix filters are well-balanced overall and come at a higher price.
Frequently Asked Questions (FAQ)
How long does Slime tire sealant last in the tire?
The slime tire sealant is designed to last for the life of your tire. That means it will remain effective as long as you keep using your tire. When you eventually need to replace your tire, the Slime sealant can be easily removed and disposed of. There's no need to worry about it damaging your new tire.

Is FRAM air filters any good?
Yes, FRAM air filters are definitely good! They help keep your engine clean and running smoothly, which is great for both performance and fuel economy. Plus, they're affordable and easy to find, so there's no reason not to use one!

Where are Wix air filters made?
Wix air filters are made in the United States. The company has manufacturing facilities in North Carolina, South Carolina, and Tennessee. Wix also has a research and development center in Georgia.
Which air filter is better FRAM or Wix?
Overall, both FRAM and Wix make great air filters. It really comes down to personal preference and what you're looking for in a filter. If you want something that's very durable and will last a long time, go with FRAM. If you're more concerned about price and don't mind replacing your filter more often, go with Wix.