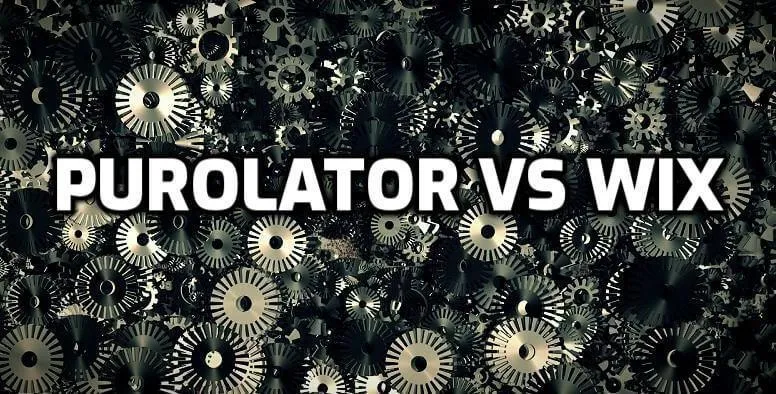 Air filters are important for an efficient combustion process in a car's engine. Air filter functions in cleaning the supplied air to the engine. This article is going to provide a good idea about Purolator and WIX air filter to its readers.
Purolator vs Wix Table
Some basic differences between Purolator and WIX air filter are given below-
| | |
| --- | --- |
| | |
| | |
| Cleaning Efficiency: 96.5% | Cleaning Efficiency: 99.5% |
| Longevity: 12 months or 12, 000 mile | Longevity: 20000-30000 miles |
| Easy Installation and Maintenance | Easy Installation and Maintenance |
| Gaskets provide a tight seal to ensure that only filtered air reaches the engine | Low air flow restriction with Mesh support screening |
| Highly Durable and Reliable | Highly Durable and Reliable |
| Filter material: Fiber glass or Synthetic fibers | Filter material: Cellulose or Synthetic fibers |
| | |
The information mentioned above is not obvious because these values generally vary with models, market situation and many more factors. It is provided to give a generalized idea about these two air filters.
Why Compare?
Both Purolator and WIX are widely known air filter manufacturers. These air filters are used by a large number of people all over the world. Whenever it's time to change the car's air filter, people often get confused about choosing one between these two. That's why a basic idea about the difference between Purolator and WIX air filters is required. It will help not only for choosing the right one but also for understanding many other aspects of air filters.
Filtering process:
Both Purolator and WIX air filters show excellent performance in air filtration. As cleaning efficiency mentioned above is not the same, but little difference can't prove any of these best.
Purolator filter is composed of fibreglass or synthetic fibre filter. It can remove large quantities of dust if it has an extended bag type filter. This filter provides a large surface area that can absorb more dust and debris from the air.
WIX air filters also show a highly efficient filtration process. The presence of silicon in sealing gaskets makes it unbeatable infiltration. Moreover, peats and peat stabilization beads can trap more debris from the air and supply clean air in the combustion chamber.
Heavy-duty air filter:
Heavy-duty air filters are used for more contaminants removal. Heavy machinery, Cars, Trucks, Tractors and other heavy vehicles require heavy-duty filters. Purolator and WIX both have heavy and low duty air filters. The types of heavy-duty air filters are different from each other. The types of Purolator and WIX heavy-duty air filter are given below-
Purolator Heavy Duty Air Filter-
Axial Seal filters

Conical filters

Radial seal filters

Compact filters
WIX Heavy Duty Air Filter-
Mainly are of two types-
Panel filters

Radial filter
Longevity:
Purolator and WIX air filters show a significant difference in their longevity. And maybe this is only one difference in which one is better than another. WIX air filters last longer than Purolator air filters. Generally, a WIX air filter doesn't show any defects or sigh of replacement till the vehicle is driven at least 30000 miles. It may survive 50000 miles often.
On the other side, the Purolator air filter lacks more longevity than the WIX air filter. It lasts for 12000 miles which are approximately 1 year in the average time.
OEM:
OEM stands for Originally Equipped Manufacturer. It is a company whose produced equipment and parts are manufactured by other companies or manufacturers. Both Purolator and WIX are OE manufacturers. WIX is manufactured by Affinia group and ArvinMeritor, Inc. manufactures Purolator air filters.
Why Are People Not Aware of Air Filters?
Car air filters are one of the parts that remain underestimated whenever it is about car's taking care and improving energy. There are some definite reasons behind this negligence. One reason is that the air filter has no direct connection in increasing horsepower and torque of the vehicle. Also, get another comparison Purolator vs Fram Air Filter article here.
What Happens if the Air Filter Remains Unchanged?
The air filter is also one of the most exposed parts of a vehicle. It removes contaminants from the air supplied to the engine for the combustion process and ensures the total burning of fuel. Moreover, the airflow rate from the filter to the engine has a proportional effect on the car's horsepower.
If the air filter is not changed despite expiring its warranty, the car engine will become susceptible to dust, debris, and contaminants. These contaminants will not allow the fuel to burnt completely. With increasing deposits of dust, the engine will lose its efficiency and may become failed permanently.
Purolator or Wix?
Purolator and WIX both are highly famous and widely used air filters all over the world. Both are non-performance air filters, specially designed for normal cars (not for turbocharged or sports cars). That's why the demand for these two air filters is widely recognized.
There is no obvious answer to declare any of these as the best. Both are best in their way. Purolator and WIX have high efficiency in the filtration process. Purolator costs a little more than WIX. But the price varies with models and availability. These two air filters vary in longevity significantly. WIX lasts longer than Purolator. WIX can provide constant service for about 20000-30000 miles. On the contrary, Purolator stands out for only 12000 miles. This article is never a justification of your choice, but just an idea provider to take the appropriate decision.
Frequently Asked Questions (FAQ)
Yes, Wix air filters are good! They help to keep your engine clean and running smoothly. Plus, they're inexpensive and easy to find. So if you're looking for a good air filter, try Wix!
Purolator is one of the most popular brands of air filters, and for good reason. Purolator has been making high-quality air filters for over 50 years, and they continue to be a leader in the industry. Purolator air filters are made in the United States, and they are known for their excellent craftsmanship. When you buy a Purolator air filter, you can rest assured that you are getting a product that will last.
Wix air filters are made by Wix Filters, Inc.! Wix is a leading manufacturer of filtration products for the automotive and industrial markets. With over 60 years of experience in filtration technology, Wix has been providing quality products that keep engines running smoothly and efficiently.