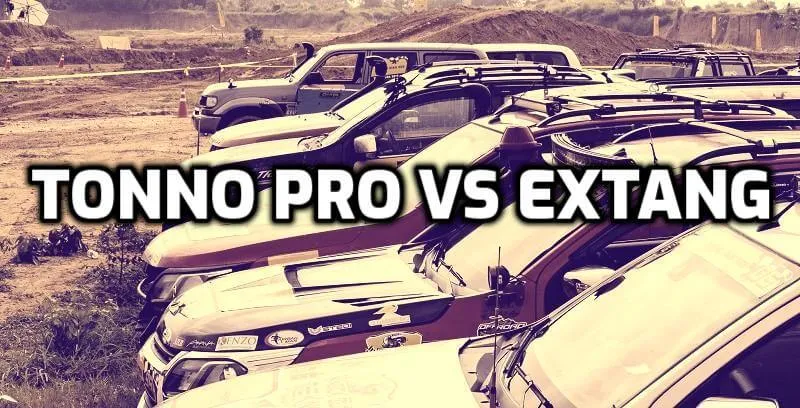 The Tonno Pro vs Extang truck bed cover debate has been raging for decades, and it doesn't seem like the battle will be coming to an end anytime soon. Both companies make quality products that are backed by a good warranty, but there are significant differences in how they operate and what they offer that may sway your decision one way or another. In this blog post we'll compare the two brands according to their features and benefits so you can find out which is best suited for your needs!
Tonno Pro Vs Extang Trifecta
Tonno Pro has a line of truck bed covers that focus on high-grade material and easy rolling, the Extang Trifecta 2.0 comes in three other varieties and ensures an unmatchable locking mechanism with international grade fabric material. And here, this content comes to your rescue. So, let's get going for further details.
| | |
| --- | --- |
| | |
| | |
| | |
| | |
| | |
| | |
| Material is 24 oz. vinyl leather  | Material is grain heavy duty fabric |
| | |
| Installation Take 25 minutes | Installation take 5 minutes |
| | |
| | |
| | |
| | |
Why Compare?
Being soft tonneau covers, both are lightweight, budget-friendly, and suitable for prolonged use. What amazes the customers about these models is their longevity; both the brands claim lifetime warranty. Now, the feud is which one of them is appropriate for your truck? This content focuses on differentiating the basic features so the buying process would be easier for you.
Design and Appearance
Tonno Pro is low profile, and it sits 1-1/4″ high underside the truck bed rail and 3″ inches inside the truck bed. The ultimate textured glossy finish enhances the aesthetics. The overall construction looks extremely sleek and does not modify the existing truck design.
The Trifecta 2.0 is way more advanced when it comes to appearance, and even this brand is acknowledged for the final finish material. The leather grain fabric with a low profile design and smooth contoured design makes it look extremely appealing. No doubt, the Trifecta 2.0 concentrates more on detailing and enhancing both the cargo and the outer appearance of the truck.
Material and Weather Protection
When it comes to material quality and weather protection, nothing can really match the Tonno Pro; it has a double-sided 24 oz. Vinyl is considered the toughest and sturdiest material in the market. This vinyl fabric comes with marine grade 4 inches per stitch along with coated threads. Moreover, the black tarp is Tear-proof, leak-proof and includes weather-tight gaskets and seals to keep the truck bed cover intact from rain, sun, and snow.
The whole fabric is based on 6063 Powder Coated aluminum; no wonder the frame is highly sturdy and can hold up to 150 pounds of weight. Also, the tonneau cover has hook-and-loop fasteners on both sides to ensure a constricted fit around the truck bed cover.
Now, the Extang Trifecta comes with leather grain heavy-duty tarp fabric. This tarp has a corner tuck system that maintains the tarp tension. The aircraft-grade aluminum frame is upgraded, and so are the corners and hinges. This tonneau cover has MAX hinges which are well built and strong, along with a double pivot system. Again, for weather protection, the snap-on seals perform like a dream. These seals lock the overall tarp to the truck bed cover too tight to pass water, snow, and dust or UV rays. Yet, the tonneau cover is lightweight and easy to handle.
Lock Mechanism and Security
Tonno Pro Comes with a tension latch; this latch is very easy to function. By pressing the sides, one can unlock the latch. Users can also lock the tonneau cover at the end of the tailgate with the built-in tailgate lock. That way, the security will be more resolute. If your truck does not have any inbuilt tailgate lock, you can always go for an aftermarket lock or latch option. Moreover, the fabric material of this cover does not flap while driving, and most importantly, it rolls up in a compact size, does not disturb the rearview.
Extang Trifecta goes way more intense on locking and security aspects. It has inbuilt EZ-Lock Clamps that provide hands-free operation and self-locks whenever it is attached to the bed projection. On your part, you don't have to put in any extra manual effort, even no tightening or twisting. And so, Extang Trifecta is claimed to be the easiest tonneau cover when it comes to locking and unlocking.
Fuel Mileage Savings
As per the reports, soft roll-up tonneau covers can evidently accelerate fuel savings. Somehow, these covers are capable of reducing the CD (coefficient of drag) in truck bed covers, resulting in preventing mileage loss.
Tonno Pro, being a soft roll-up tonneau cover, also plays a role in accelerating the truck's speed and increasing fuel economy. As per the brand, it ensures mileage economy by 10% to 13%.
Although Extang Trifecta is a hard tonneau cover yet, it is efficient in mileage saving. Aerodynamics experts shared a database that states 5% drag reduction and an increase of 2% in fuel economy. It might not seem to be a big number, yet in the longer run, it is profitable.
Installation
Tonno Pro somehow manages to get installed within less than 25 minutes due to the no-drill installation facility. As it installs directly to the truck's bed rails, all the users need is a ratchet and 17mm socket.
Extang Trifecta installs directly to the bed flanges through the inbuilt cab clamps. Users do not need any extra tools, adhesives, or professional support as it comes pre-assembled. The whole process takes 5 minutes or so. Even users won't need to do additional cutting as it fits the recmmended struck bed effortlessly.
Summary
Tonno Pro and Extang Trifecta both have their own perks and downsides at the same time. The Tonno Pro being a soft roll-up model is very budget-friendly, easy to store and manage, yet lacks maximum security. On the contrary, Extang Trifecta being the hard trifold model, is unmatchable for security, easy to install, durable but expensive. Users may pick any of them or even both.
Frequently Asked Questions (FAQ)
Yes, Tonno Pro is made in the USA! We're proud to be a 100% American-made company, and all of our products are assembled in our factory in central Illinois. We believe in supporting American jobs and businesses, and we're committed to providing high-quality products that our customers can depend on.
Extang is proud to be an American company, and our products are manufactured right here in the USA. We have factories in Michigan and Ohio, and all of our products are made with quality materials and craftsmanship. We're proud to offer products that are made in the USA and built to last.
Yes, Extang tonneau covers are waterproof! This is thanks to their innovative design and high-quality materials. So, whether you're caught in a sudden rainstorm or dealing with melting snow, you can rest assured that your belongings will stay dry. Plus, these covers are easy to install and remove, so you can always be prepared for whatever the weather may bring.
If you've got an Extang tonneau cover, you're in luck – they're very easy to clean and maintain! Here's what you need to do:
1. First, remove any debris or dirt from the surface of the cover using a soft brush or cloth.
2. Next, mix up a mild soap solution using warm water and a gentle detergent.
3. Use this solution to scrub the cover, paying special attention to any areas that seem particularly dirty.
4. Rinse the cover thoroughly with clean water to remove all traces of soap.
5. Finally, dry the cover completely using a soft towel or cloth.
That's it! Just follow these simple steps and your Extang cover will stay looking great for years to come.
It's easy to put your Tonno Pro cover on! Just follow these simple steps:
1. Unfold the cover and lay it flat on the ground, with the black side up.
2. Place your truck's bed liner on top of the cover, making sure that it is centered.
3. Pull the cover over your truck's bed, using the built-in straps to secure it in place.
4. That's it! You're ready to hit the road with your Tonno Pro cover protecting your belongings.
Related Post