While Michelin Pilot Sport 4s and Pirelli P-Zero have unrivaled driving pleasure through their steering precision and directional stability, users must also identify the differences and advantages of getting one model over another.
Michelin and Pirelli are two of the most talked-about wheel manufacturers around the globe due to their industry reputation, premium quality, high performance, and customer satisfaction.
Premium, and probably the dream wheels of the majority of the drivers – from regular transporters on the streets to race car professionals on the track, and even automobile manufacturers themselves.
Under the summer tire category, one of Michelin's best bets is the Pilot Sport 4s. It can be compared to Pirelli's P-Zero model which is best known for its outstanding traction on dry and wet roads with excellent grip and turning skills.
Tire Comparo Time: Michelin Pilot Sport 4s vs. Pirelli P-Zero
In this comparo, let's find out whether the Michelin Pilot Sport 4S is ready for a sky-high fly, or the Pirelli P Zero seals the A+ score advantage.  
Tire Comparison Between Michelin Pilot Sport 4S and Pirelli P-Zero
Tire Type: High-Performance Summer Tire

Tire Type: High-Performance Summer Tire

Tread Wear Warranty (miles): 30,000

Tread Wear Warranty (miles): None

Vehicles Supported: sports cars, coupes, high-performance sedans, passenger cars

Vehicles Supported: sports cars, coupes, high-performance sedans, passenger cars

Pros:

Better dry and wet grip, better hydroplaning assistance, short-braking distances, 30,000 miles tread life warranty, quiet sound,

Pros:

More economical, Easier to use for daily drives, good hydroplaning resistance

Cons:

Expensive, harsher ride compared to touring

Cons:

Less fuel efficiency, no warranty, less durable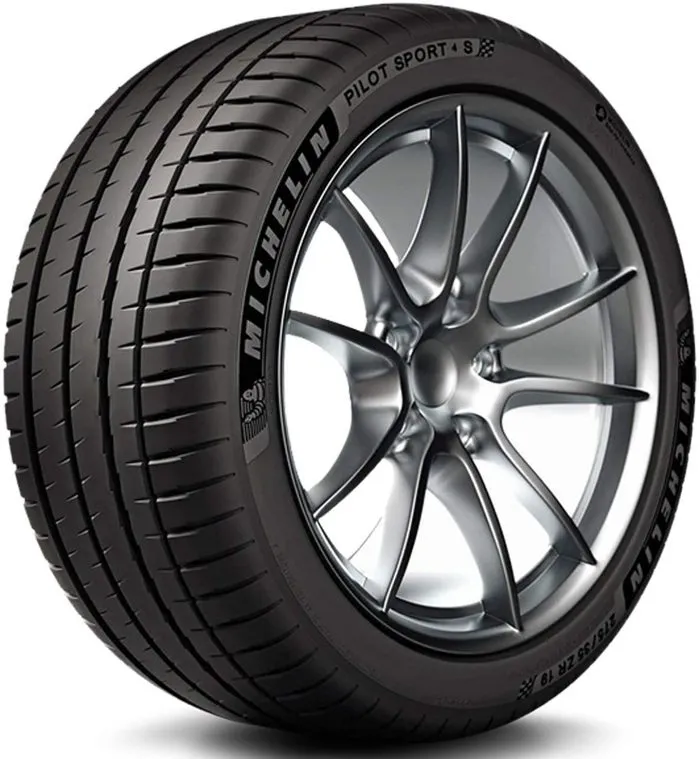 Michelin's Pilot Sport portfolio is no exception to the French manufacturer's reputation for producing great tires. The 4S is equipped with a new hybrid compound for dry grip on the outside plus silica and functional elastomers compound for wet grip on the inside.
As a result, the tire's dry and wet grip improves, and the strengthened shoulders help the tire steer better throughout all settings. The 4S model also features an asymmetrical tread pattern with a lower void ratio, allowing a bigger ground contact patch.
Apparently, Michelin placed a high value on aesthetics. The Premium Touch technology on the Pilot Sport 4S exposes a luxurious touch on areas of the tire's sidewalls with just a glance. Given the availability of 19- and 20-inch variants, a protection strip rim is also featured in this model.
It is also equipped with Michelin Acoustic Technology – a noise-reduction program where foam is placed at critical spots inside the tire to absorb the noise.
Performance
As a lot of factors are influenced by the weather, Michelin made a wonderful move by intricately engineering the Pilot Sport 4S as a summer tire that performs admirably in cold and rainy conditions.
Its performance in aquaplaning conditions is also quite exceptional owing to the inclusion of a bigger number of grooves with better detail. It has a lower rolling resistance than its competitor in terms of fuel consumption.
Because of its increased performance and durability, the tire is more robust, leading to higher mileage and less tread wear.
Pilot Sport 4S also provides comfort while driving at a slower or moderate speed. Its low-speed bumps were clearly superior.
Pirelli P-Zero: Driving The Opposite of Nothing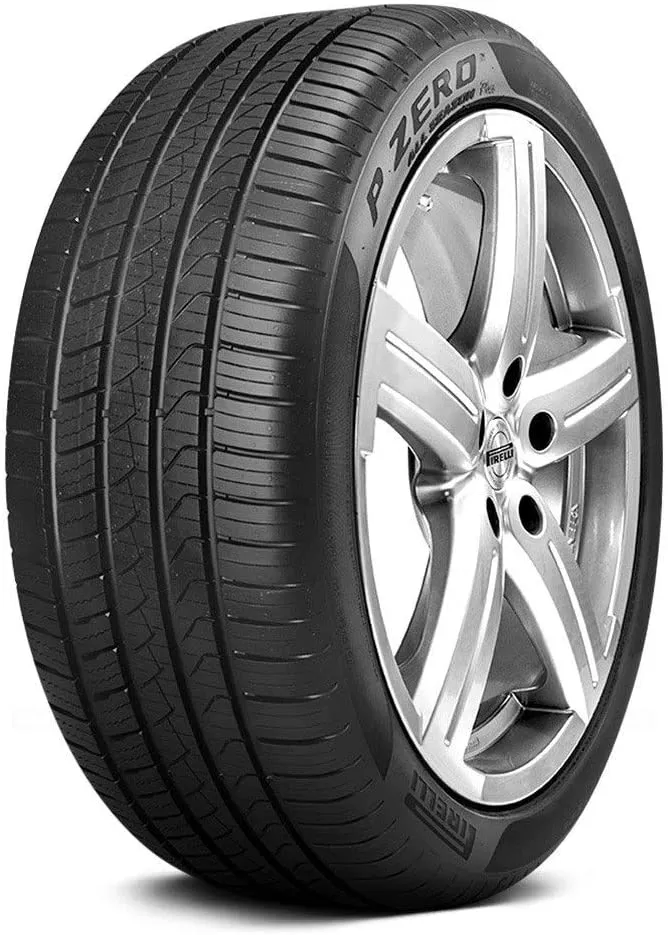 The Pirelli P-Zero is designed with new nano-composites to enhance grip and stability. The tread pattern is asymmetric, which is both appealing and forceful.
Two steel belts are embedded within the tread, which is strengthened with a significantly stronger polyamide cord ply in addition to nylon and aramid cord. As a result, the tread area seems to be more solid and powerful, which helps to handle at greater speeds.
Three longitudinal grooves and a wide circumferential groove are fused to reduce the risk of hydroplaning on wet road surfaces while also providing increased confidence when driving in bad weather.
Performance
P-Zero has fantastic steering and handling. You can turn or corner safely while driving at a higher speed because of its superb handling. In both dry and rainy situations, the Pirelli P Zero offers good performance that even when cornering back and forth sharply, the P-Zero's traction and control on the track remains smooth and steady.
Thanks to its revolutionary S-sipes, the P-Zero runs quietly on any road. It also has fantastic turning capability, which spiritual drivers will surely appreciate. The greater steering responsiveness improves the whole experience.
Verdict
First hand, Michelin Pilot Sport 4S is more expensive than Pirelli P-Zero due to its overall superior performance. The tire fares better in both dry and rainy circumstances. P- Zero is equally capable in terms of riding feel, but it is a little less expensive due to lower mileage and durability.
Nevertheless, you won't have any problems driving these summer tires on the road, in the rain. Both tires provide excellent grip and traction, and you won't be left wanting more if you find yourself on a twisting route.
On the track, the differences in wet performance between the Pirelli P-Zero and Michelin Pilot Sport 4S can be felt, with the Italian tire being marginally better. However, in brake testing, Michelin's representative was successful. It stopped not only at a shorter distance than the P Zero, but also in the smallest distance in its class.
The warranty can be the straw for your purchase. While Michelin offers a 30,000-mile tread wear warranty on the Pilot Sport 4S, Pirelli does not provide a tread warranty for the P-Zero, which is unfortunate given that it is a high-end tire. Although, tire uniformity is guaranteed for the first year or the first 2/32″ of wear.
If you're looking for something a little more economical than you'll be driving about town most of the time, the Pirelli P-Zero is a fantastic option. However, the Michelin Pilot Sport 4S has greatly built the epitome of endurance, so if you want the best, this is the tire to go along with.Each of the points stated may appear minor, but the science all boils down to the reality that tire buyers now have access to racing-grade technology, with high-performance tires that offer far more versatility across a wider range of surfaces and conditions.


Frequently Asked Questions (FAQ)
What tire compares to the Michelin Pilot Sport 4S?
If you're looking for a tire that compares to the Michelin Pilot Sport 4S, you might want to consider the Continental SportContact 6. Both tires are designed for high-performance driving, and they offer excellent grip and handling. The SportContact 6 is a bit cheaper than the Pilot Sport 4S, so it could be a good option if you're on a budget.
When it comes to high-performance tires, the Michelin Pilot Sport 4S is one of the best options on the market. If you're looking for a tire that can offer similar performance, the Continental SportContact 6 is a great option to consider. Both tires are designed for excellent grip and handling, and the SportContact 6 is a bit cheaper than the Pilot Sport 4S. So, if you're on a budget, the SportContact 6 might be the right choice for you.
Yes, Michelin Pilot Sport 4S tires are good in the rain. They offer excellent grip and handling, even in wet conditions. If you're looking for a high-performance tire that can handle any weather, the Pilot Sport 4S is a great option.