Choosing a tire for your everyday use can be hard, but for an off-road, outdoor adventure? Deciding can be rockier, as it demands tougher capabilities than the usual touring tire. Let's see if the Falken Wildpeak A/T3W can reach the peak if compared side-by-side by the crowd-loved, lethal Pirelli Scorpion All-Terrain Plus.
The USA is rich in states with both wonderful and wild terrains. Lucky you if you're nearby California, Colorado, Utah or Arizona as these spots cater amazing options on where to go for a thrilling off-road adventure.
he summer is the best season to pack your travel luggage and discover the outdoors. Whether it's on the beach, in the rocky mountains, or just a long road trip, it's best if you have your own ride and set of wheels that are more than ready to take on roads.
In this review, we pick out two of the best all-terrain tires – the Pirelli Scorpion All-Terrain Plus and the Falken Wildpeak A/T 3 – and discover which of them is the better summer adventure partner.
Tire Comparo Time: The Pirelli Scorpion All-Terrain Plus vs. Falken Wildpeak A/T 3
Tire Size: 15", 16", 17", 18", 20"

Pros:

* Century-strong brand reputation
* Improved sidewall designs and combative tread patterns
* Reliable all-terrain tire, ideal for off-roads
* Good resistance
* Great snow and mud traction with three-peak snowflakes

Pros:

* Lesser noise compared to other all-terrain tires
* Better grip and drivability on rocky surfaces
* Great option for rock crawling Reliable tread life and outstanding warranty
* Cost-effective

Cons:

* Quite noisy when driven on highways and rough surfaces8 
Higher price tag

Cons:

* Poor ice traction
* Difficult to navigate softer on terrains

Warranty: 50,000-mile warranty

Warranty: 55,000-mile warranty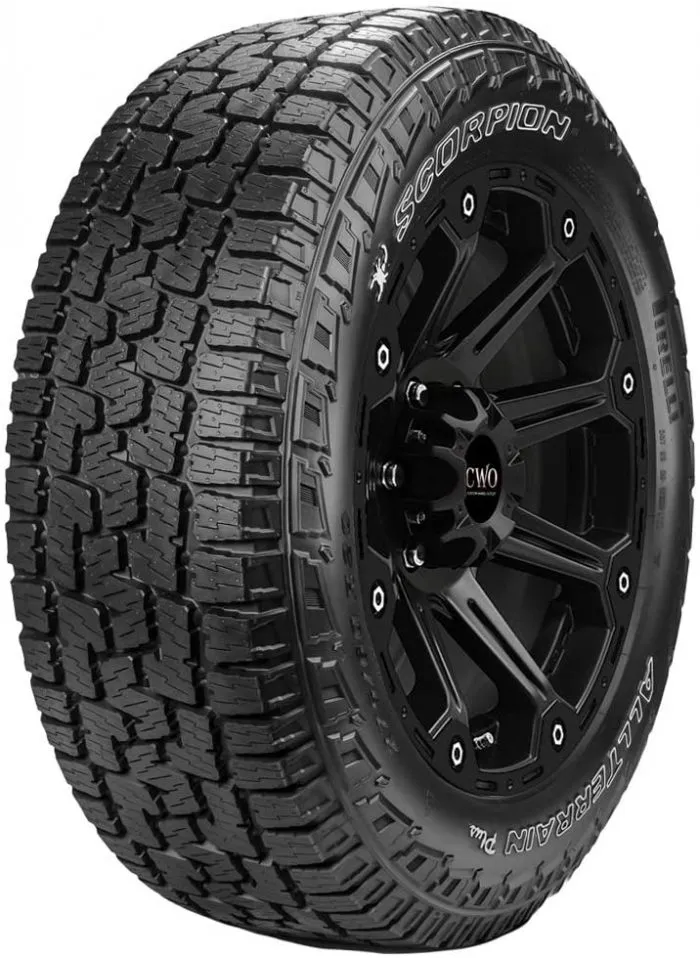 Before we get to the trail, let's drive back to the time when there were only two tire options available on the market – one for the highway and another for off-road. You only get to pick one between comfort on passing pavements or reliability on the rugged.
Fast-forward to the present, tire manufacturers have already figured out the formula to create a tire that is compatible on both highways and rough terrains.
The Pirelli Scorpion All-Terrain Plus is one great example of this invention.
Design
It's selfish to say that the Pirelli Scorpion All-Terrain Plus makes a good summer tire, when in fact, this all-terrain tire covers all seasons and aims to provide its master with higher traction for that off-roading kick. All of this while maintaining Pirelli's signature responsive and gripping character.
In terms of its construction, the Scorpion All-Terrain Plus comes with wide, deep grooves and independent tread blocks. These specs work together to level up the tire's clawing capabilities on rocky surfaces. These are also responsible for the All-Terrain Plus' gripping capabilities on gravel, sand, and other dirt trails – shout out to its conical stone ejectors. A high-void and symmetric pattern and exceptional chip and cut resistance are also well presented.
Again, the story isn't just for summer. The Pirelli Scorpion All-Terrain Plus is also distinguished by a three-peak mountain snowflake (3PMSF) insignia, indicating that it has met the required performance parameters in moderate snow trials. In icy and slick situations, the sophisticated compound blends a variety of in-block sipes and block edges to ensure sure-footed performance.
When you first step inside, you may notice a polyester shell that provides ride comfort. In addition, the design can improve high-speed performance and overall durability. A genuine, deep-rooted Pirelli, really.
Performance
On dry tarmac, the Pirelli Scorpion All-Terrain Plus performs admirably. It seems like you're driving on a regular set of all-season touring tires at lower speeds, but it's considerably noisier. Its straight-line tracking was also brilliant. On dry roads, deceleration is not an issue, and traction and grip are more than adequate.
For wet surfaces, since Pirelli implemented wide lateral notches and open shoulders, it successfully evacuates water out of the tread. The Scorpion All Terrain Plus also has a large void region, which aids in the matte and provides outstanding hydroplaning resistance. This implies that even in severe weather, your truck or SUV will maintain its stability.
The Pirelli Scorpion All-Terrain Plus has greater longitudinal traction on snow thanks to its 3PMSF. Though this only covers acceleration and not handling or braking, the tire performs well in the cold.
These tires can also handle any terrain without trouble. It can climb slopes of up to 19% – thanks to skilled navigation which assists the automobile in overcoming all rugged terrain or loosely restricting resistance.
It's difficult not to appreciate the brakes' acceleration and efficiency when driving. Regardless of whatever driving modes you use, the Pirelli Scorpion All-Terrain Plus can successfully maintain vehicle stability. Trails pretty much feel like tracks.
The Pirelli Scorpion All-Terrain Plus comes with a 50,000-mile treadwear warranty as well as a craftsmanship and materials warranty. It's also eligible for the firm's total confidence plan, which includes a 30-day trial period.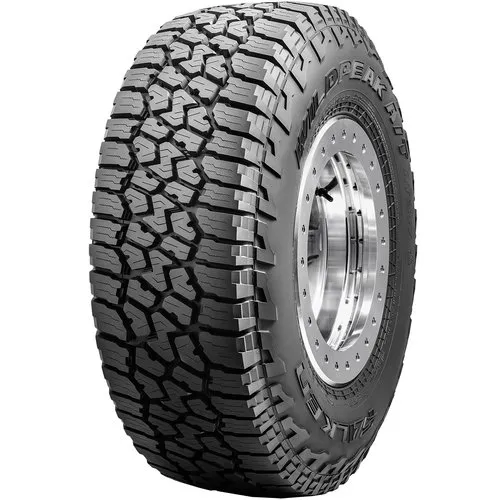 The all-terrain tire classification is more complicated than the others. Bridgestone, Continental, and Michelin all have moderate all-terrain tires that are more focused on on-road driving, but other brands like BF Goodrich have full-on off-road monsters.
The Wildpeak A/T3W appears to be in the middle, albeit with a modest emphasis on on-road traction. Falken did, however, use the deepest tread in the category, which aids off-road traction.
The Falken Wildpeak A/T3W is on the list, despite not being the first nameplate that comes to mind for our intended outdoor expedition. These Japanese-made tires were designed to avoid any sacrifices in terms of durability, flexibility, and price.
Design
The outer apex sidewall of the Falken Wildpeak A/T3W ensures long-lasting performance and strong puncture and damage resistance. The sidewall also serves as a layer of protection from intense heat, which is useful when travelling on the highway.
This Falken can also morph into an off-road companion if the roadway has become too boring. When you take your car off-road, the same sidewall protection for heat can be maximized.
Falken Wildpeak A/T3W's sturdy tread blocks are responsible for improved stability and handling. They also keep stones out of the grooves of the tire.
This Falken also incorporates 3D Canyon Sipe technology, which ensures handling stability. This interlocks the tire's shoulders, making it tear-resistant.
The tire's deep tread, combined with the stepped-down tread blocks and robust shoulder, gives great traction on dirt, mud, gravel, and other difficult terrains.
Performance
Falken Wildpeak A/T3W is designed for the truck or SUV owner who desires comfort on the daily commute, expects off-road prowess on the weekends, and can drive in almost any weather, or even season.
Although its snow-driving capacity is exceptional, the Falken Wildpeak A/T3W requires to use caution when maneuvering in deep snow because it may not operate as well as it does in light and moderate snow.
On damp roads, the handling is equally impressive. Hydroplaning is quite unlikely due to the tire's excellent grip and lower braking distance on wet roads.
It is also self-cleaning. Falken Wildpeak A/T3W cleans up quickly, providing the grip required for freeway acceleration. Also, when hitting the freeways, grip and traction were instantly apparent. The steering felt precise and accurate. Even at greater speeds, this type makes it simple to traverse tight turns without difficulty.
To emphasize its reliability, aside from the new patented sidewall design and deeper tread pattern, Falken backs up its newest off-roader with a 55,000-mile warranty and even offers a 30-day hassle-free guarantee like Pirelli.
Verdict
The Pirelli Scorpion All-Terrain Plus and the Falken Wildpeak A/T3W are both capable of giving an optimal off-road performance without sacrificing on-road performance, making them ideal for extreme adventurous enthusiasts.
Both can be decent choices for summer adventures. However, if you're going to stroll longer along the highways, the Pirelli Scorpion All-Terrain Plus may not meet your expectations for a comfortable and quiet drive. Due to its wider grooves, it has a tendency to hold large air particles inside leading to noise when they strike the tire walls.
However, it is valuable to take note that this can also be an advantage, as the same component could transform to a reduce shocks and boost its off-road performance and driver comfort.
Moving to the other candidate, what the Falken Wildpeak A/T3W can brag about is its ability to provide comfort towards highway level while embracing the fact that it's an all-terrain workhorse. Even on higher speeds, the Wildpeak A/T3W manages to produce less noise.
Thus, it's more comfortable on-road. For off-road, the room for improvement is slightly bigger than Pirelli's.
The Pirelli Scorpion All-Terrain Plus is one of the few tires that can take you to the off-road course in style yet deliver when you hit the hard stuff. It's also very well-made and durable and certainly looks the part. Yes, it's more expensive, but the price tag is just reasonable for PIrelli's well-founded expertise in tire manufacturing, power and prestige of each product, longer mileage, and tested off-road performance that leads to customer trust and satisfaction on the ownership experience.
So, for this summer's off-road trek?
It's Pirelli that rocks. Really.
Frequently Asked Questions (FAQ)
How long does Falken Wildpeak at3 last?
Falken Wildpeak at3 tires are designed to provide long-lasting performance. How long they last will depend on a number of factors, including driving habits and conditions. In general, though, Falken Wildpeak at3 tires can last up to 50,000 miles. With proper care and maintenance, they can even last longer!
Yes, Falken Wildpeak all-terrain tires are good in snow. They have a deep tread pattern that helps to grip the snow and provide good traction. They also have a wide footprint that helps to distribute weight evenly and prevent slipping.
Pirelli Scorpion All Terrain Plus tires have 4 ply. This makes them durable and able to withstand tough terrain. They are also designed to provide good traction, making them ideal for off-road driving.
How long should Pirelli Scorpion tires last?
Pirelli Scorpion tires are designed for durability and long life. How long they last will depend on a number of factors, including how they're used and maintained. With proper care, Pirelli Scorpion tires can last for many years.
Factors that will affect the lifespan of your Pirelli Scorpion tires include:
– How you use your vehicle: If you frequently drive on rough roads or in off-road conditions, your tires will wear down faster than if you stick to smoother surfaces.
– How you maintain your tires: Regularly checking and inflating your tires to the proper pressure can help extend their life.
– The quality of the tires: Some tire brands are simply more durable than others. Pirelli tires are known for their quality and durability, so you can expect them to last longer than some other brands.

With proper care and maintenance, your Pirelli Scorpion tires can last for many years. Keep an eye on your tread wear and be sure to replace your tires when they start to show signs of wear. By following these simple tips, you can help extend the life of your Pirelli Scorpion tires.
Pirelli Scorpion All Terrain Plus tires are made in Italy. Pirelli is a world-renowned tire manufacturer, and all of its products are held to the highest standards of quality. When you purchase Pirelli Scorpion All Terrain Plus tires, you can be confident that you're getting a product that is built to last.