High-performance and exceptional technology flows in the bloodline of the Pirelli Scorpion Verde Plus VS Pirelli Scorpion Verde Plus II?" target="_blank" rel="noopener">Pirelli Scorpion Verde and P Zero series. But if you take a closer look, it's actually the grip and traction that could break the line between these two.
Pirelli Scorpion Verde vs. Pirelli P Zero: The Battle of the Best High-Performance Summer Tires
Upon the Italian manufacturer's innovation of their high-performance tire series like the Scorpion Verde and P Zero, Pirelli must have carefully considered four significant factors that are easy-to-remember and apparent to its line of products: the '4S', highlighting summer, surfaces, sports, and surroundings.  
Scorpion Verde and P Zero are both popular models of Pirelli. However, it is valuable to identify which among its 4S capabilities suits your vehicle and daily driving duties best.
Tire Comparison between Pirelli Scorpion Verde VS Pirelli P Zero
Tire Size Available: 16" to 22"

Tire Size Available: 16" to 22"

Vehicle Supported: SUVs and Pick-Up Trucks

Vehicle Supported: SUVs and Pick-Up Trucks

Prominent Technologies: RunFlat TM, SealInside TM, PNCS TM

Prominent Technologies: RunFlat TM, PNCS TM, Cyber TM

Pros:

* Guaranteed Driving Comfort
* Exceptional Hydroplaning Resistance
* Short-stopping brake distances
* Quiet among its class
* Green components for reduced emissions

Pros:

* Great grip and traction in both dry and wet pavements
* Higher driving performance
* Original equipment of luxury sports car brands
* Precise handling
* Faster steering response

Cons:

* No tread life warranty
* Average performance on wet tarmac

Cons:

* No tread life warranty
* Performs noisier than the Scorpion Verde
According to Pirelli, the Scorpion Verde series is their entry for the summer, and green performance tire segment. Made with one of the leading brands' cutting-edge expertise and resources, the Scorpion Verde desires to deliver optimized driving performance, safety, and cleaner emissions for the surroundings.
Design
Recommended for street, sport trucks, and SUVs, the Pirelli Scorpion Verde makes a companion you can rely, mostly on the summer season. If its comfort driving that you're in search of, the Scorpion Verde is a superb choice.
What the company wants to achieve on this particular model is to make it stick to surfaces. Using highly-innovative polymers in its silica, the Pirelli Scorpion Verde promises an excellent traction and grip on dry pavements while also working on fuel efficiency.
It is equipped with four circumferential grooves in-charge of water resistance and drainage. For wet surfaces, and during heavy rain, the Pirelli Scorpion Verde does an average performance on hydroplaning situations.
Performance
Talking about its ability on cornering grips, the Pirelli Scorpion Verde is a well handler. The dry tarmac is a friend, as it becomes brilliantly capable and even presents impressive longitudinal traction with short braking distances.
On unpaved surfaces, the Pirelli Scorpion Verde can manage loose dirt and gravel – although its traction is not something that you would be proud of.
Since it is a summer tire, do not expect it to get you through snow and ice. The Pirelli Scorpion Verde is not ideal for winter, to the point that it can also be harmful as when the temperature goes down lower than 7 degrees, it eventually fails to be elastic and the traction will be substantially decrease.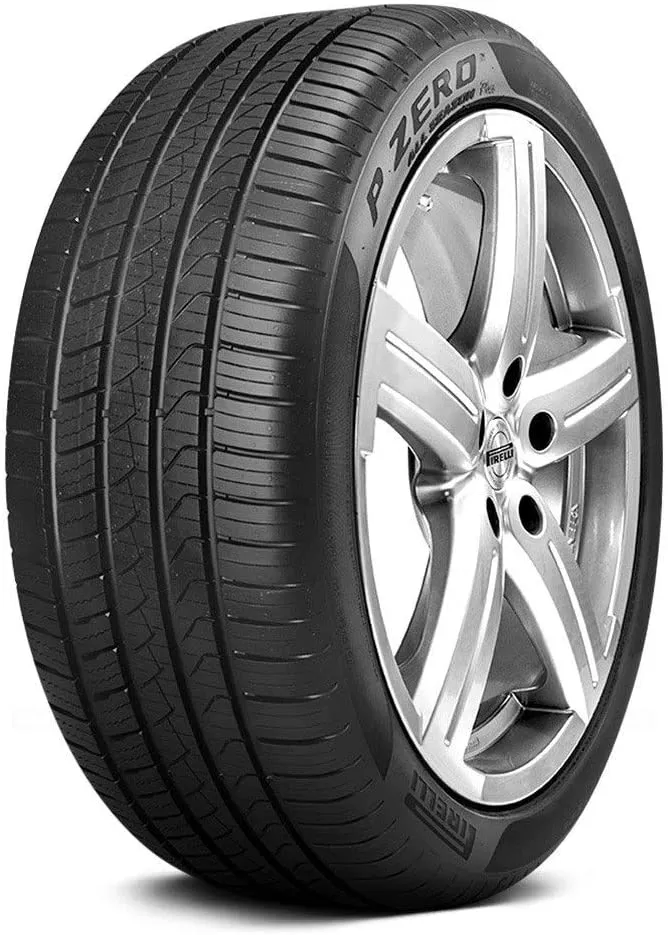 If you're trusted by luxury sports car brands like Aston Martin, Audi, Ferrari, and Lamborghini as its original equipment, that makes you far from a zero.
And that's the case for the Pirelli P Zero.
Design
One of the reasons why enthusiasts give the P Zero a point is because of its appealing asymmetric tread style. When driven on both dry and wet roads, the Pirelli P Zero can cater exceptional handling and brake conduction.
This variant boasts of pioneer nano-composites to enhance the tire's grip and more responsive steering actions. It also has a total of three longitudinal grooves which provide better hydroplaning resistance.
Its S sipes, on the other hand, aids on lowering down the noise while the tires are on a roll. Moreover, the P Zero's grooves are designed wider from its center to its shoulders. Its high void ratio, as expected, decreases its contact patch.
Performance
Just like the Pirelli Scorpion Verde, the P Zero is also envisioned with the objective to stick on the road.
It produces maximum performance on the track, even in instances wherein it is demanded to tightly corner back and forth. On dry pavements, the P Zero delivers great when throttled, and so when tested on corners and braking.
It also turns around well in wet conditions. In fact, its aquaplaning resistance is better compared to Scorpion Verde, as its grooves are wider and open shoulder structure.
This technology enables the P Zero to flush out a larger amount of water while maintaining grip on streets submerged in flood. Less chances of getting in an accident, right?
Solid handling is something that the Pirelli P Zero can brag about. However, the downside of this option is its tread life. Since it is a max performance tire, the Pirelli Zero's tread wears faster. It does not have a tread life warranty either, so it is more likely a purchase that you would aggressively enjoy using for not a long period.
Verdict
Both the Scorpion Verde and P Zero are high-performance variants in the summer tire category. Not every inch of the technology utilized on the two products can be found on other tires – and it's one of the reasons why Pirelli charges more amount for these series.
For the Pirelli Scorpion Verde, its comfort and grip on dry tarmac that works best. Comfort, as it produces lower noise volume, and the steering response makes the driver's life easier.
The Pirelli P Zero is a great option for day-to-day vehicle usage. It tries its best to provide a comfortable riding experience while also taking the traction into consideration. The tread wear can be your trouble as it could wear faster than the others but with its performance and handling capacity? It still has a great value for money.
Both options are great, but the choice depends on your need. Considering the '4S' mentioned in our intro, it's also crucial that you get to experience these tires yourself to fulfil another 'S' that will make it 5.
Your satisfaction.
Frequently Asked Questions (FAQ)
Are Pirelli P 0 good tires?
If you're looking for a good set of tires, you can't go wrong with Pirelli P 0s. They offer great performance and durability, and they're also quite affordable. Whether you're driving on dry or wet roads, these tires will provide good traction and grip. So if you're in the market for a new set of tires, be sure to check out Pirelli P 0s.
What is Pirelli P Zero?
Pirelli P Zero tires are high-performance tires designed for use on sports cars and other high-performance vehicles. They offer excellent grip and handling, making them ideal for use in demanding driving conditions. There are two main types of Pirelli P Zero tires: the P Zero Nero and the P Zero Rosso. Both offer excellent performance, but the Nero is designed for use in dry conditions, while the Rosso is designed for use in wet or icy conditions.
Pirelli P Zero tires are made from a special compound that helps to improve grip and handling. The tires also feature an advanced tread pattern that helps to improve traction. Pirelli P Zero tires are available in a range of sizes to suit different vehicles.
If you are looking for high-performance tires for your vehicle, then Pirelli P Zero tires are a great option. They offer excellent grip and handling and are available in a range of sizes to suit different vehicles.
Is Pirelli Scorpion Verde a run-flat tire?
Yes, the Pirelli Scorpion Verde is a run-flat tire. This means that it is designed to continue functioning even after sustaining a puncture or other damage. This can be extremely useful in situations where you might otherwise be stranded with a flat tire.
How long do Scorpion Verde tires last?
Scorpion Verde tires are designed to last. They are made with a special compound that helps them withstand wear and tear. How long do they last? It depends on how you use them. If you regularly drive on rough roads, they may not last as long as if you drove on smooth roads. But, in general, Scorpion Verde tires last a long time. You can expect to get many years of use out of them.