Pirelli Scorpio Verde Plus is a pioneer product of the Italian manufacturer in the eco-friendly, all-season touring line-up. Along with its successor, the Pirelli Scorpio Verde Plus II, these tires are set to reform the ordinary touring tires into rugged road rulers. In this review, we'll get to know which among these models is the best fit for you.
Have you ever met a driver whose personality is rough and gentle at the same time? If yes, good for you because they are fun to be with and usually rare. If not, then you should meet Pirelli's Scorpion Verde series.
The Italian tire manufacturer planned to hit two birds with one stone with the launch of its Scorpion Verde series. First, Pirelli desired to level up the all-season touring tire with more bruteness and masculinity – thus, the 'Scorpion' is unleashed. Second, despite the strong image built by this deadly arachnid, Pirelli considered being light on the environment by shifting to 'Verde' (which means Green in Spanish) – by reducing your car's CO2 emissions.
As expected, the Scorpion Verde became well-loved not just by the Earth, but more importantly, by its end users. There's no doubt that it's one of Pirelli's active sales drivers.
The question now is, which among the models under the Pirelli Scorpion Verde has a more lethal bite and fit on your car? Let's find out as we take a look at the Scorpion Verde Plus and its upgraded version, the Scorpion Verde Plus II.
Tire Comparo Time: Pirelli Scorpion Verde Plus vs. Pirelli Scorpion Verde Plus II
Vehicles Supported: Crossovers, SUVs, Pick-up Trucks

Vehicles Supported: Crossovers, SUVs, Pick-up Trucks

Available Sizes: 16" to 22"

Available Sizes: 16" to 22"

Pros:

Great handling and traction across different road conditions, comfortable ride, wide range of sizes available, good tread life warranty

Pros:

Improved performance compared to predecessors, more fuel efficient, cutting-edge technology and enhanced compound, better consistency in grip and handling, same warranty

Cons:

Expensive for its class, not that advisable for light snow conditions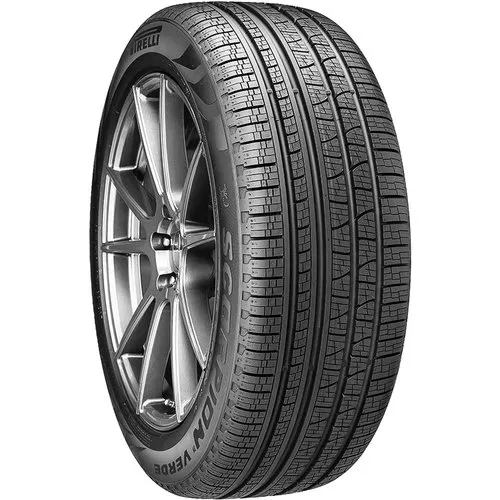 The Pirelli Scorpion Verde Plus is a touring tire with the DNA of an all-terrain tire, intended for performance crossovers and sports utility vehicles. This eco-friendly type is built with low rolling resistance to enhance fuel economy, save cash at the pump, and lower your SUV's harmful CO2 emissions.
Design
Launched in 2013, the Scorpion Verde Plus was developed to take advantage of Pirelli's most cutting-edge materials, constructions, and tread patterns. The tread compound is moulded into an asymmetric tread pattern with variable-sized tread blocks to reduce noise.
Large shoulder blocks are used to increase handling and braking performance on both dry and wet roads. There are also four huge circumferential grooves to efficiently remove water from the contact patch and reduce hydroplaning.
Its high-density parallel sipes mixed with longitudinal lines improve the driving
experience and confidence at high speeds throughout the winter season.
The Pirelli Scorpion Verde Plus is aesthetically considered by the manufacturer – which also sums up why it has posted a high price tag. However, compared to Michelin or Goodyear tires, this premium brand is far less expensive.
Performance
The Scorpion Verde Plus uses Pirelli's newest technology and innovation to give outstanding performance and exceptional handling with up to 40% more mileage in all weather situations.
Tested on the dry ground, the Pirelli Scorpion Verde Plus tires are able to stick to the pavement like Velcro. The handling is likewise superb as long as you use your steering and throttle inputs wisely. And if you want to go off-road, the Scorpion Verde Plus is capable of handling light off-road trails with ease.
The tires are very comfortable driving in the rain at slow to moderate speeds. If you like to travel at greater speeds on a wet highway, retain a tight hold on the steering wheel because tires have a propensity to lose traction when driving on wet pavement.
Because it's an all-season tire, it had excellent traction in light snow. If you intend to take your SUV skiing, though, you should invest in a good set of snow tires. With a 65,000-mile tread wear warranty, it matches the demanding expectations of its drivers and provides a quieter, more comfortable ride.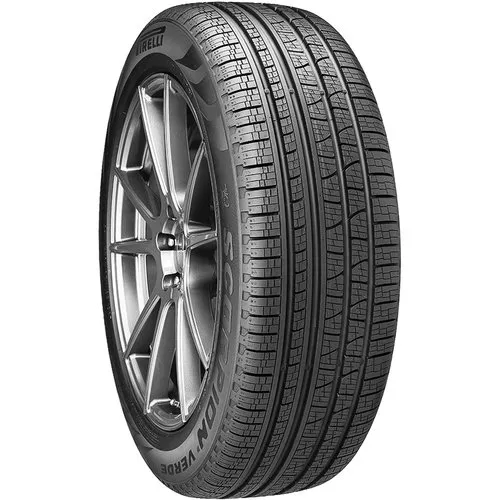 Now, it's time to meet the bad boy's not-so-little brother, the Scorpion Verde Plus II.
The Scorpion Verde Plus II is Pirelli's upgraded touring all-season tire designed for crossovers, sport utility vehicles, and pickup trucks. This model, according to the manufacturer, is designed to fulfil the needs of North American drivers.
Design
The Scorpion Verde Plus II tread compound has been modified yet moulded into the same effective and familiar asymmetric pattern as its predecessor.
This Pirelli's wet performance and fuel consumption are pushed forward by polymer with greater silica content. Its water ejection and lateral stability are also exceptional because of its four longitudinal grooves and strong lateral sipping density.
The rubber-to-void ratio has been calibrated for dry road handling and consistent wear, while the pitch sequence and phasing have been tweaked for a quiet and comfortable ride.
Although the tire's complex tread pattern provides some winter grip, it is nevertheless suggested that you add genuine winter tires if you reside in a colder climate.
Performance
The Scorpion Verde Plus II's rolling resistance reduction, like that of the Scorpion Verde Plus, contributes to more efficient fuel consumption and greener environmental impact.
The Pirelli Scorpion Verde Plus II is designed exclusively for crossovers, SUVs, and light trucks, and is built to resist the extra weight and weight transfer of these vehicles. At the same time, it's designed to maximize fuel efficiency by cutting a thinner profile through the air and reducing drag.
This tire is more than capable in terms of dry handling. While it may not have as forceful acceleration and braking as competitors, it excels in performance. The narrow ribs that connect the tread blocks on the middle tread portion and the two exterior tread sections have made it possible.
These characteristics, along with a bigger contact patch and a relatively soft and sticky tread compound, resulting in a good turn-in reaction and high traction throughout the corner.
Finally, there's tread life, which at 65,000 miles is about as good as it gets.
Overall, the Scorpion Verde Plus II lives up to Pirelli's performance reputation as an all-season tire. Nothing about this should be surprising – it's a Pirelli with a new breed of components and technology.
Verdict
The Scorpion Verde models are arguably most astounding as they are required to accomplish so many things, and they manage to do them all admirably.
True enough, there isn't much anything to complain about the two Pirelli tires, apart from their price.
However, when comparing performance, the road emphasizes the second-generation model's advantages.
Thanks to the improved compound mix and larger contact patch the Scorpion Verde Plus II has which makes it an excellent driver in dry and wet braking distances, as well as a more consistent handling response in all weather conditions. It's probably the reason it is named Scorpion Verde Plus II – macho, gentle, and levelled up. Definitely worth meeting.
Frequently Asked Questions (FAQ)
On average, Scorpion Verde tires can last up to 50,000 miles. However, this will vary depending on a number of factors, such as driving habits and road conditions. Those who drive carefully and avoid rough roads will be able to get more mileage out of their tires.
The first factory is located in Settimo Torinese, Italy. This is where Pirelli started making tires back in 1872. The Settimo Torinese factory still produces some of the company's high-end tires today.
Pirelli Scorpion Verde is not a run-flat tire. While it does have reinforced sidewalls, it is not designed to be driven on without air pressure. If you experience a flat tire while driving, you will need to replace the tire or have it repaired before continuing.
Pirelli Scorpion All Terrain Plus tires have three plies in their construction. This gives them added strength and durability, making them ideal for off-road driving. The tires also feature an aggressive tread pattern that helps provide excellent traction in all conditions.