One could say that Michelin moves mountains, while another could say Pirelli provides more perks. While the latter is marked cheaper – which is a major buyer consideration, does it have enough guts to beat the performance and pride brought by the leading Michelin Defender?
Michelin Defender vs. Pirelli P4 Four Seasons: Best All-Season Tires
If you checkout the charts of the world's best tires, it's not difficult to spot and be overwhelmed with entries of the Michelin brand.
The French manufacturer has been around since 1889, and in terms of performance and durability, you will no longer wonder if it's worthy of its price.
And there's Pirelli – a fellow European manufactured high-performance tire that aims to go the same direction as Michelin.
In the all-season category, both Michelin and Pirelli have their own best bets in terms of  great performance, handling and economy – and these advantages could give the buyers a tough time to decide.
Let's see which among are more favorable through a quick review of the Michelin Defender and the Pirelli P4 Four Seasons.
Tire Category: All- Season

Tire Category: All-Season

Pros:

* Strong brand image
* Excellent traction
* Cutting-edge technology
* Crisp Steering
* Leading touring tire
* Comfort prioritized
* Dependable all-season option

Pros:

* Impressive dry traction
* Comfortable and impressive driveability
* Great value for money
* Fuel efficient

Cons:

* Average handling for snow traction
* High price tag

Cons

* Noisy
* Less than average in rainy circumstances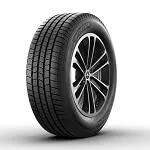 Sedans, coupes, minivans, crossovers, and even light trucks. No, this isn't an attempt to enumerate the vehicles you see on the road. It sounds to be too much (because it is), but these are actually the 4-wheelers that the beyond capable, and leading Michelin Defender serve its purpose for.
Design
Aiming to fit most ranges of vehicles, the Michelin Defender has made itself available in 57 sizes. Right, that's almost five dozens of different fittings to choose from.
For its components, Michelin used an all-season tread compound with performance and durability in focus to meet all of these expectations.
The Defender is made up of a high-silica layer formed into an asymmetric tread pattern that was developed for smooth and silent driving operations. In contrast, the broad circumferential and lateral grooves efficiently expel water, enhancing its hydroplaning resistance.
Two steel belts and a polyester cord size may be found inside the tire, along with the incredibly durable MaxTouch Construction.
Talking about its tech, Michelin's exclusive IntelliSipe incorporates zigzag sipes that link beneath its surface to boost tread block strength, which increases steadiness and steering and lowers rolling resistance.
Contributing to a cleaner environment plus higher savings as fuel prices continue to rise, Michelin also touched the Defender with Green X technology for the much-needed fuel economy.
Performance
Sticky traction, balanced and responsive steering, ride handling and braking are among the must-haves to be measured when you look for a tire. Maybe they did mean to brag, but the Defender checked all of these with ease.
The Michelin Defender has also created a perfect contact road patch that also improves cornering and braking while extending tread life.
When driven under heavy rain, the circumferential grooves and lateral notches successfully direct water away from the footprint of this model. Safe to say, the Defender keeps the entire way worry-free.
The excellent wet and dry traction of the Defender tires provides great handling dynamics and easy manoeuvrability on the roads. Although in terms of snow traction, the Defender is regarded as average for an all-season tire.
Michelin Defender tires for V-models have an 80,000-mile warranty, while they sprinkled more generosity with the T and H variants which are covered with a 90,000-mile tread warranty.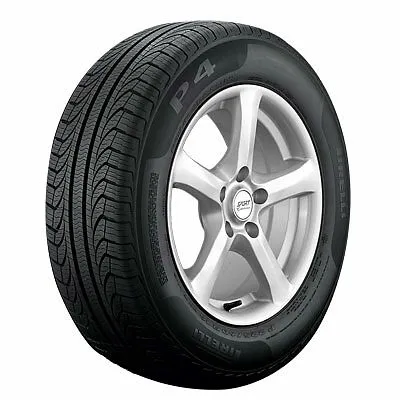 If you're looking for great value for money but badly wants a tire brand as reputable as Pirelli, you don't need to worry.
Pirelli's P4 Four Seasons is built for the same ownership benefit, and is actually considered to be Pirelli's most affordable product line.
The icing on the cake is the Italian brand made sure to deliver exceptional durability and gas mileage, as well as great year-round grip with the Four Seasons.
Design
Similar to the Michelin Defender, the P4 Four Seasons can cater not just for 4 categories as stated in its name. It can practically serve sedans, coupes, minivans, crossovers, and probably some light trucks too with its impressive loading capacity and fuel economy.
For the P4 Four Seasons, Pirelli used an improved silica-rich tread composition to lower rolling resistance while also trying to strengthen traction in rain and snow. It has a non-slip grip across both dry and wet settings.
The tire also has two main circumferential grooves and a huge proportion of variable-angle lateral grooves which aid in water evacuation and reduce the possibility of hydroplaning.
Performance
When contrasted to many other all-season tyre models, the Pirelli P4 Four Seasons gives valuable flexibility and even wearing, that will lessen your cost in the long run.
Pirelli believes to have conquered ride quality with its P Zero and Cinturato variants, and it's encouraging to watch it being experimented with its most affordable model. It grips the road well and performs admirably, especially while turning at high speeds.
While some folks don't think about the steer when looking at new tires, this Pirelli can make or break the driving experience. It drives smoothly, but the cornering traction is slightly lesser than the rivals. Longitudinal traction is likewise poor that if you speed up, there's a possibility for the tires to slip.
Pirelli somehow appears to have overlooked rainy circumstances in its attempt to reduce rolling resistance as well. Yes, Pirelli P4 Four Seasons can be suitable for wet road driving, although it falls short of the top-notching contenders such as Continental TrueContact Tour, Hankook Kinergy and to no surprise, the Michelin Defender.
The tread life of this Pirelli tire is a touch short, and the noise level can be a little high, but in terms of performance, the P4 Four Seasons' driveability and performance can still be be a terrific deal, as it also comes with a fantastic 85,000 projected tread mile.
Verdict
The Pirelli P4 Four Seasons is a great option for car enthusiasts who prefer having a Pirelli – even without the huge amount of money. It pushes comfort, performance, and fuel economy in one.
If you're going to compare it with other tire brands, it would probably rank higher since its a Pirelli – but unfortunately, not against the Michelin Defender.
With its undeniably strong performance, excellent grip on most weather conditions (still great in snow for an all-season), great cornering capacity, and innovative technology, it is — and still — the Michelin Defender that has mastered to defend its master.
Frequently Asked Questions (FAQ)
If you're looking for a reliable and durable tire, then Michelin Defender tires are definitely worth the investment. They offer excellent traction and handling in both dry and wet conditions, and they're built to last. Michelin tires are also some of the most affordable on the market, so you'll be getting a great value for your money.
Michelin Defender tires are designed for long-lasting performance. In fact, they're guaranteed to last up to 80,000 miles. So if you're looking for a tire that will give you years of trouble-free service, Michelin Defender is the way to go.
If you're looking for a good all-season tire, the Pirelli P4 is a great option. It offers excellent traction and grip in both dry and wet conditions, making it a safe choice for drivers in all kinds of weather. The P4 also has a comfortable ride and is relatively quiet on the road. Plus, it comes with a treadwear warranty of 60,000 miles. So if you're looking for a dependable all-season tire that will last, the Pirelli P4 is a great option.