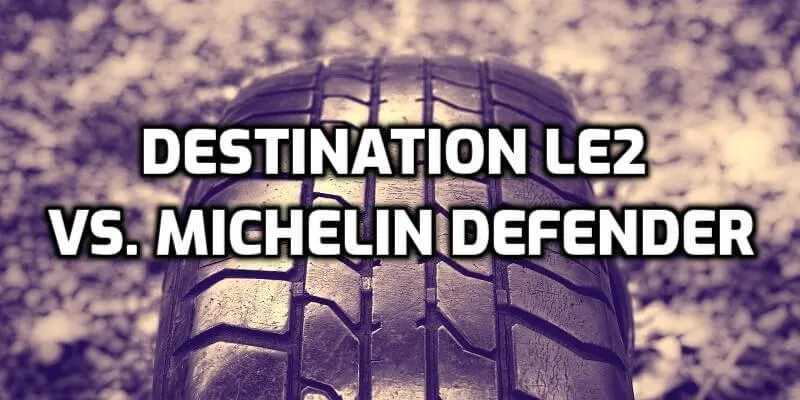 This article is about the differences between Firestone Destination LE2 and Michelin Defender tires. We will talk about which tire is better in terms of efficiency, fuel economy, ride quality, tread life, and other factors. The intention of this article is to help you make a decision on whether or not to buy these two similar products.
Comparison Table
When it comes to tires, there are many options. With so many choices it can be tough to decide which is the better tire: Firestone Destination LE2 or Michelin Defender? In this Table we will compare these two brands and discuss who should buy each one!
| | |
| --- | --- |
| | |
| | |
| | |
| | |
| Tire Size P215/70R16 99 H | |
| Load Capacity 1709 Pounds | Load Carrying Capabilities 2469 |
| | |
| Built to Last With Solid Wet and Dry Performance | Excellent Wet Grip and Snow Traction |
| Built With a Long-Lasting Tread Compound | ECo-friendly and Excellent Fuel Efficiency |
| 60,000 Mile Limited Treadwear Warrant | 70,000 Miles Limited Treadwear Warrant |
| Build for CUV, Light Truck or SUV | Suitable for SUVs, Light and Medium Trucks |
| | |
Why Compare?
Comparing tires is important because the price varies along with the tires and the performance and suitability. Comparing tires give you an overview of their quality and features to offer. Customers have a set of preferences set in their mind which they want from their tires. Comparing the tires lets them observe if the tires fall under the desired category. 
These two tires we have here are two wonder all-season tires. They have what it needs to be a fan favorite tire. We are heavily impressed with them and so are the consumers. That's why there's such a huge request to compare them face to face. That's precisely what we did. Read the whole article to know which one wins and why.
Tire Type & Built Quality
Type-wise, both these tires are all-season tires, and they have all the additives to follow it up. We've to go into their built quality to have a more detailed view. We'll start with the Michelin defender.
The tread compound of the tire is patented Michelin EverTread technology. This will help you with proper traction anywhere on the road. The tires are very fuel-efficient. The Max Touch technology explains this phenomenon. The company claims that this tire can save up to 65 gallons of fuel in its service life. The introduction of modern techniques increased the lifespan of the tires by 10%. Overall, excellent handling, breaking distanced shortened and the tires provide a quiet comfortable ride, makes it ever so desirable.
Another tire that we have is also an excellent product from the Firestone brand. The tire's shoulders are closely positioned, and thanks to the circumferential grooves, the water is quickly channeled down. The noise is optimized using computer sequencing. And to perform in snowy weather, the tires have stepped inside notches. The 3D zigzag sipes are a huge plus for the snow traction the tire produces.
 Tread & Section Details
Tread and section details allow the buyers to match the criteria they are looking for. We've shown them once in the comparison table, yet we'll have another glance at them.
Destination LE2 has a section width of 215mm and a 16-inch rim diameter whereas the LTX M/S comes with a section width of 265 and a 26-inch rim diameter. The tread depth of both tires is 12 32nds. The load-carrying capabilities of the two tires are 1709 and 2469, respectively. This shows the load-carrying capacities of the Michelin tires. UTQG rating has a massive difference too. The Michelin tires score an impressive 880AA compared to 560AB of the Firestone.
Traction
All-season tires have better traction than the other types of tires because they have to go through different types of weather and still deliver long-lasting solid performance.
Traction varies along with the surface and not to forget that tires are the only thing that comes into contact with the surface. You'll notice circumferential grooves on the sides with gutters that channel the water down, ensuring maximum traction on the difficult surface. You'll see the step inside notches or the 3D sipes we already talked about for the wintery surface. So, in terms of traction, they are an excellent choice.
Lifespan
Tires go through a lot. The surface is not always smooth and easy. The surface can quickly go rough with a bit of rain. Tires have to be ready for anything thrown at them. These tires are just that. These tires are built to last longer than usual tires. Regardless of snow or wet surface, you'll receive solid performance.
Both these tires have an average lifespan of 60,000+ miles which is better than the industry average of 50,000. The tires are backed up with six years limited lifetime warranty shows how much faith is put into the products by the respective businesses.
Suitable For 
How to know if the Tires are suitable for your vehicles or not? Easy. Follow the manual given by the manufacturer. Or you could go to your mechanic and ask for help. We can help you with any theoretical aspects you like.
These two tires are all-season tires by two different manufacturers, and they both are perfect tires for SUVs and light vehicles. Given the extra strength that the Michelin tires come with, it is also suited for medium trucks.
Price
If you are going by the rules, you obviously know what price group they fall under. I am going to repeat it anyway. The price point should be selected at first and look for tires in that category. This way you can get a tire in your budget and don't get stuck on second thought about a price tire.
Two tires here have different price segments. The first tire comes with a price just above a hundred dollars where the second tire is price just under two hundred bucks. Given their quality and other features, I would the price matches expectation.
Summary
These tires haven't disappointed its user and consistently proved that they are reliable even in the toughest conditions. An investment in them would be a worthy one indeed.
Frequently Asked Questions (FAQ)
Firestone Destination LE2 tires are designed for long-lasting performance. With proper care and maintenance, they can last up to 50,000 miles. However, driving habits and conditions can affect their lifespan. For example, aggressive driving or frequently driving on rough roads can shorten the life of your tires. If you take good care of your tires and drive carefully, you can expect them to last a long time.
Michelin Defender tires are definitely worth the money. They provide great traction and handling, and they're built to last. If you're looking for a high-quality tire that will perform well in all conditions, Michelin Defender tires are a great option.
These tires are specifically designed for light trucks, SUVs, and crossovers. They're built to provide reliable traction and handling in a variety of conditions, including snow and ice. The Firestone Destination LE2 features an all-season tread design with large tread blocks and full-depth sipes. These features help improve traction on wet and slippery roads. The tire also has a reinforced steel bead filler that helps resist impact damage.
Related Article