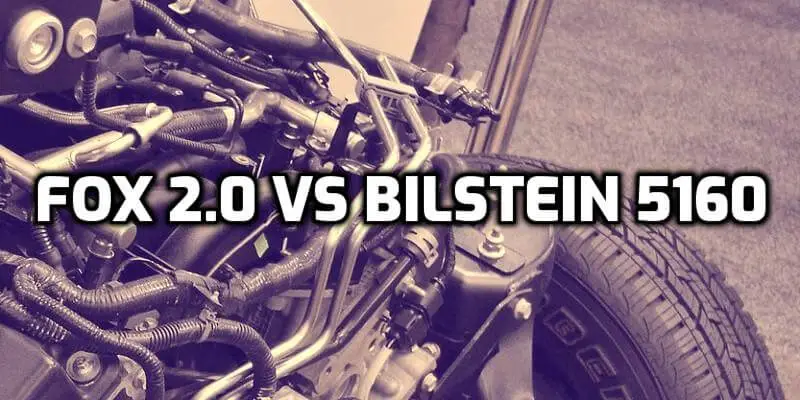 Looking for the ultimate off-road driving experience? When it comes to thrills on wheels, a well-equipped set of shocks plays a big part. These will keep you stable while your ride cruises through uneven and harsh tracks. While there are no limits to adventure, there is a limit to your budget.
This Fox 2.0 and Bilstein 5160 discussion will help you find the right shocks to keep your beast firmly placed on track. With the perfect shocks installed you will be able to face the harshest terrains without breaking a sweat. So let's not waste any time and see what each of these modern marvels has to offer.
Fox 2.0 Vs Bilstein 5160 Table
Shock absorbers not only make driving more comfortable, but also help with fuel economy and braking performance. Some people know what they want from their new shocks: either something that's better at absorbing bumps or reducing vibrations, like the Fox 2.0 or Bilstein 5160 respectively. But which one should you go with? This Table will compare and contrast both shock types so that you can decide!
Clear-anodized plating for a long-lasting finish

Clear-anodized plating for a long-lasting finish

Limited 1 Year Warranty On FOX Suspension Products.

Backed by a lifetime warranty

Engineered to keep the wheels firmly on track at high speeds. 

Packs remote reservoirs for increased shock oil capacity.

Features external reservoirs for increased oil and nitrogen capacity.

Zinc plating offers optimum durability and resistance against damages.

A high-flow piston design keeps the shocks pumping at full throttle during intense conditions.

Features Self-adjusting deflective disc valving that adjusts according to surface changes.

Comes with easy bolt-on installation for a hassle-free upgrade. 

Designed for easy installation in vehicles stock mounting locations. This saves time and cost. 

Packs application-specific valving for ensuring top-of-the-line performance at all conditions. 

Designed for aggressive off-road usage. 

Ideal for lifted trucks, Jeep, and SUVs.
Why Compare
It's always a hassle looking for aftermarket parts. With the industry moving at a lightning-fast pace, it's not unusual to get baffled by the marketing terms. This in-depth discussion will help you figure out the key differences among the shocks and pick the one designed to meet your needs.
Main features of Fox 2.0
Race Level Performance
The Fox 2.0 series has been designed to dominate the race track. Its aluminum body and precisely engineered reservoir design are capable of tackling extreme track conditions. All that at an affordable price makes this shock one of a kind.
Optimum Heat Management
Its exterior reservoir has proved to do wonders managing heat and thus maintain consistent performance. With increased oil and nitrogen capacity enclosed in a hard-anodized aluminum bore, you won't be slowing down regardless of track conditions.
Built To Face Challenges
This banger features a few of the advanced techs in the industry. Its purpose-built high flow damping piston along with application-specific valving ensures the same shock absorption on both plain and rough tracks.
Sporty Looks
What will impress you at first glance is the stunning look of the shocks. The elegant graphics offer the ideal look and feel of a performance-oriented vehicle. Thus with this installed in your ride, you won't be making any sacrifices with both looks and performance.
Main features of Bilstein 5160
Superior Build
The Bilstein 5160 features a 46mm monotube design that has gained quite a name of being a consistent performer. Its fade-free service is what will amaze you the most. With high-end construction backing you up on aggressive tracks, your lifted truck, SUV or Jeep will dominate anywhere it goes.
Maximum Control
Thanks to the remote reservoir, this gem of shock offers top-of-the-line handling performance even on challenging routes. Its zinc plating and superior oil capacity help it achieve flawless heat dissipation and thus ensure optimum durability.
Handy On All Terrains
The shock packs a Self-adjusting deflective disc valving that is an impressive piece of engineering by itself. It allows your vehicle to adjust to surface changes instantly making the ride comfier.
Easy Maintenance
Being based in the USA, Bilstein has always maintained a high standard of manufacturing. This along with the easy installation makes maintaining these shocks a breeze. All these make these amazing shocks a true powerhouse boasting performance and reliability.
Our Verdict
Brands play a big role in making the purchasing decision of any product. As far as vehicle parts go, it's always wiser to stick to manufacturers with good customer reviews. In the end, all those fancy marketing terms are meaningless if they don't offer any value to the users.
To be honest there is nothing much to differentiate between the two. Fox 2.0 comes with its lightweight design and extreme off-road performance. The rebuildable shocks are easier to maintain and thus is a pleasure to use. With all that in mind, Bilstein has been the king of shocks for quite a long time. Their monotube design is reliable and has served well for quite a long time. In the end, Fox might have a bit of an advantage in being more lightweight and for lifting vehicles.
How long will Fox 2.0 shocks last?
Answer: These shocks last more or less the same depending on build quality. Fox 2.0 shocks will last you 50,000 miles depending on usage.
What is the difference between Fox 2.0 and 2.5 shocks?
Answer: 2.0 and 2.5 indicate the diameter of the shock body. The diameter has a role to play in terms of holding oil. The larger the diameter, the more oil it holds and thus stays cooler.
Answer: Well, it really depends on what you're looking for. If you want a shock that's going to give you a smooth ride, then Bilstein is probably the way to go. But if you're looking for a shock that can handle some serious off-roading, then Fox is the better choice.
Answer: Yes, Bilstein 5160 shocks can be rebuilt. The process is relatively simple and does not require any special tools or skills. You will need a new seal kit, which can be purchased from Bilstein or your local parts store. With the proper tools and instructions, anyone can rebuild their own Bilstein 5160 shocks.
Answer: There's no doubt that Fox shocks are some of the best on the market. They're known for their quality, durability, and performance.
Answer: Fox 2.0 shocks are designed for durability and long-term performance. In general, these shocks will last for many miles of use. However, like all mechanical components, they will eventually wear out and need to be replaced. If you are using your vehicle for off-road driving or other high-stress activities, you may need to replace your shocks more frequently. But for most drivers, Fox 2.0 shocks should provide years of trouble-free service.
Summary
Fox 2.0 and Bilstein both can be considered pretty good options as offroad shocks. Fox 2.0 has a lightweight body and offers good lifting options. Whereas Bilstein 5160 has tried and tested technology that has been serving successfully for a long time.
Related Article