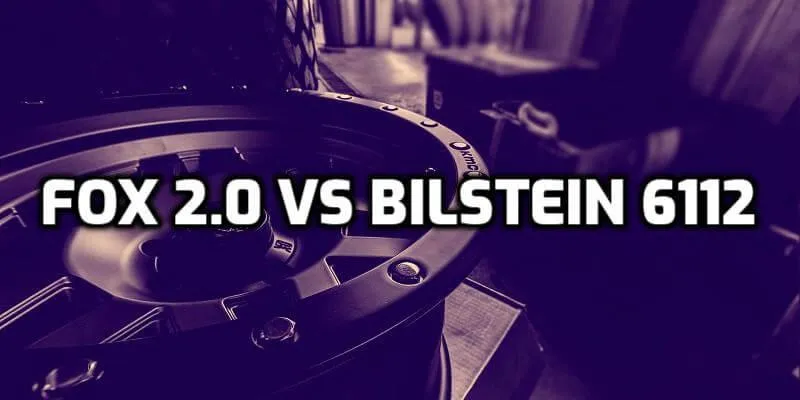 What's better than a ride into the wilderness on a bright Sunday morning? But there is a catch that your stock suspension might not be able to handle the rough terrains. That is when OEM shock absorbers come into the scene. These amazing tools are engineered to absorb even the toughest offroad tracks many can't dare to visit.
There are plenty of brands offering both quality and crappy shocks at different price ranges. This Fox 2.0 vs Bilstein 6112 comparison will help you realize why these two are the ballers in the industry. Both of the shocks come with a reputation of offering breathtaking offroad performance and quality that's hard to match.
Fox 2.0 vs Bilstein 6112 Table
Shock absorbers are important because they help to reduce the impact of bumps in the road, and provide better control of your car or truck's movements when you hit a bumpy section of pavement. In this Table we will discuss the advantages and disadvantages of both shocks so you can make an informed decision about which one would be best for your ride!
| | |
| --- | --- |
| | |
| | |
| Designed to maintain control and balance on tough terrains. | Designed for the fearless offroad adventure seekers. |
| Features lightweight impact extruded aluminum body. The CNC machined body 2.0" body does exceptionally well in heat control. | Features a monotube design for breathtaking performance regardless of the road condition. |
| The external reservoir comes in handy in storing additional oil and nitrogen. | Packs a large 60mm body that offers increased oil capacity and thus better cooling and optimum durability. |
| Packs a high flow piston design that makes sure the shocks perform flawlessly in tough conditions.  | Comes with a 60mm digressive piston that offers top-of-the-line ride control and tolerance over rough terrain.  |
| Comes with application-specific valving for enhanced versatility.  | The inbuilt cold wound linear springs are custom engineered to ensure superior control and ride comfort.  |
| Features easy both on installation and hassle-free height adjustment for superior comfort.  | Offers 0 to 2.75in of lift along with vehicle-specific tuning for a customized experience.  |
| Limited 1 Year Warranty On FOX Suspension Products. | Backed by a lifetime warranty |
| | |
Why Compare
The right shocks can enhance your off-road experience. On the other hand, opting for one not suited to your ride will cost you money, time, and labor. This comparison highlights some of the key differentiators that will help you roll with the right shocks backing you up.
Main Features of Fox 2.0
Superior Construction
The Fox 2.0 series has a reputation of being a superior built tool overall. Its all-aluminum construction is the sole reason behind it. The Aluminum shell is capable of shredding faster and thus maintains a consistent performance. Besides, you will also have the added advantage of increased durability and resistance to heavy salts.
Improved Heat Management
What you will find impressive is the superior heat management of this masterpiece. The exterior reservoir has the capacity to store more oil and nitrogen and thus keep the system cool while you go wild riding in the deserts. The aluminum construction aids the purpose and ensures reliable performance.
Versatile And Convenient
The shock absorbers come with stellar tech to adjust to various road conditions. Its high flow damping piston and application-specific valving open the door for the ultimate off-road thrills. Thus your ride can perform both as a daily driver and yet offer the freedom of off-road excitement.

Cathy Looks And Easy Installation
A performance-oriented shock absorber needs to have the looks alongside its performance. Fox has certainly hit the jackpot with this one. Besides the out of the box installation comes in handy eliminating the hassle needed to undergo with most traditional shock absorbers.
Main features of Bilstein 6112
Bigger The Better
The Bilstein 6112 features a 2.6 body which is thicker than most of its competitors. This ensures better stability and support for increased weight. Boasting a 60mm piston size, this beast of a shock absorber is truly a heavy-duty player ready to hit every challenge out of the park.
Total Control
Thanks to the advanced digressive valving technology, 6112 can adjust to subtle or massive variations in terrains. That along with the impressive monotube design make sure you have total control over your ride and put up a dominating show anywhere you go.
Superior Height Adjustment
What you will love about the shocks are the enhanced height adjustment options. With the ability to lift trucks and SUVs anywhere from 0 to 2.75 inches, you will have plenty of room in hand to raise your ride.  This allows you to fit in larger tires and cruise through deserts and jungles with ease.
More Affordable
If you are someone concerned with the budget, these gems from Bilstein certainly won't disappoint you. The shocks come at a pretty reasonable price along with good performance and durability. Besides, USA-based manufacturing is always something to praise about.
Our Verdict
With off road trips becoming a lifestyle the OEM shocks have seen a rise in popularity. And for that more and more manufactures are getting into the act of offering shocks of various qualities. But all the bells and whistles are not true as the true potential of a product can be only judged through user experience.
Fox 2.0 has single-handedly dominated the offroad shock category for some time. But just like always, good times don't last forever. With the introduction of Bilstein 6112, there is a stiff competition going on among the kings of off-road shocks. Fox shocks come with ease of installation, quick height adjustment, and better materials such as aluminum. On the other hand, Bilstein offers almost the same with a reduced price. Thus the decision can be pretty clear.
How do you maintain a Fox shock?
Answer: the process of maintaining Fox or any other shocks is by cleaning up the exterior after each ride. You can use soap water, water spray( light pressure), and a dry cloth.
Which is better gas or oil-filled shocks?
Answer: Nitrogen gas has properties that make them a better pick for shocks. They are cold and inflammable, offering more durability for the shocks.
Which is better Fox shocks or Bilstein shocks?
Answer: If you're planning on doing any serious off-roading, Fox shocks are the way to go. However, if you're mostly going to be driving on the street, Bilstein shocks may be a better option.
Answer: Bilstein 6112 is a great choice for those looking to add a little extra lift to their vehicle. This shock absorber can provide up to 2 inches of lift, making it perfect for those who want to increase the height of their vehicle. Additionally, the 6112 is designed to improve the ride quality of your vehicle, providing a smoother and more comfortable ride.
Answer: There are a lot of different opinions out there when it comes to Bilstein 5100 vs 6112 shocks, so which one is the right choice for you? It really depends on what you're looking for in a shock absorber. If you want something that offers a smoother ride, then the 6112 is probably the better option. However, if you're looking for a shock absorber that provides more control and stability, then the 5100 is perhaps the better choice. Ultimately, it's up to you to decide which features are most important to you and choose the shock absorber that best meets your needs.
Summary
While both Fox 2.0 and Bilstein 6112 are amazing shocks for performance vehicles, the 6112 offers better value for the money. Thus they would be the ideal pick if you are looking for the ultimate off road thrills on a budget.
Related Article