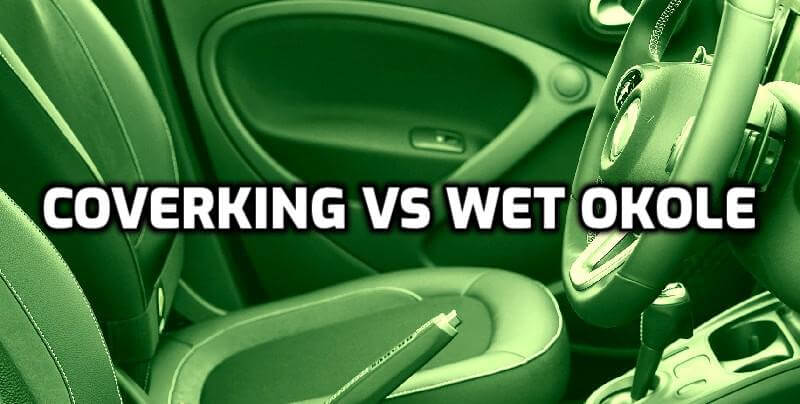 Coverking and Wet Okole are two of the most well-known and frequently purchased car seats by consumers. These covers can literally help your car breathe in the new life of air and give a whole new look. However, the Wet Okole is ideal in winter where the Coverking gives you excellent quality.
Right after all our mandatory needs are fulfilled we look for comfort. Car seats that are friendly to your back can provide the ultimate comfort you are looking for. A driver has to seat for several hours in a row without taking much of a stretch. That's why when it comes to comfortable car seats, the comparison can get concerning.
Coverking vs Wet okole
Speaking of Coverking they provide a great fit and comes with an easy installation process. The materials and the craftsmanship have excellent finishing that is a great solution for anyone who is looking forward to protecting their factory seat covers.
On the other hand, the Wet Okole are ought to make your seat more comfortable but these particular covers will also make you sweat. Because of the quality of neoprene's usability of breathing well, these cover seats are mostly suitable for wintry weather.
| | |
| --- | --- |
| | |
| | |
| | |
| Water, stain & UV-resistant | Waterproof, dirt-repellant, UV-resistant |
| Neoprene material for superior protection | Neoprene material for superior protection |
| | |
| Configuration : 50/50 Bucket. | Configuration : 50/50 Bucket seats. |
| Custom Vehicle Cover Warranty varies from 180 days to 5 years. | backed with Vehicle varies 90 day to 1 Year Warranty |
| Color : Charcoal with Black Sides , Solid or two-tone colors available | Color : Closely resemble the factory colors in most vehicles- ( Baby Blue, Tan, Mocha). |
| | |
Custom-Fit
Coverking seat covers come with the plus point of easy fit. They are prone to slip and sit according to your vehicle pattern providing you utmost comfort.
Similarly, the Wet Okole seat covers will make your seats more comfortable without any doubt. They are easy to install and come along with high-quality connect fasteners and Velcro.
Easy To Install
The whole installation process while conducting with the Coverking seats can take up to half an hour only. One doesn't need extra help while installing these seats and 30 minutes is just adequate for the perfect fit.
The Wet Okole seat covers come with the plus point of quick and easy installation without much of a hustle.
Multifunctional 
Coverking allows the seat to fold and lets the airbag, seatbelts, and electrical massage function without much of an obstacle. These seat covers provide maximum comfort along with letting other features work in full capacity.
The Wet Okole seat covers come with half-inch for added comfort and protection. They have a precise nylon finishing on both sides that gives off twice as much safety.
Real Yet Soft Leather
Coverking seat covers are breathable. They are made out of high-quality vinyl which is soft yet super tough. They can absorb air and cool off due to their easy effortless ventilation. Thus, the breathable material helps the seat to remain dry.
On the other hand, no rubber of Wet Okole seat covers come in contact with the covers. This feature is especially crucial for leather and vinyl seats.
Comes Along With A Traction Pad
If your leg doesn't get proper support you are more likely to slip without the grip. Coverking seat covers comes along with a traction pad that helps you sustain grip and prevents you from slipping away.
Nevertheless, the Wet Okole seat covers to come with a traction pad and are 100% waterproof. However, one shouldn't use a brush while cleaning, rinsing with water alone is enough to clean the covers.
Has Adhesive Cover Installation Kit
Coverking seat covers and Wet Okole both come along with a free-of-charge installation kit. The self-doers will be happy to know that this kit allows them to install the seat covers all by themselves without requiring much help from a specialist. The kit consists of installation tools, safety glasses and gloves.
Custom Patterns
Both Coverking and Wet Okole are vehicle-specific and can be customized according to your specification.
Limitations 
One of the biggest downright cons of the Wet Okole seat covers is that they tend to be hotter on summer days making you sweat more. Users claim the covers to be "damp hot" causing the covers to get dirty more often. It is ideal for the wintry season or in cold weather but certainly not on hot summer days under the scorching sun.
Regarding all the facts mentioned above the Wet Okole requires to be changed more often. Moreover, on a negative note, the installation of the new set of covers can charge up to the same cost causing you to spend a lot more money.
Which One Is Better?
By a huge margin, Coverking is the winner when it comes to choosing one between Coverking and Wet Okole seat covers. The breathable material of Coverking makes it last longer while providing all-year coverage in both summer and winter.
Is Coverking Cover Worth It?
The answer right off the bat is yes, they are worthy of your money and time. While the neoprene in Wet Okole covers doesn't let the cover breath well, Coverking on the other hand does its job more efficiently breathing new life into your car.
Summary 
The rating of both the covers differs by huge points. Where the Coverking owns 4.6 out of 5 stars, the Wet Okole only has 4.2 stars! The rest depends on you now with the conclusion being pretty obvious.
Frequently Asked Questions (FAQ)
Wet Okole seat covers are not hot. In fact, they actually help keep you cool in the summer and warm in the winter. So no matter what the season, Wet Okole seat covers will keep you comfortable.
Coverking seat covers are made in the USA. The company has a manufacturing facility in California, where all of its products are made. Coverking takes pride in its American-made products and offers a Lifetime Warranty on all of its products. So if you're looking for high-quality, American-made seat covers, Coverking is the way to go!
Yes, you can wash your Coverking seat covers! Just be sure to use mild soap and cool water. Avoid using any harsh chemicals or cleaners, as they could damage the fabric. Gently scrub the area with a soft brush or cloth, then rinse thoroughly. Allow the seat covers to air dry completely before using them again.
Yes, they are! Coverking's seat covers are made from water-resistant neoprene, so you don't have to worry about them getting damaged in the rain or snow. They're also easy to clean – just wipe them down with a damp cloth. So if you're looking for seat covers that will keep your car's seats protected from the elements, Coverking is a great option.
Related Post