How to Install a Hard Tonneau Cover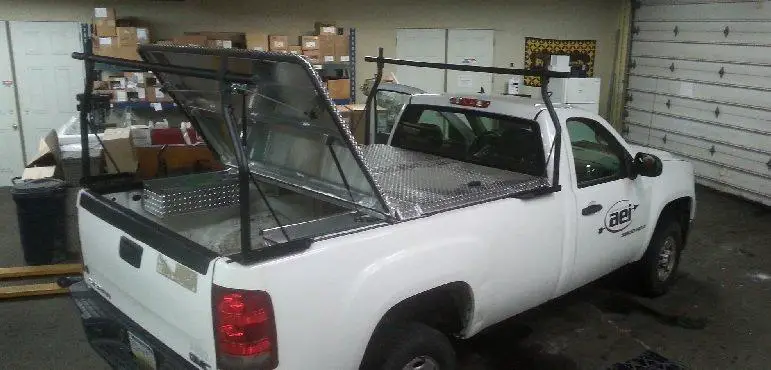 A hard tonneau cover is a great way to protect your cargo from the outside elements. This article will show you how to install a hard tonneau cover on your truck with step-by-step instructions and detailed images. Whether you are new at installing these types of covers or have been doing it for years, there may be something that you can learn from reading this article.
Tonneau Cover Installation Video
Order the Right Size for Your Truck
The first thing you will need before installing your hard tonneau cover is to get an accurate measurement of your truck bed. Start by measuring the length and width of your truck bed, and this will be used in order to determine which size cover you will need. For example, if you have a standard-sized truck bed, this would be about five feet by four feet.
The measurements for a long box-sized truck bed are slightly longer at six feet by four and a half feet. If you have an extended cab or crew cab, your measurements will change to seven feet by five-foot, which is the standard size of hard tonneau covers. Finally, if you have a super-crew-sized truck bed, your measurements will be eight by six and a half feet.
Always measure the length and width of your truck bed to ensure that you get an accurate size cover for your vehicle. If you order a tonneau cover that is too small or large, it may not fit properly, resulting in you damaging your new cover or truck.
Prepare Your Truck Bed
The first thing you will need to do before installing your hard tonneau cover is to remove any items from the bed of your truck. We recommend removing any cargo boxes, racks or other objects in order for you to have ample room to work on covering your entire truck bed completely. Next, lay down two layers of drop cloths on the bed of your truck to protect it from any dings, scratches or scuffs that may occur during installation.
Cover Rail Installation
Make sure that the cover is consonant with the other parts like bed rail caps and bed liners. You might need to cut the notch of the bed liner in case it comes in the way while installing. If bed liner wraps easily over the rails but tonneau cover is not able to cover them from above( If it comes in between). Then the bed liner and cover are not compatible.

Open the tailgate for effective installation.

Adjust the side rail on the rail bed loosely. Most of the truck bed cover comes with the side rail.

Now hold the side rail with the help of an assistant or the spring clamp. If you are going to fix a retractable cover, then adjust the canister next to the cab before fixing the side rail. And then center the cartridge correctly before setting the canister with the side rail.

Now clamp the side rail with the help of a toothed clamp right next to the cab. Then place the rest of the clamp by spacing evenly. And fix them similarly; you fixed the first one.
Repeat with another rail. Then adjust the gap between the clamp so that no additional space is left in between. And then tighten the clamp fully.
Cover Installation
The weatherproof cover comes with a rubber seal. Install the rubber seal.

Place the cover on the rail nicely. It is better to start in the cab area. This becomes easier with two people. If you are going to install the hardcover, then it will require two people.

Unroll the cover and then shut the tailgate. Keep the cap tight during this whole procedure.

Now bolt the tonneau cover into the rails.

After fixing, tighten all the clamps again.
I hope you like our How to install tonneau cover step-by-step guide. If you want more to learn or see the process in visual check out the video guide. Also, if you like to know more about details, please check another website post.
Frequently Asked Questions (FAQ)
It usually takes around two hours to install a hard tonneau cover. However, this can vary depending on the make and model of your truck, as well as your own level of experience. If you're not confident in your ability to install the cover correctly, it's always best to seek professional help. With that said, let's take a look at the basics of how to install a hard tonneau cover.
Yes, you can go through a carwash with a hard tonneau cover. Just make sure that the cover is properly secured before doing so. Also, keep in mind that some car washes may have height restrictions that could prevent your truck from entering. So, it's always best to check with the car wash ahead of time to see if they can accommodate your vehicle.
No, tonneau covers do not require drilling. They are designed to be easy to install and can be done so without any tools. However, some covers may come with optional hardware that can be used for a more secure installation. This hardware typically requires drill holes to be made in the bed of the truck. Check the instructions that come with your tonneau cover to see if there are any
special installation
requirements. If you have any questions, feel free to ask a professional at your local auto parts store or contact the manufacturer directly.
That depends on your needs and preferences. If you're looking for maximum protection for your gear and want to improve your gas mileage, a hard tonneau cover is a great option. However, if you're on a budget or don't mind sacrificing some convenience for the sake of saving money, a soft tonneau cover may be a better choice.
Read Next