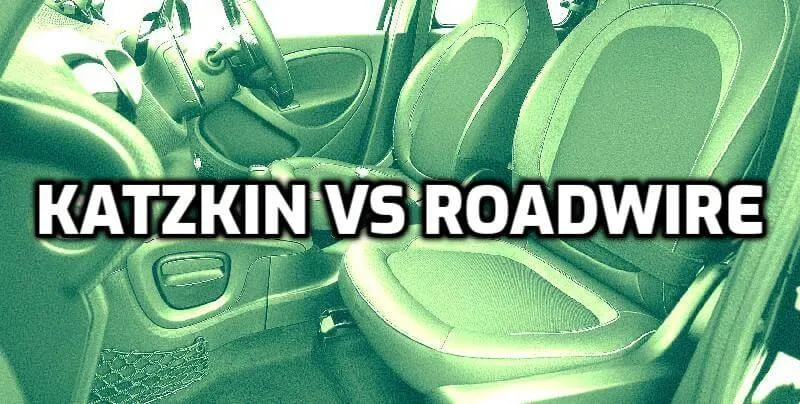 The interior of your vehicle needs supreme coverage to provide you a comfortable ride. Seat covers like Roadwire and Katzkin do the work for us by making it far homier and edge-proof. However, Roadwire has competed for quite a long time and even longer than Katzkin.
Roadwire is not only seat covers but they come with full interior coverage. They are real leather and will change the inner look of your car once and for all.
Katzkin vs Roadwire Chart
Roadwire has been in the market with an experienced past of modifications. It has been through several changes to come this far to offer you their best of performance. For your car to feel and smell better, the need for a personalized set of the seat cover is obvious. However, the quest can get tricky when it comes to choosing one between Katzkin and Roadwire.
| | |
| --- | --- |
| | |
| | |
| Exterior : Leather and Vinyl | Exterior : Real Leather Seat Cover |
| Black with Medium Earth Gray two tone and perforated body. | Not Much option to choice, Comes with Black Color. |
| Compatible with F -150 SuperCrew XLT and Ford. | Designed to fit your vehicle year, make and model. |
| The front seats and the inserts of the rear seats are leather. The rest is automotive grade vinyl. | Not slip on covers. Designed to replace the existing factory covers for leather interior. Smooth airbags. |
| Warranty : 3 years or 36,000 miles. | Warranty : 3 years/ 36,000 miles. |
| | |
| Installation Process : Professional. | Installation Process : Professional. |
| The kit inclues over all parts for the front and rear seats, headrests and the front middle jump seat. | Vehicle Service Type : Cut and swen to fit your car's year and model. |
| | |
Full Interior Coverage
Roadwire leather seat cover comes as a kit. It has to be especially cut and trimmed in order to fit according to the year, model and adjust to level up with your vehicle. Nevertheless, the process is not as hard as it looks as it comes with easy installation at the lowest price.
Similarly, the Katzkin too are high-quality seat covers that need extra requirements and professional assistance. To make it a perfect fit the previously adjusted seat covers have to be removed. These covers are not designed for the previously installed cloth as they are excellent seat cover replacement themselves.
Covers The Headrest, Armrest And Door Panels Too
One of the biggest flex of Roadwire covers is that it is determined to change the whole look of your car interior and not just focuses on the car seats. Each leather kit belonging to Roadwire is made out of top-grain leather and automotive-grade for both front and all rows.
On the other hand, Katzkin has extra leather in specific areas for better all-over coverage. The faces of the rear and front seats are leather which is exactly how the automotive covers are supposed to look in the first place.
3 Years Warranty
Both Katzin and Roadwire have 3 years warranty which is equal to roughly 35,000 miles. They are made out of top-quality hard leather that is built for long-lasting durability. Both the seat covers fit the factory-style leather extending its life and making the covers last standing.
Ideal Seat Cover REPLACEMENT
Katzkin covers mimic the factory-made leather seat covers flawlessly. They come with the same building that includes leather in the rear and front while the rest being automotive-grade vinyl.
On the contrary, no other factory-style leather coating looks as good as the Roadwire custom leather interior. Unlike the definition of "covers", the Roadwire covers are the perfect replacement material that makes your car breathe in new life and lets you ride in style.
Limitations
Unlike Roadwire, the Katzkin requires high maintenance. Where both of them are great replacement covers, Katzkin comes with the con of high price. However, even with professional help the Roadwire is the most classical yet affordable interior cover in the market.
In order for Katzkin to function properly, you need to park it in sun. Real leather has a tendency of getting tighter with constant use. Nonetheless, massaging of the leather will help the fiber to loosen up and restore its actual shape.
Does Katzkin need the shop to be installed?
Yes, it certainly needs to be professionally installed. The door panels, console, and interior look need an overall removal and authorized removal for an overall makeover.
Is Roadwire leather Real?
On a brighter note, Roadwire has been in the market for over 50 years. With their motto of "Every driver deserves luxury" they simply deliver it without any shortcuts.
How long does it take to install a leather cover?
It takes a person many years to muster the art and workmanship to install covers in a professional style. When it comes to Katzkin and Roadwire, even with years of experience it can take up to 2 days for a professional authorized installer to put the whole thing together.
Summary 
We are happy to let you know that Katzkin and Roadwire are both top-notch seat covers and these companies do not compromise over quality. With both of them having the same rating of absolute 5 out of 5 stars; feel free to choose any one of them according to your liking. However, regarding the price and experience, Roadwire seat covers are far more ahead in the favorite list among the consumers.
Frequently Asked Questions (FAQ)
Yes, katzkin is real leather. It is a high-quality leather that is used in many different types of products, including furniture and clothing. Katzkin is known for its durability and beauty, making it a popular choice for many people.
Is Roadwire real leather?
Yes, Roadwire is real leather! We use only the highest quality materials to make our products, and that includes genuine leather. You can rest assured that when you buy a Roadwire product, you're getting the real deal.
Katzkin seat covers are a great way to upgrade your car's interior and make it look and feel more luxurious. If you're looking for some high-quality, stylish, and comfortable seat covers, Katzkin is definitely the way to go!
Yes, leather seats are good in a car! They're comfortable and look great. Plus, they're easy to keep clean.
It takes about 2 hours to put leather seats in a car. If you have the proper tools and experience, it could take less time. Make sure to follow all instructions carefully to avoid any accidents or injuries. Have fun!
Related Post