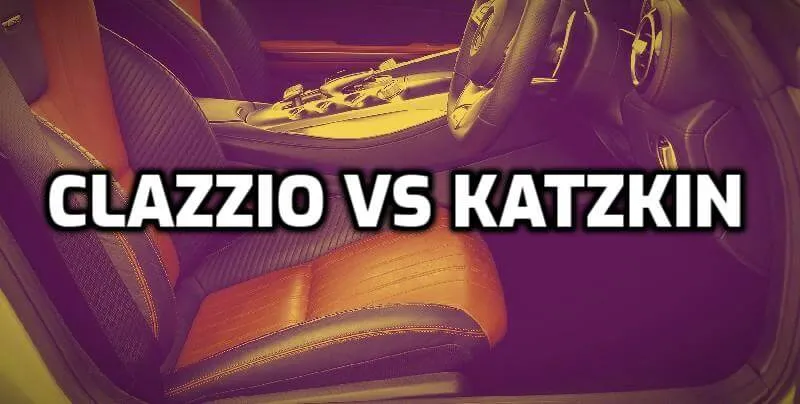 When it comes to seeking comfort and making the best out of your car seats few would compromise. Drivers on the front row in order to reach their destination have to go through several hours of sitting on their back. As a result they look for rear-end friendly seat covers that will prevent them from having back pain and give them support in the first place.
Clazzio and Katzkin are both renowned brands but there are some fundamental differences worth acknowledging. Where Clazzio will easily slip on your already existing covers, Katzkin requires the removal of the seat materials. However, both these seat covers fit, look and make you feel better than typical leather seats.
Clazzio vs Katzkin Table
One of the biggest differences worth mentioning about these covers is that while Katzkin needs an installation shop and expert help, Clazzio on the other hand doesn't. Clazzio is meant for a DIY install which includes manual instructions. However, Katzkin requires the removal of the previously adjusted seat material where Clazzio can easily slip through.
| | |
| --- | --- |
| | |
| | |
| Exterior : Leather and Vinyl. | Exterior : High quality PVC material. |
| Installation Process : Professional. | Takes 60 minutes to slip it on. |
| | |
| Warranty : 3 years or 36,000 miles. | Warranty : 3 years protection. |
| The front seats and the inserts of the rear seats are leather. The rest is automotive grade vinyl. | Style : Genuine Leather on all sides. |
| The kit inclues over all parts for the front and rear seats, headrests and the front middle jump seat. | Vehicle Service Type :Will slip into all sorts of existing seat covers. |
| Compatible with F -150 SuperCrew XLT and Ford. | Designed to fit your vehicle year, make and model |
| Color : Black with Medium Earth Gray two tone and perforated body. | Comes with the Color of Gray to Black. |
| | |
Perfect Seat Coverage
Clazzio doesn't require the removal of the previously adjusted seat covers. These are premium PVC seat covers and are excellent shapeshifters and will adjust exactly according to your vehicle's year and model.
Unlike Clazzio, the Katzkin is a high-quality seat cover that needs extra requirements and professional assistance. In order to make it a perfect fit the previously adjusted seat covers have to be removed. These covers are not designed for the previously installed cloth as they are excellent seat cover replacement themselves.
15 Millimeters Of Memory Foam
Clazzio comes along with memory foam of 15 mm thickness. These foam are known to absorb sudden shock and bumps while road vibration and gives your back the perfect arched support it deserves. For a comfortable ride, there is no double guessing a seat's credit that comes with memory foam.
On the other hand, Katzkin doesn't consist of foam rather extra leather in specific areas for better all-over coverage. The faces of the rear and front seats are leather which is exactly how the automotive covers are supposed to look in the first place.
Proven by "CAPE"
Center For Advanced Product Evaluation in short (CAPE) has proven the efficiency of Clazzio seat covers through precise repeated tests. The thread in Clazzio seat covers is specially designed for free airbag deployment. So, without causing any blockage for the other features to work Clazzio covers let your vehicle function in full swing.
Similarly, as the Katzkin mimics the output of the factory style adhesive seat covers these covers are engineered in a way not to hurdle the work of other features in need.
Fits 2010-1015 Toyota Pirus Ii/iii With Armrest
Clazzio seat covers are a full set of front and rear seats. They even come with the armrest coverage as it too plays vital support in providing support and maintaining balance.
Katzkin in short is a perfect seat cover and an absolute recommendation. One can blindly trust Katzkin for their precision and as a comfort supplier.
Ideal Seat Cover Replacement
Katzkin covers mimic the factory-made leather seat covers flawlessly. They come with the same building that includes leather in the rear and front while the rest being automotive-grade vinyl.
However, the Clazzio is not much of a replacement rather it is an extra cover over the already provided seat for extra comfort.
Limitations
Where Clazzio seat covers are the most affordable ones available in the market, Katzkin is pretty much the opposite. They are not only expensive but also need professional skills to get installed. However, with the output they service, Katzkin is pretty much worthy of your money, time and effort.
In order for Katzkin to function properly, you need to park it in sun. Real leather has a tendency of getting tighter with constant use. Nonetheless, massaging of the leather will help the fiber to loosen up and restore its actual shape.
Can one install Katzkin by themselves?
No, it certainly needs to be professionally installed. The door panels, console and interior look needs an overall removal and authorized removal for an overall makeover.
Are leather seats worth it?
Leather is expensive and the price can add up regarding the maintenance. Nevertheless, a piece of cloth is adequate, easy, cheap and very practical for cleaning the Katzkin seat covers.
Summary 
Let the rating speak louder than their promises. Where Clazzio comes with a decent rating of 4.8 out of 5 stars the Katzkin seat covers own the outstanding rating of 5 out of 5 stars! Certainly, there is no need to say no more, Katzkin is the ultimate recommendation.
Frequently Asked Questions (FAQ)
Clazzio seat covers are made in Japan. The company has a long history of manufacturing high-quality seat covers, and they continue to set the standard for quality and craftsmanship. Their seat covers are made from the finest materials available, and they are designed to last a lifetime. Clazzio is committed to providing the best possible products and customer service, and their seat covers are no exception. If you are looking for the best seat covers on the market, Clazzio is the company you can trust.
Yes, Katzkin seats are made with real leather. This high-quality material provides a luxurious look and feels that will make any car interior stand out. Leather is also known for its durability, so you can rest assured that your Katzkin seat will last for many years to come. Thanks to Katzkin's commitment to quality, you can enjoy the best of both worlds with their leather seats.
Related Post