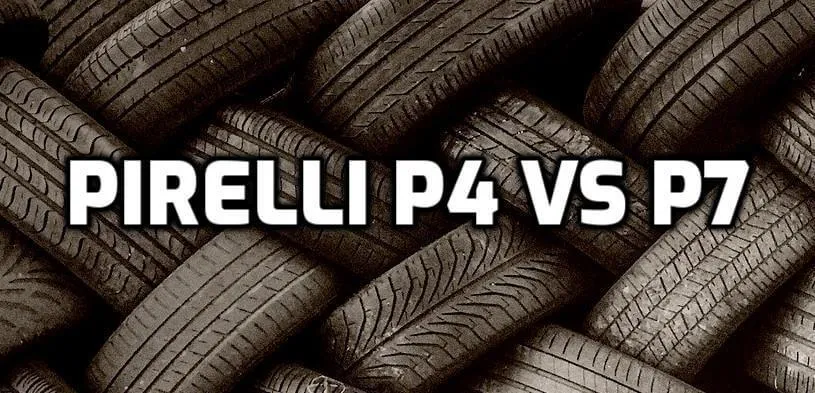 It's inconceivable to think of our daily life without vehicles. Speaking of the vehicles; the basic thing you need to travel places are good quality tires. And not just any tires for any sort of ride. Proper knowledge is required to purchase among the best and that's what calls for a thoroughly detailed comparison.
With our ever-changing and ever-growing constant demand we need to find the right pairs that suits us and meets our requirements. Among all the top notch tires Pirelli P4 and P7 are considered to be worthy rival. Their differences are significant enough to make you think twice.
Pirelli P4 VS P7
Even though both the tires doesn't look much different considering their size but apart from the outer look they got hidden virtues to look out for. To mention one of those biggest factor is "wet region". Both the tires may deliver different sort of service while driving on wet roads. Now without any further due let's check out their main features.
| | |
| --- | --- |
| | |
| | |
| Can last up to 90,000 miles. | Can last up to 70,000 miles. |
| Pirelli P4 tires should be comfortable and quiet. | P7 are high quality durable tires that eliminates noises and ensures a quiet ride. |
| Load Index Rating is 72.00 | Load Index Rating is 95.00 |
| | |
| Load Capacity is 1521 Pounds | Load Capacity is 3900 Pounds |
| P4 are four seasons plus all-season tire yet the service in wet region are skeptical. | pirelli p7 is a all-season touring tire. |
| P4 is equipped with a CAD-optimized tread profile which is designed for long wear. | Not only long wear but P7 tires also energy efficiency and clean air. |
| Should work in both wet, dry and snowy conditions. | Due to its all-season workable quality it provide service in all sort of weather conditions. |
| | |
| | |
Tread Pattern
The tread compound in Pirelli P4 is molded into a symmetric pattern that includes a perpetual center rib and independent tread and shoulder blocks that gives a sustainable grip on the road surface. Which provides much safety while pulling breaks or changing lanes or while making a turn. On the other hand, P7 are designed with improved treadwear.
Its innovative tread pattern will give off an aggressive look with asymmetric lines that offers better grip on the ground. Thus resulting into an all-season touring tire and comfortable ride.
Life Expectancy
P4 has an out-standing life expectancy of 90,000 miles. It can keep turning on several hours in fact 8 hours in a row and still wouldn't wear off due to the heat and friction. Unlike P4, Pirelli P7 has a life expectancy of 70,000 miles. Based on the CR's test it is stated so.
All Season Coverage
Both the tires are designed to deliver performance in all season. P4 has been reported to show some inconvenience in the snow covered roads. Otherwise it is a four-plus season tires that is perfect for sport coupes, small and midsize sedans and even family minivans.
On the other hand, P7 is engineered to provide year-round traction, higher fuel efficiency and a longer tread life for its aggressive looking special built. The Pirelli P7 is undoubtedly an all season touring tire which is the latest addition of its series.
Anti wear
P4 tires are more anti friction that's why they sustain a long lasting mileage of 90,000 miles. It's good for fuel economy due to it being smooth over the road surface. The exterior of the tires being symmetric reacts less with the friction and heat.
Whereas the materials created for the new P7 offer greater mechanical resistance as well as guaranteeing better grip in all type of different driving situation. The reduced wear from the high mileage compound covers a longer distance and spares extra cost.
Comfortable & Quiet
Due to the unique engineering and design, the tires deliver consistent traction and handling in all road conditions. What earns some extra point is that the ride is smooth and comfortable as one would expect from Pirelli. On the other hand, among all the basic tires of the Pirelli, the P7 is the quietest and most comfortable summer tires in the category. No matter the road condition; wet or dry the performance stays constant.
Limitation
P4 has been stated to cause some problems in wet and snowy roads. Certainly the driving over such extreme condition may bring some disturbance in the over all ride. But with the limitations of P4 being a four season tire often makes it look rigid towards other hostile driving condition regarding weather facts. Unlike P4 there is not much to worry about when you are driving with P7, it is designed for all year coverage.
The mileage can be improved. Due to it's aggressive uneven outer surface it is very likely to come in contact with friction. Resulting into the rubber peeling off the tires, leaving behind a poor looking hollow built. Even though the tires are made like this to neutralize the road vibration and make the ride as quiet as possible the low mileage is worth mentioning among the main cons.
Which One to Choice?
Tires are built according to the vehicle type. Both the tires are pretty much same when it comes to considering their sizes but the materials they are made of made all the differences worth taking note of.
P7 is more likely to provide better grip on snowy roads than P4.
P4 comes with a life expectancy of a whole package of 90,000 miles. 20,000 miles more than the P7s.
P4 tires are T rated. That means the most new higher-grade cars won't be covered by P4s. Unlike P7s that are H rated which will be fitted to all other upgraded latest featured cars.
Summary
P7 has been the latest addition to its series. Naturally with all its updated feature it will bring some new advantages. Whereas P4 are classic old school tires, trusted by many up until now. In the end the choice is yours according to your specific needs.
Frequently Asked Questions (FAQ)
What is the difference between Pirelli P4 and P7?
Pirelli P4 and P7 are two types of tires that are made by the same company. Both tires are designed for different purposes. The P4 is a performance tire that is meant for driving in dry conditions. The P7 is an all-season tire that can be used in both wet and dry conditions.
Are Pirelli P4 tires good?
If you're looking for a high-quality tire that will provide excellent performance and handling, then you should definitely consider Pirelli P4 tires. These tires are designed to offer superior grip and stability, making them ideal for both everyday driving and more aggressive driving styles. Additionally, Pirelli P4 tires are known for their long tread life, so you can expect them to last for many miles before needing to be replaced. Whether you're looking for a new set of tires for your daily driver or your weekend racer, Pirelli P4s are a great option to consider.
Pirelli P7 tires are a popular choice for many drivers, and for good reason. They offer excellent performance in both dry and wet conditions, and they're also one of the most affordable options on the market. If you're looking for a tire that can do it all, the Pirelli P7 is definitely worth considering.
P7 is a code that is typically used to indicate the load capacity of a tire. This code is usually stamped on the sidewall of the tire, and it indicates how much weight the tire can safely support. The higher the number, the greater the load capacity. For example, a P7-rated tire may be able to support up to 1,500 pounds, while a P8-rated tire may be able to support up to 2,000 pounds.
Related Article List