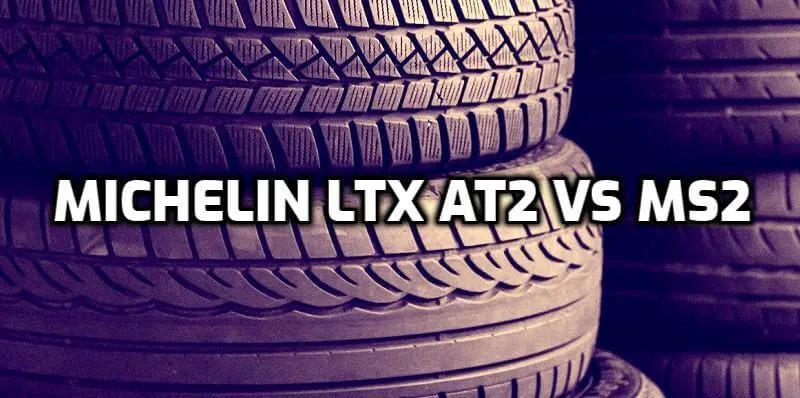 When you are looking for the right tire to buy, it can be difficult to choose between Michelin Ltx At2 Vs Ms2 Tires. There are many options out there and each one comes with its own set of pros and cons. To help you make an informed decision we have created this helpful guide which will educate you on the differences between these two tires so that you can find the best tire for your driving needs.
Michelin LTX MS2 Vs AT2 Table
Michelin has two different options that have many similarities and differences between them. There's the Michelin LTX AT2 and the Michelin MS2. Both are excellent choices, but which one should you get? Let's take a look at some of the key features!
| | |
| --- | --- |
| | |
| | |
| | |
| | |
| 60,000 Miles Mileage Warranty | 70,000 Miles Mileage Warranty |
| 6 Years Standard Limited Warranty | 6 Years Standard Limited Warranty |
| | |
| | |
| Load capacity of 2365 pounds | Load capacity of 2304 pounds |
| Tread Has A Depth Of 13 32nds | Tread Has A Depth Of 10.5 32nds |
| | |
| | |
| Best Suited For Light Truck And SUV, SUV Crossover | Best Suited For Light Truck And SUV, SUV Crossover |
| | |
| | |
Why Compare?
'My car is not performing up to the mark' – this is a very common statement by vehicle owners. There are many aspects to it. One of the prime reasons is that you don't have the precise tires for it. Tires account for multiple functions in your car, from keeping the balance to handling, gripping and many more. 
Most tires in the market are tagged as all-terrain, but they fail to live to the expectation in practice. It would be best if you did your research to buy the right one. 
What we have here today are two wonderful tires produced by Michelin. These two tires have been vastly popular among customers. Being manufactured by the same company, some customers often fail to differentiate between two and make a firm purchase choice. 
That's why we've decided to construct an article comparing AT2 vs MS2. Reading this article, you'll see their features compared to face to face along with a separate description of them both tires.
Type of Tire
There is tons of tires available in the market and hundreds of manufacturers. When producing a new tire, the idea is to meet specific needs wanted by customers. Some popular category for tires is like all-season, all-terrain, ultra-high-performance, winter tires and many more. 
The tires we are discussing are made by Michelin, a well-renowned company that has been in the business successfully for a long time. A/T2 and M/S2 both are all-terrain and all-season respectively. 
With the first one, the functions are more heavy-duty. When your vehicle is driven often and tows a heavy load, A/T2 is more appropriate. M/S2 is known for its all-year traction, impressive gripping and huge lifespan.
Built Quality
Michelin, as a company, plays a big part in creating such magnificent products. Their design is optimized using computer technology. An excellent manufacturing unit then executes the design precisely so that you can enjoy less vibration and noise. 
M/S2 is an all-season tire that has special rubber compounds with dedicated water evacuation. This MaxTouch technology ensures that tires have equal contact with the road and ultimately goes on to increase the lifespan of the tires. 
A/T2 on the other hand, is a roughly made tire for any terrain. You can have continuous drives off-road and but the tire will continue to serve at the top level. These tires have a longer life on gravel. The design is inaugurated to stop tearing or wearing and deliver satisfaction even when there's no well-built road. 
Section and Tread
Let's look at the first tire on our article LTX A/T2; it comes with a T speed rating and a load index of 114. 
The section width is 275mm and the rim diameter of 18. The aspect ratio accounts for as much as 65. As the tire is known for its load capacity, it has a big score of 2365 pounds. Dedicated to rule off-roading the tread depth is also awe-inspiring 13 32nds. This OEM quality tire has a 500 AB UTGQ (uniform tire quality grading)
The second one, LTX M/S2, is an all-season tire with a speed rating of H and a load index of 113. The section width is the same 275mm and the rim diameter of 20. The aspect ratio of the tire is 55. This tire is more dedicated towards longevity showing 700AA UTGQ along with 10.5 32nds tread depth. The load capacity is 2304 pounds, which is impressive considering the type it specializes in.  
Lifespan
Tires usually have a pretty large lifespan. If you inspect your tires regularly and pressure them to the ideal point, you are likely to receive more mileage than average. 
These two here are premium products by the company, and they last 60,000 and 70,000 miles, respectively on average. The tires come with a six years standard limited lifetime warranty. Change all of your vehicle tires at the same time. This small trick can help you in the long run.  
Suitable For 
Both these tires are heavy-duty, action mode tires. They are the ideal candidate if you are looking for an all-rounder tire. These two tires here are created to fit light trucks and SUVs. The tires are premium tires and last longer compared to other similar ones. 
Price
Tire prices come second to your preference. Your priority should be selecting a tire that matches your need and preferences. Only then you should move on to fix a price point. 
The tires we are comparing today are both made by the same company Michelin. But the second one in our article is slightly expensive as it is an all-season tire compared to the all-terrain one. 
Summary
We've done our part comparing two top-quality tires produced by my Michelin. Now, the ball is in your court and it's time you make a purchase decision according to your preference.
Frequently Asked Questions (FAQ)
Michelin Defender LTX MS is an all-season tire designed for light trucks and SUVs. It provides excellent traction in wet and dry conditions and has a comfortable ride. Michelin Defender LTX ms2 is an all-terrain tire designed for off-road use. It has excellent traction in mud, sand, and snow. It is also very quiet on the highway.
LTX A T2 tires are designed for use on light trucks and SUVs. They offer a blend of good traction, long tread life, and a comfortable ride.
Yes, the Michelin LTX ms2 is winter rated. This means that it performs well in cold weather and on snowy or icy roads. It is a good choice for drivers who live in areas where winter driving conditions are common.
How long do Michelin LTX AT2 tires last?
To get the most out of your Michelin LTX AT2 tires, it is important to rotate them regularly. This will help evenly distribute wear and tear, and it will also help extend their lifespan. You should also have your tires balanced and aligned every 6 months or so. This will again help with even wear and tear, and it will also improve your gas mileage.
Related Article