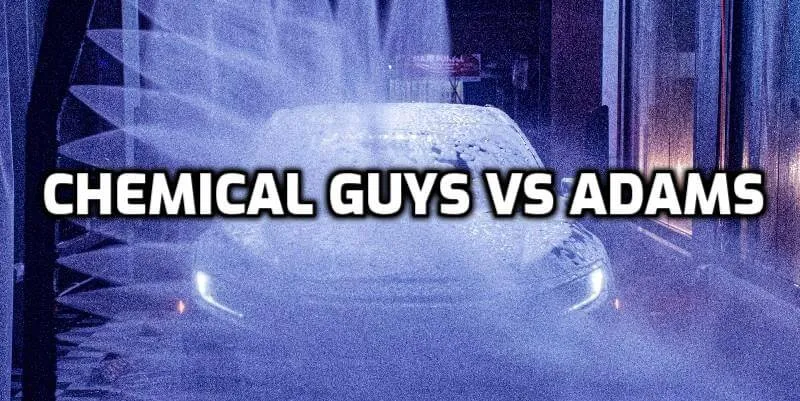 Yet another day, yet another car care product. Nevertheless, today is a bit different. We are going head to head with two products. Nowadays, it is very hard to deal with cars. In addition, it is much tougher to keep the shine in pristine condition. Today, we are going to test two liquid waxes and see what they offer.
Chemical Guys and Adam's are two reputed companies that focus on developing car care products. From their vast array of products, we will be testing two liquid waxes that are different to each other entirely.
Adams Polish Vs Chemical Guys
We are expecting nothing short of perfection. Both of the products are supreme at their own world. However, we will try to dissect the thinner margin to find out who will stand tall in the end game. First up, we have our very own Chemical Guys.
| | |
| --- | --- |
| | |
| | |
| 100 Percent Carnauba Wax based Liquid | High Quality, Advanced Liquid Carnauba Wax based Liquid |
| Texture is wet reflection and brilliant glowing shine | Texture has Deep shining Glowing effect |
| Give You protection against harmful UVA and UVB rays | Its Give You Longer Lasting Protection & Shine |
| Can be applied using Hands or rotating applicator | Can be applied using Hands or rotating applicator |
| Comes with 1 pounds Package. | Comes with 1 pounds Package. |
| Premium carnauba wax, optical select gloss enhancers, and synthetic sealant technology | Made in USA Carnauba Wax Fortified With Advanced Polymers |
| | |
Chemical Guys Liquid Wax
Recently we have reviewed some of the products of Chemical Guys. And I must say those are pretty dope. However, today, we are upscaling a little bit. We will be looking at their top of the line product, Chemical Guys WAC80716 Hybrid V7 Optical Select High Gloss Liquid Wax.
Starting off with the product, this is a premium quality liquid wax. As expected, it has the premium grade Carnauba wax. On top of that, it has a blend of optical select gloss enhancers. What it does is that it applies a glossy finish that shines from every possible angle. Cool right?!
Is that all? Nope! It also has synthetic sealant technology to provide long lasting finish. As this is a premium product, it has some advantage. It prevents and protects the shine from fading away due to pollution, contamination, direct sunlight, UV, bugs, bird turds and more.
The clear coating is suitable for shielding your paintwork. It can polish metals and clear optical plastics on the headlights. This coating protects them from harmful substances. The deep wet reflection with the awesome glowing shine is worth the money.
These products weight around a pound or so. However, the pricing is a bit on the higher budget. A unit of Chemical Guys WAC80716 Hybrid V7 Optical Select High Gloss Liquid Wax will cost you around 32 bucks in Amazon plus shipping.
Now, we will be looking at Adam's contender. Let us see what that bad boy has to offer. Spoiler Alert! This product is yet another treat for the car enthusiasts!
Chemical Guys Pros
Premium quality Carnauba wax, blended with synthetic sealant tech.
Deep wet and glowing reflection.
Protects from pollution, contamination, UV sunlight, water spots, bugs, bird droppings, and more
Long Lasting.
Cons
A bit pricy.
You need to buy more for more cars.
Adam's Ceramic Liquid Wax
Adam's has been a revolutionary company when it comes to wax. Their iconic ceramic coating is one of a kind in this arena. Now, some of you might be wondering why you get a ceramic coating on a car! Especially at this price point?
Think again. Because Adam's Ceramic Liquid Wax has all the tick marks under their hood. Starting with 30% Silicon Dioxide infusion. You see, SIO2 is a ceramic concentration. It works like an extra layer of protection.
Adam's Ceramic Wax adds an extra layer of protection over your precious paintwork. Not only that, it creates a bond with the paint and makes it stand out from the ordinary. The result is out of this world. This very bonding creates a water repelling reaction that is very soothing to see.
This is a multi-purpose wax. You can use it on any vehicle. It is not mandatory whether the vehicle is coated or not. However, the wax acts like a coating on the surface. As if it is an armor of ceramic. In this part of the conversation, you must be excited and tense at the same time.
As this is a ceramic-based wax, it is natural to think that you will be having a tough time applying it, let alone un-coating. But think again, my friend! This is very easy to apply. You can do it with your bare hands. Now, there are two possible ways to apply this on your car.
The first one is the traditional bare hand technique. You will use the applicator pad and apply it on your car. Another option is the orbital rotating applicator. This is efficient. However, if you do not possess one, then not to worry. You can still manage to pull that off quite nicely.
Adam's Ceramic Liquid Wax comes in a 12 oz. combo pack. It is available on Amazon. You can easily order one from there and get going. In the current market, it will cost you around 24 bucks give or take. Do not forget to add the shipping!
Adam's Pros
30% infused SIO2
Good shining with reflection.
Acts like an armor.
Let the color stand out.
Cons
On the expensive side.
Dries out quickly.
Final Thoughts
Adams polish is designed to be used by hand, while Chemical Guy's polish is best applied with a machine. This means that Adams polish may take longer to apply, but it will provide a more thorough clean. chemical guys, On the other hand, Chemical Guy's polish is faster and easier to apply, but it may not clean as deeply.
Adams polish is also more expensive than Chemical Guys, so you'll need to decide if the extra cost is worth it for you. If you're looking for top-quality car polish, Adams is a great option. However, if you're on a budget, Chemical Guys may be a better choice.
These products are undoubtedly on the next level. I like both of them. However, when it comes down to some extra fine protection, Adams polish has the upper hand. The ceramic coating is more durable so to speak. Nevertheless, that does not mean that the Chemical Guys did a bad job! So, that was all for today folks! I hope you people had fun. See you later, Alligator!
Related Article List